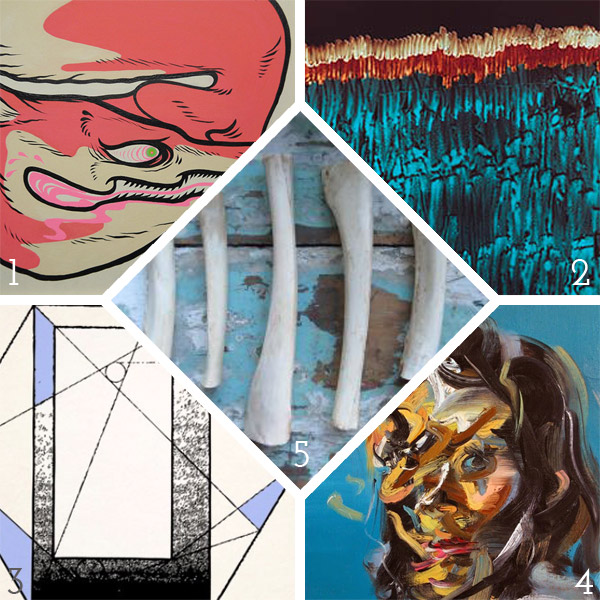 1. Check out the sculptural paintings from Boy Kong. They include brightly colored imagery of overly fantastical creatures.
2. For years, artist Liz Nielsen has been perfecting a unique photographic process which includes overlapping shapes and tampering with the exposure to create subtle shades of color. These pieces are extraordinary feats of photography.
3. Let's Talk About Margins is an excellent article by Craig Mod poetically discussing the importance of margins, especially when it comes to page layout. When done correctly, the layout becomes overlooked by most, but the process of creating such perfection occurs only after several diligent drafts, suffering through to the find the right solution.
4. These portraits from Han Xiao depict the human face in garbled swirls of thick paint and pops of color. Like the brushstrokes themselves, the expressions are tangled. Han finds inspiration in Frances Bacon; her work expresses themes of life, conflict and confrontation.
5. If you've worked with a bone folder tool before you may have wondered where they come from and how they were made. Brien Beidler offers a brief post on his blog complete with images documenting the process of cleaning deer legs into smooth bone folders.
6. Liz Payne is an artist combing hand-painted fabric with embroidery and beading techniques. I especially love her embroidered typography and tone on tone stitching.
7. Need some vegan leather? Why not grow your own. Suzanne Lee, Creative Director for Modern Meadow, has developed a "bovine-friendly form of leather by "coaxing" animal tissues cell into tough cowskin-like material". This is all kind of interesting and kind of strange.
8. Ali Eslami created a 3-dimensional world reimagining the paintings of René Magritte.
9. The Crystallized Book series from artist Alexis Arnold transforms discarded books into non-functional objects of beauty; almost reminiscent of excavated geological specimens displaying layers of history. The work is absolutely stunning and a wonderful way of giving live back to a book on the brink of death.
10. The science of why stepping on Legos makes you want to die. Enough said.