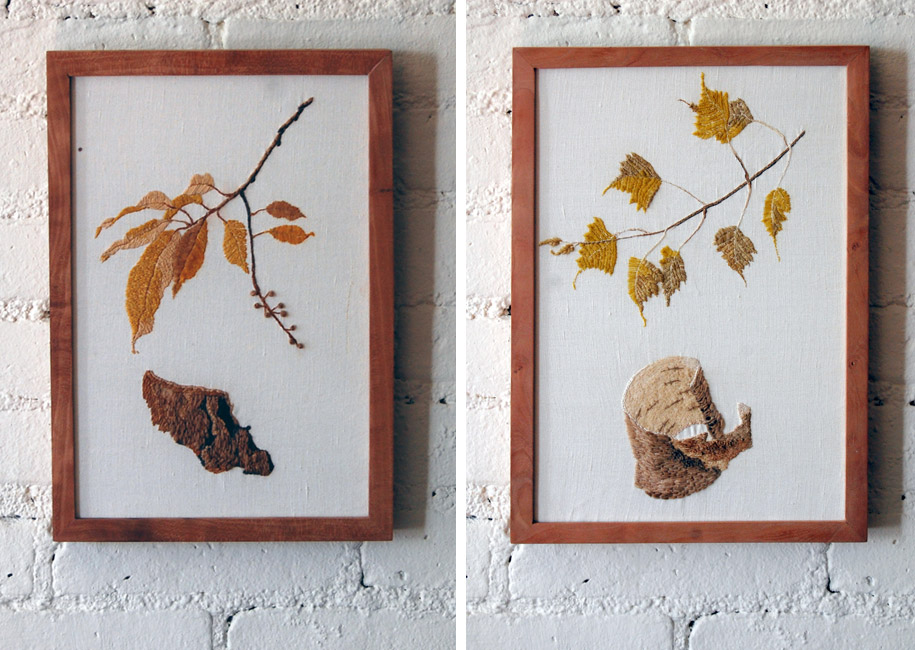 Natalie Stopka has conducted extensive research and experimentation with natural dyes, which is partly what drew me to interview her on the blog. I've long been interested in incorporating natural dyes into my own work. So it's fair to say that I'm quite inspired by Natalie's work.
At the end of your year at the Center for the Book, you presented on a series of natural dye experiments in a pretty brilliant way. What drew you to focus on natural dyes and how did you to come to present your findings through embroidery?
I became interested in natural dyeing as an antidote to city life. I was initially drawn to the process of foraging and dyeing itself, but the more I studied the history behind the process, the more it became apparent that our culture has devalued and forgotten the vast majority of the dye artistry we once possessed. This artistry is akin to alchemy, because we still do not scientifically understand what functions many colorant compounds perform for the plants that create them, or how many dye processes occur on a chemical level. I was surprised to learn that each part of a plant – its petals, leaves, bark, and roots – create different colors. These colors can be manipulated into a greater range of tones by using a variety of mordants and fibers. I decided to explore the full range of colors accessible in a single plant using these methods.
I chose three trees I had access to in upstate New York; birch, crab apple, and black cherry. From these I responsibly foraged leaves and bark, and used them to dye alum-mordanted silk, cotton, wool, linen/wool, and silk/wool thread. I then treated the dyed thread with the color modifiers copper sulfate, ferrous sulfate, an acid, and a base. I was left with about 40 samples in a range of colors and textures representing each tree's dye potential. Some samples had very little color at all, but some were vivid and strongly varied.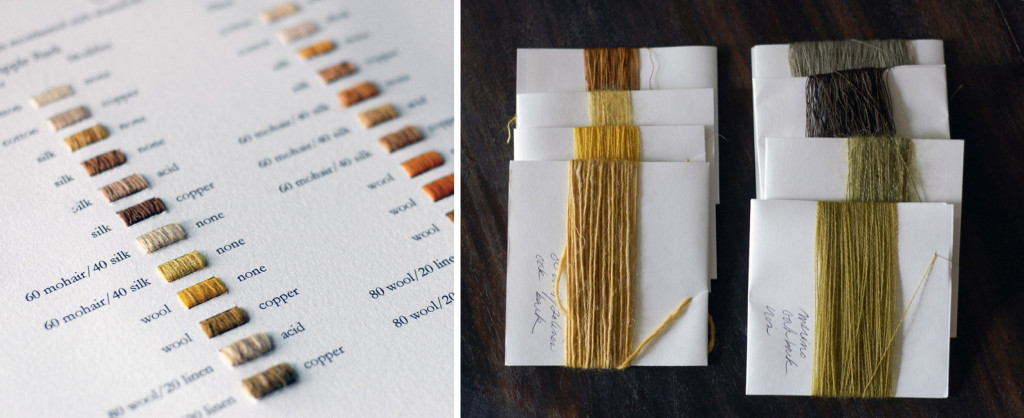 I had known these experiments would become a series of embroidery pieces from the beginning, and I wanted to illustrate the clear distinctions in the dye colorants accessible in different parts of the plant. I adopted the form of the traditional botanical illustration, utilizing the thread dyed with the analogous plant part to illustrate it. That is to say, the leaves are depicted with leaf-dyed threads, and the bark with bark-dyed threads. For the birch tree embroidery, I also differentiated between the inner and outer barks.
The final element of these pieces is a question pertinent to any bookbinder: time. Not only are natural dyes sensitive to ultraviolet light, but the modifiers I used degrade fibers over time. The ephemeral nature of natural dyes is a sad reality for an artist, but I think it can also be beautiful. These three pieces each have a lifespan, and to measure it I enclosed a sample of each thread used in the embroidery behind the frame. There it will be protected from light, and can be used as a point of comparison over time.
– – – – – – – – – – –
I became aware of Natalie Stopka's work while visiting the Center for the Book in New York, which in happenstance was exhibiting the piece above. Since then I've continued to keep an eye on her portfolio, especially the work she does with natural dyes and marbling. Natalie's work encompasses not only the prior mediums mentioned, but she also dabbles in book arts as well.
Check out the interview after the jump, then come back each Monday during the month of April for additional posts on Natalie's work. Need a reminder? Subscribe to the blog.
There are a number of things I want to address in this interview, but let's begin with something we both have in common: a love for bookbinding. What got you interested in bookbinding and where did you develop your skills?
I've always been bookish – an avid reader and an illustration major in college. Discovering artist books opened the opportunity to control the entirety of the book, including text, typography, imagery, structure, and the tactile experience of the viewer. I took a couple book arts and binding courses in college, and continued a self-guided study of bookbinding afterward. I found myself most interested in utilizing unconventional structures and materials to guide the haptic experience of the book. I am quite restless in my craft and like to try something new with each piece (not generally encouraged in such a exacting field…), but eventually self-teaching ground to a halt – not because I had exhausted all possibility, but because I had no exchange of ideas, no fresh insights. That was when I decided to apply for the Van Lier/Stein Family Scholarship for Advanced Studies at CBA.
From 2011 – 12 you participated as a Van Lier/Stein Scholar at the Center for Book Arts in New York. What drew you to this program and can you describe your time there?
I knew that the program at CBA, which is dedicated to emerging book artists, would give me the flexibility to pursue my own interests within the framework of advanced study. I was excited not only by the class offerings and studio equipment, but by the opportunity to meet and be inspired by other bookbinders and artists.
I was ready for a jolt of new ideas and techniques in my work, but moving to New York City to begin the program was an even greater shock! I grew up in the country and missed so many little things about that lifestyle. I found myself drawn more and more to techniques that brought me closer to it, which is why I fell hard for natural dyes. The perfect medium to get me foraging outside the city, experimenting with solar dyeing and fermenting, and engaging in slow, historical techniques like embroidery and needle weaving. I didn't expect that moving to the city would cause my work to become more deeply involved with nature, but it did.
From the beginning your binding work has included a variety of appliqued fabrics in addition to embroidered and woven elements. Before I embarked on a path toward bookbinding, I was fully engaged in fiber arts. Since then I've move toward melding the two. Do you also have a prior background in fiber arts? What are your reasons for merging fiber arts with your bindings?
Besides a couple classes in college I do not have formal training in fiber arts, but my mother is a textile designer so I grew up surrounded by textiles and artists who work with them. Because everyone in my family is very artistic, my sister and I were allowed to indulge in all our creative whims as kids, including many forms of fiber art. I think that's why I don't feel restrained in pulling from varied disciplines in my work today, routinely experimenting with unfamiliar techniques.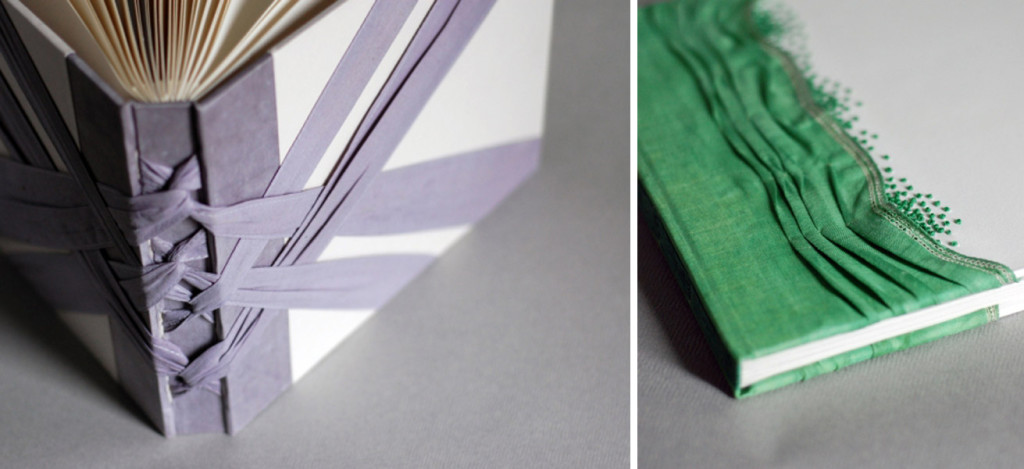 I utilize textiles in my art largely because I love the process of working with them. Researching the historical significance and method behind each technique, then carefully building small systems of thread or cloth. The process of bookbinding is very much about building systems of attachment, and in that sense it is very similar to textile production. On a material level, I find such sympathy between paper, thread, and fabric, which are all created from cellulose fibers. Wheat paste is derived from plants, too! Conceptually it is very satisfying to create a book entirely from plant fibers and adhesive, with only plant dyes and inks.
You've taught a collection of workshops at the Textile Arts Center in New York. Can you describe the center and how you got involved there?
Shortly after moving to New York, I took a natural dyeing class at the Textile Arts Center to delve deeper into the dye processes I'd begun experimenting with. TAC promotes textile arts through its studio space, classes for youth and adults, residency program, magazine, and other advocacy and outreach initiatives. That one class led me to intern in their Sewing Seeds program, which was in the planning phase for a community dye garden in Gowanus. I had a great time working on the project, which has since grown exponentially thanks to interest from the local arts community.
I currently teach a range of workshops TAC, including marbling, suminagashi, natural dyeing, embroidery, and book arts. The book arts intensive is a hybrid course I developed to introduce fiber artists to book making. It's an ambitious syllabus that covers basic book structures as well as textile-derived treatments like making and embroidering book cloth, patterning papers with natural dyes, and needle weaving.
Last year, you collaborated with artist Janice Gordon on a series of collaged triptychs under a body of work called A Cuore Aperto. These pieces elegantly combine your two talents as they visually commingle vintage marbled papers with images of cardiovascular cell structures. Can you discuss your involvement in the collaboration and how you came to work with Janice?
When we met, Janice had conceptualized the body of work and selected the materials from her collection of antique books and medical treatises. Her idea was to explore the heart and all its complex physical and spiritual connotations through a series of collages juxtaposing antique marbled papers with histological slides used contemporary medical research. The collages would take the form of triptychs – tiny altarpieces to the heart. Janice was seeking a bookbinder to assist with the mechanical action of the triptychs and their assembly. It was a coincidence that I am also a marbler, but having so much in common as we do, we hit it off wonderfully working together in her studio!
A Cuore Aperto is entirely Janice's art, with my hand responsible only for building the underlying structures. In a couple of instances we took advantage of my sewing skills, such as the embroidered constellations in Composed in Silence. It was a dream to work with such beautiful antique marbled papers and books, and I really connected with Janice's concept for each piece – and enjoyed her tales of visiting laboratories and dissections in preparation for the work.
In 2014, Charlotte Rivers published Little Book of Book Making: Timeless Techniques and Fresh Ideas for Beautiful Handmade Books, which includes a feature on you and your work. Can you give a synopsis of your entry and what techniques you shared?
My work is situated in the chapter 'Page and Cover Treatments', and includes examples of natural dyeing, embroidery, and textile manipulation. I also wrote a tutorial on naturally dyeing paper for the section 'Bookmaking in Practice,' which includes instructions from the featured artists for binding stitches and decorative treatments like frottage and paste papers. The book is really an inspirational springboard – even immersed in the world of book arts as I am, I discovered some great artists and material resources I wasn't familiar with!
How did you come by this opportunity and how long did the whole process take from your acceptance to the book's publication?
Charlotte reached out to me initially. She had compiled a list of techniques she hoped to cover in the book, and was looking for examples to illustrate them. I selected a number of works and submitted them for consideration, and later wrote the natural dyeing tutorial. An illustrator working from my photographs drew the images which accompany the tutorial. It was about a year after that first email that the book went to print, and a few months later it hit the shelves.
Are there any new projects you've been working on that you care to share?
I'd like to experiment with anthotypes this summer, which a photographer friend introduced me to. During the early days of photography inventors tried any and everything to capture images, including in this case fugitive natural dyes. The images are not chemically fixed and very unstable, but bound in a book they could be protected from light. I know it would be a conservator's nightmare, but I love the idea that each opening of the book would be an exposure in the photographic sense. The viewer would become very aware of the prints' ephemeral nature as the favorite images faded soonest, and each repeated exposure became more precious.