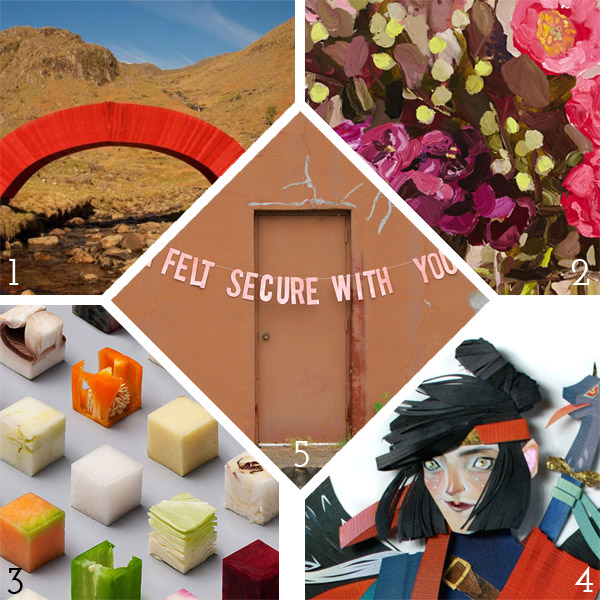 1. Environmental artist Steve Messam recently built a weight-bearing bridge in the middle of the English countryside. The unique part of this bridge is that it is constructed using 22,000 sheets of paper, carefully stacked without the assistance of glue, staples or screws. It's has since been traversed by thousands of people and animals.
2. I love paintings of flowers and I've just come across the vibrant and luscious work of Australian painter Laura Jones.
3. 98 different foods were cut into perfect 2.5cm cubes at the request of Dutch newspaper De Volkskrant for a special feature on food. These tiny bite-size pieces were created by the Netherlands-based design studio Lernert & Sander; they are absolutely gorgeous and some are quite puzzling to their origin.
4. New to my radar is Morgana Wallace, the creator of detailed hand-cut paper and hand painted portraits. The characters are whimsical and feature details of layered paper delicately painted with gouache elements adding depths and intrigue.
5. Abandoned Love is sight-specific installation project spearhead by artist Peyton Fulford. Using diary and text message submissions from people all over the world, Peyton installed these messages of heartbreak and sadness across abandoned building doors. The words are displayed like that of a party banner, offering play on the human experiences and interactions as well as projecting our vulnerabilities in forgotten public spaces.
6. Waldeinsamkeit is a German word referring to the feeling of being alone in the woods. Ella Frances Sanders is an illustrator and author of Lost in Translation, a book where she explores 50 words that don't have a direct English translation. This book is filled with poetic and highly expressive words that pepper languages around the word. My other favorite is komorebi, a Japanese word for the sunlight that filters through the leaves of trees. Absolutely beautiful.
7. Who knew books were such thrill seekers? Roller coaster-like tracks are one type of system installed in libraries as a means of accessing books for patrons. Gizmodo recently put out a short piece on the Telelift system currently installed at the National Széchényi Library in Budapest, Hungary.
8. This musical installation piece is just strange, yet entrancing. Artist Neil Mendoza created a collection of automated motorized objects, each complete with at least one knife. The machines move together to the beat of the Bee Gees' Stayin' Alive.
9. Tara Donovan is a Brooklyn-based sculpture artist creating large scale pieces using everyday objects. The piece above was made solely from clear buttons. It's so stunning and surprising how this normal object has been magically transformed into an organic-like structure.
10. These earrings belong to Gintare of Utena, Lithuania. She's views them as a good luck charm and wearing them make her feel strong. This passionate story comes from a site called Totally Money that presented a project called What We Really Value: Through the Lenses of 50 Photographers. Many of the objects are gifts or relics from parents and grandparents. But the project is thought provoking and charming. What's your most valued item?