In a recent competition put on by the Washington University Libraries Special Collections, the public was encouraged to judge books by their covers and cast their vote for favorite binding. Fittingly, the book being bound was Bernard C. Middleton's You Can Judge a Book By Its Cover, which was published by Mel Kavin and designed by Ward Ritchie in miniature form back in 1995 (which is presumably around the time it was bound as well).
The first book of this edition was designed and bound by Tini and Einen Miura and printed by Henry Morris. Later on, 32 more binders were invited to create their own unique binding and to celebrate the artistry of the miniature book.
Tini bound the book in black morocco. She used the onlaid shapes and design to tell a story about the author. The ascending tooled area represents Bernard Middleton's larger than life character. Running along side this path are circle onlays of various sizes and colors, which show the abundance of information he has shared with the world throughout his professional life.
In the image above, the book is shown on the right with the slipcase pictured on the left. Tini also made a miniature chemise, which would be placed around the book before sliding it into the slipcase.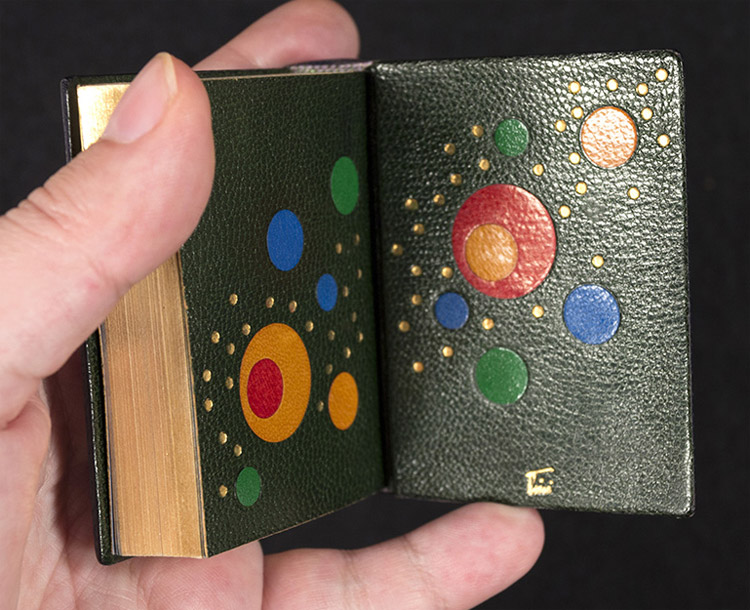 The edges are gilt and headbands handsewn in colored silk. The doublures, seen above, have multicolored circular onlays and tooling.
The scale of many of the bindings in your book A Master's Bibliophile Bindings: Tini Miura 1980 – 1990 are quite large. For the final post in your interview I would like to talk about two miniatures you did for Bernard Middleton's You Can Judge a Book by Its Cover. What challenges did you come across when scaling down the binding and decorating processes?
Usually my books are large, because they are limited edition livre d'artiste. They have signed original images by artists like Picasso, Leger, Roualt, etc. and are extremely expensive.
I prefer large books that open well and can be enjoyed easily, while lying on a table. Small books have to be held on both sides to keep them open, there is no weight to the text. But I have enjoyed doing some immensely. No change in binding steps for miniatures.
– – – – – – – – – – –
Tini bound an additional copy of Middleton's book in black morocco with several colored inlays (inspired by the shape printed at the top of the foreword) and foil tooling.