1. Korwin Briggs is a comic book artist and created this delightful infographic, Mummy Brown and Other Historical Colors, detailing historical colors and where they came from, like Mummy Brown, yes it was derived from actual mummies.
2. Mikael Takacs creates these wildly abstract and alien-like portraits using marbling techniques.
3. France in the Year 2000 is a series of paintings from French artist, most notably Jean-Marc Côté. These paintings were created in the late 1890s and around the turn of the century. This series was printed on cigarette and cigar boxes for the 1900 World Exhibition in Paris (later becoming postcards). The imagery shows lots of mechanized devices and flysuits and strange interactions with marine life.
4. What happens when you string up 14,000 used eyeglass lenses, sea/see/saw, a kinetic sculpture that moves brilliantly with gusts of wind. The sculpture has been recently installed on the façade of the Pera Museum in Istanbul.
5. the.jefferson.grid is a beautiful instagram collection of Google Earth images. The snapshots capture a square mile of landscape and the geometric designs within it.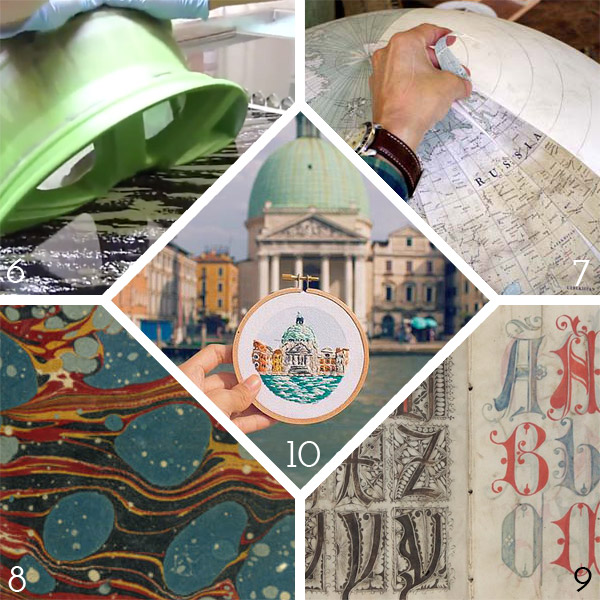 6. Ever wonder how the rims, doors and other parts of vehicle get their patterning. I guess it happens using traditional marbling techniques. Watch this captivating video as car parts are slowly dipped into deep marbling trays to get their decorative coating.
7. The craft of bookbinding has a long history and has seen a decline over the centuries. So I'm always captivated by trades with a similar history. Check out this behind the scenes look at one of the last handmade globe makers, Bellerby & Co. Globemakers.
8. The University of Washington recently added a collection of decorative papers to their digital library, which includes a large selection of marbled papers and paste papers that span over several centuries and countries.
9. This 16th century pattern book is quite interesting and was most likely put together with the purpose of aiding a scribe to refine his skills. A description in the book gives ownership to Heinrich Lercher Wyss who was the official scribe of the duchy of Wüttermberg. The book was gifted to him by his cousin Gregorius Bock. The book includes alphabets in various scripts (includes Greek and Hebrew script) and some decorative initials.
10. Sew Wanderlust is an ongoing series from artist Teresa Lim. As she travels the world, she captures her experiences not in a photograph but through an embroidered sketch of her surroundings. I love it!