1. After the Spanish civil war, the Church of Santa Barbera in the Spanish town of Llanera was neglected and fell into disrepair. That is until just recently, when Madrid street artist Okuda San Miguel painted it's walls and ceilings with rainbow patterns and surrealist figures. In addition to the new decor, the church was also transformed into an indoor skate park.
2. Check out the beautifully detailed illustrations of Whooli Chen.
3. As a student at SAIC, I created a volume of seven books (one for each day of the week). The text for each book was an alphabetized transcript of what I said on that given day. Since, then I've been fascinated by non-traditional alphabetizing. Like Of Oz the Wizard, the entire film of The Wizard of Oz has been re-edited with each word of dialogue now in alphabetical order. Now you can easily know how many times the word kansas was uttered.
4. In 2013, the Tate exhibited the work of little-known artist Hilma af Klint, a Swedish woman who may be regarded as the pioneer of abstract art (a title often given to Wassily Kandinsky). You can read about Hilma's journey to becoming an artist in Issue 27 of the Tate Etc.
5. I'm in love with these warped quilt paintings from Anna Buckner.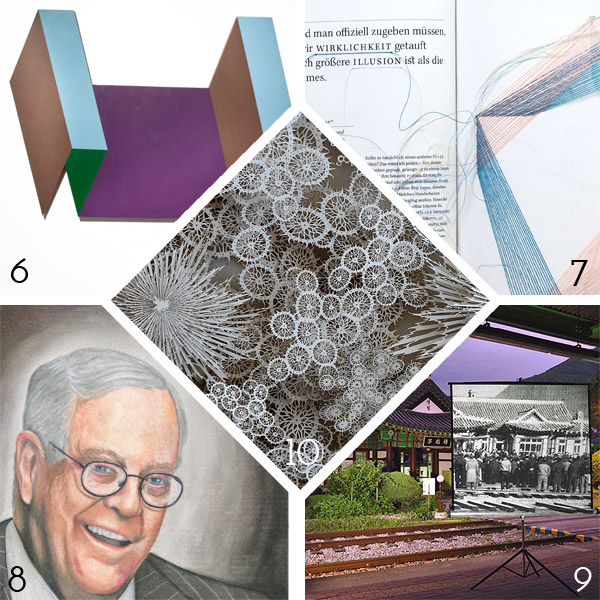 6. On the walls of the CIA's headquarters in Langley, hang 29 abstract paintings. Unless you are privy to walk through this building, you would have no idea what they look like and who painted them. Upon discovery of this secret collection, Portland-based artist Johanna Barron set out to recreate each of the 29 paintings by scouring for any information regarding the artworks. When her request through the Freedom of Information Act was denied (several times), she had to dig deeper. Read the article to find out more.
7. A book. A book about dreaming. A book with embroidered elements. A book called Traumgedanken by Maria Fischer.
8. The Captured Project was developed and is led by Jeff Greenspan and Andrew Tider. The idea behind their project is simple, but speaks to our government's inability to take action against some of America's most powerful businesspeople who commit crimes on a national and even global level. Each portrait of these offenders was commissioned and painted by people incarcerated in the United States. The project's tagline sums is up quite nicely: People in Prison Drawing People Who Should Be.
9. Korean artist Sungseok Ahn carefully lines up images of the past in front of their present landscape. The photographs of these scenes make up the series Historic Present. I really enjoy work like this. I think we expect change to happen over several decades, but it can be surprising when no real change occurs.
10. Rogan Brown creates these amazingly intricate paper sculptures that are hand and laser-cut. The patterns are inspired by cell structures, tree moss, bacteria, coral, diatoms and radiolaria. His works are quite lovely.