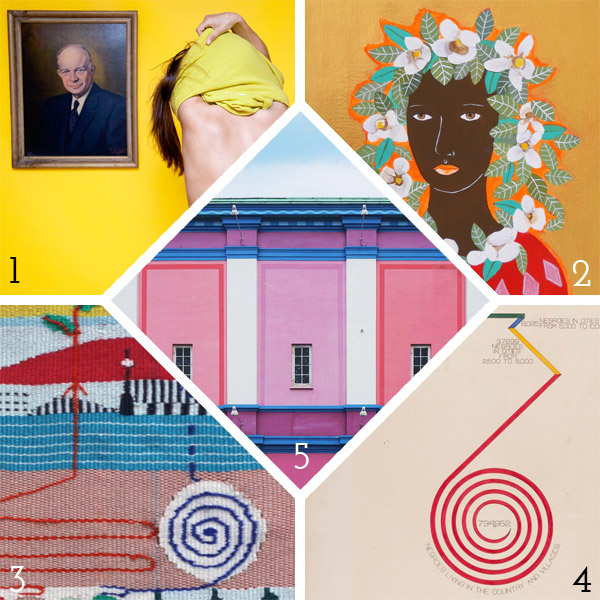 1. There are a lot of silly laws on the books and photographer Olivia Locher set out to break them. The full series is published in her book I Fought The Law. Shown above: "In Ohio it is illegal to disrobe in front of a portrait of a man."
2. I love the whimsy and softness of Jody Alexander's portraits.
3. The textile and illustration work from Hannah Waldron is so gorgeous. She packs in so much imagery into her work with abstract shapes and luscious colors.
4. At the World's Fair in Paris in 1900, W.E.B. Du Bois showcased a series of infographics in "The Exhibit of American Negroes". These graphs depict what life was like for African Americans across the US and within Georgia. W.E.B. Du Bois illustrated these charts himself collecting data with the help from students at Atlanta University. These charts were recently digitized by the Library of Congress.
5. Accidental Wes Anderson is a subreddit showcasing perfectly symmetrical and brightly colored scenes that could be pulled from a Wes Anderson film.


6. Jake Fried animates these mind-blowing illustrations made with ink and white-out. Check out Night Vision.
7. Super Terrain, a publisher in France, has created a clever prototype of Ray Bradbury's Fahrenheit 451 that requires extreme heat to be read. The technology was developed by Charles Nypels Lab, when activated by heat the black material disappears, but eventually reappears hiding the text.
8. These bags from Grav-Grav are a gorgeous combination of wood and embroidery. Could be a great idea for a binding!
9. The illustration style of Lisa Congdon is colorful and whimsical and a bit mystical, the best combination.
10. The first known bookplate dates back to 1480 and was found in the personal collection of scholarly priest Hilprand Brandenburg of Biberach.