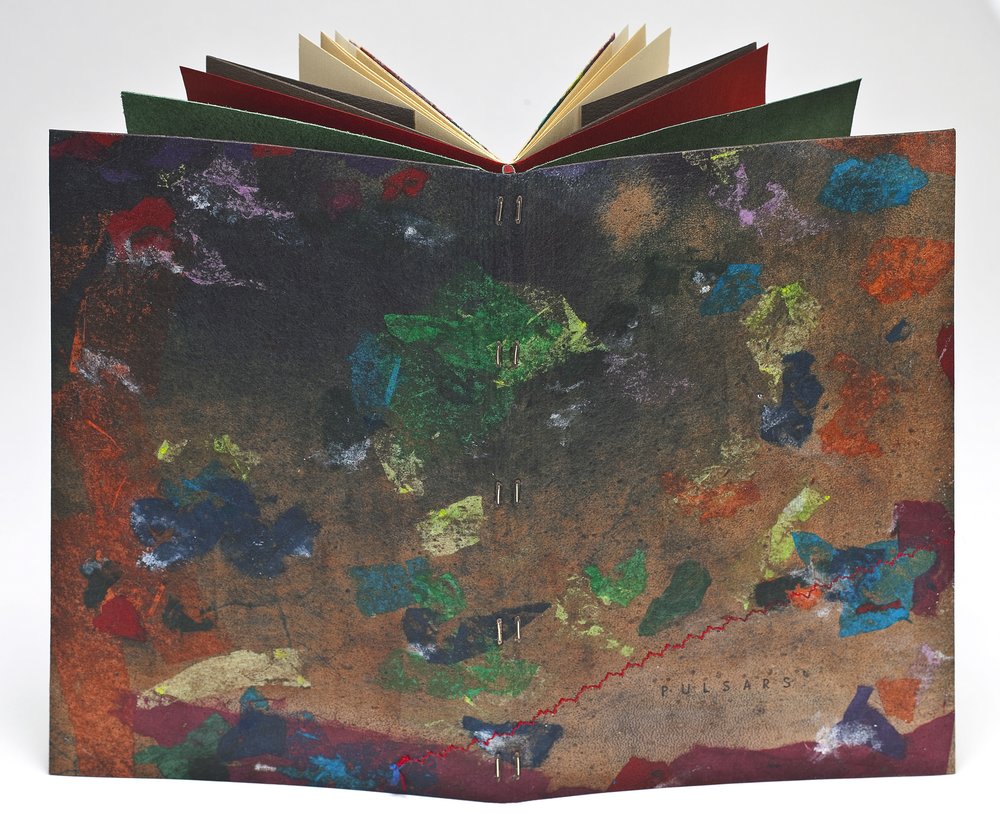 This limp suede staple binding by Coleen Curry was bound in 2017. Published by The Perishable Press, Pulsars is authored by Harry Lewis and includes a silkscreen print by Sam Gilliam. Coleen left the text in its original brown paper wrapper along with the prospectus, but added red and blue Moriki endpapers and embossed green goat suede flyleaves. The text is affixed to a red wood stub piece, which allows the print to open completely flat. The book is attached to the cover with 18 carat gold wire staples secured by handmade wood and parchment tackets.
When I look at your work as a whole there is a clear appreciation for the materials used. Even when a material is manipulated or distressed it is done so with care. Your use of suede on Pulsars reminds me of leather's hidden beauty. The suede remnants of a split skin can reveal an interesting array of splotches, veins and other blemishes where the dye did not penetrate. I wonder if you feel the same attraction to suede and if that irregularity influenced your reason for using suede on Pulsars?
The Perishable Press prospectus calls this book a "tactile event" and I wanted my binding to be just that, a tactile event. Sam Gilliam's vibrant multi-media silkscreen centerfold captures the energy of a pulsar with a vivid green machine stitching across it. I chose a gorgeous purple suede split with a myriad of colors as my covering material as the colors compliment that energy and reflects on some of Lewis' references to astrophysics. I used a variety of techniques to manipulate the cover including bright paper collage, embossing, tooling and acrylic paint. I chose Italian silk thread in blue and red to machine stitch across the lower right corner of the cover.
I am attracted to asymmetry and imperfection as a point of beauty. Irregularity – I love it – it creates curiosity, intrigue, and begs the question 'What is that?'  or 'How did you do that". Many of the materials I choose have 'imperfections' and these, in my opinion, are what breathe life into my bindings, that intrigue.  When the leather is split, often many variations appear that ware previously hidden. Tick bites, scars, veins, dye variation, texture variation all appear and are always a secret surprise.  Additionally, when various coatings are applied, completely different colors may appear, darken, enrich or even change altogether. The goat suede split was really purple, however when I applied layers of paper and then a PVA wash, the purple darkened and an amazing orange appeared along with some purple dots.