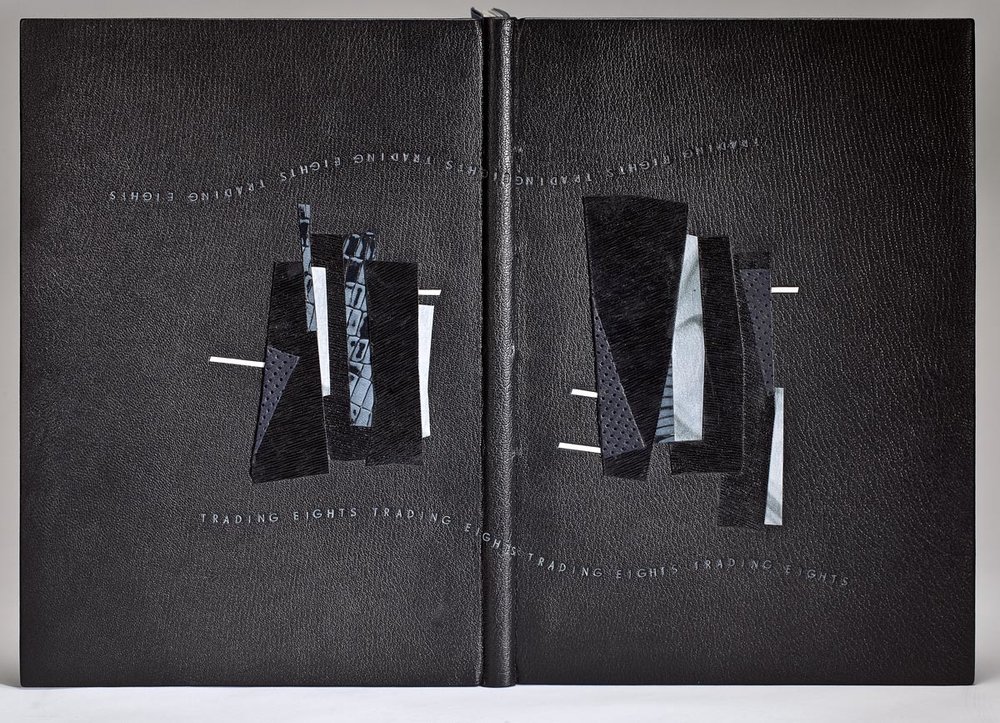 In my final post with Coleen Curry, I want to feature her binding of Trading Eights, The Faces of Jazz. Celebrating the culture of Jazz, this Nawakum Press publication includes wood engraved portraits of eight iconic jazz figures. These engravings by James G. Todd Jr. are paired with an essay by Jazz historian Ted Gioia and a poem by Dana Gioia.
In 2017, Coleen crafted this book as a traditional French laced-in binding covered in black goatskin. The design includes inlays of black straight grain goat, embossed and top-pared navy blue calf and perforated dark blue sheepskin plus onlays of white box calf and the same silver-grey translucent paper used for the interleaving in the book.
The interior side of the board is covered in edge-to-edge doublures in the same black goatskin used on the covers. The endpapers were designed by Lisa Van Pelt and originally used on the publishers' binding edition. Coleen's binding was included in the 2017 Designer Bookbinders International Exhibition traveling throughout the UK and landing in Boston.
Recently you've been binding for the Santa Rosa-based Nawakum Press, who recently suffered a great loss of their inventory and facility during the 2017 October fires in Sonoma County. How did your relationship begin with Nawakum Press and how things have changed since the devastating fires?
In 2014, I had the good fortune to attend the Manhattan Fine Press Book Fair in New York.  Whilst browsing the tables laden with beautiful books, I spotted Richard Wagener of Mixolydian Editions presenting LOOM at Nawakum's table and was blown away by his prints.  I introduced myself to Richard, and he in turn, introduced me to David Pascoe of Nawakum Press.  David mentioned his admiration of my binding on Toni Morrison's A Mercy that he had seen in an exhibition and we got to talking about making books in the North Bay (area north of SF).  As we were all North Bay residents, I invited both Richard and David to visit my bindery when we returned home.  They visited in August and shortly afterward, David asked if I would be interested in collaborating on a new project he was working on for CODEX 2015.  I crafted a design binding on Nawakum's featured release Encheiresin Naturae – an incredibly large text with abstract prints by Barry Moser and an 'heroic crown of sonnets' by Paul Muldoon.  This was the beginning of our collaboration.
The Santa Rosa fires were devastating for David and his family– they lost everything including Nawakum's entire inventory and archive. They escaped in the middle of the night with minutes to spare.  David has since relocated to the Tacoma area for a year and is already working on 2 books, one of which is about the fires. We still collaborate and I am in constant awe of the artists he brings together to make incredible fine press limited editions.
The mood of Trading Eights is so different from your other bindings. The black on black offers a subtle contrast with spontaneous blips of subdued blue and unusual texture. The framing of these inlays with a repeating title across a wave-like path really contains the design in a way that is different from your other work. So are we seeing a new style emerge from you or is it just that the subject matter of Trading Eights demanded a more sleek design.
Trading Eights was a delight to work on and listening to the Autumn Jazz station on Pandora got me into the groove of Chet Baker, The Monk and Charlie Parker amongst others.  I wanted to create an intimate feeling in a smoky jazz club and chose a narrow color palette of blues, greys and then black and white.
I don't think that you are seeing a different style emerge, rather the subject matter and the book design steered the style for this binding.  The book is clean, with hues of grey and blue.  The black and white underscores the importance of the smoky jazz club.  Jazz performance is personal, intimate: "You can follow the changes in the riffs on their faces … Look into their faces. Peer into their eyes, their souls." Jim Todd clearly feels the same way about the faces of the great live jazz performers.  The particularly lovely translucent interleaves, with beautifully evocative smoke images, introduces the reader to each large engraving as though peering through the smokey haze in a jazz club.
I wanted a subtle lyrical feeling in an intimate atmosphere similar to what it would be like sitting in a club listening to musicians trade eights.  The title is repeated across the bottom with 8 notes (each word being a note) and then repeated (traded) across the top, which encloses the design on the boards to create the intimacy.  Jazz is organized yet allows the musician to riff into their own exploration and the design is my attempt to do that.  The shapes on the front and back boards are clean, woven and tight, yet I wanted to explore boundaries with depth and color and texture.