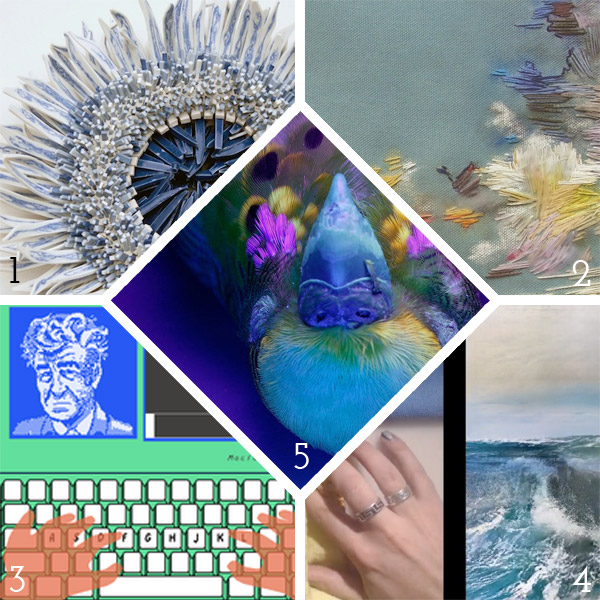 1. What can you do with ceramic shards? Artist Zemer Peled creates these magnificent sculptural pieces from fragments that mimic flowers, sea anemones and other flora.
2. I love the embroidery work of Stephanie K. Clark. I've recently become enchanted with how she mixes pastels with rough and uneven strands of floss.
3. Need some help learning how to type more efficiently? Get some help from film auteur David Lynch in this easy to follow game David Lynch Teaches Typing.
4. Gloomy Sunday is a film by Memo Akten which presents how a computer can re-interpret a live performance of mundane objects into natural landscapes, a fiery hellscape and blooming florals.
5. Many animals see color differently from us humans; on either end of the spectrum. Birds, in particular, can see levels of ultraviolet light beyond what humans are capable of. This ability allows birds to see each other's glowing beaks and feathers, which in turn communicates a variety of information. I'm so compelled by this secret language and what must be a beautiful and luminous existence.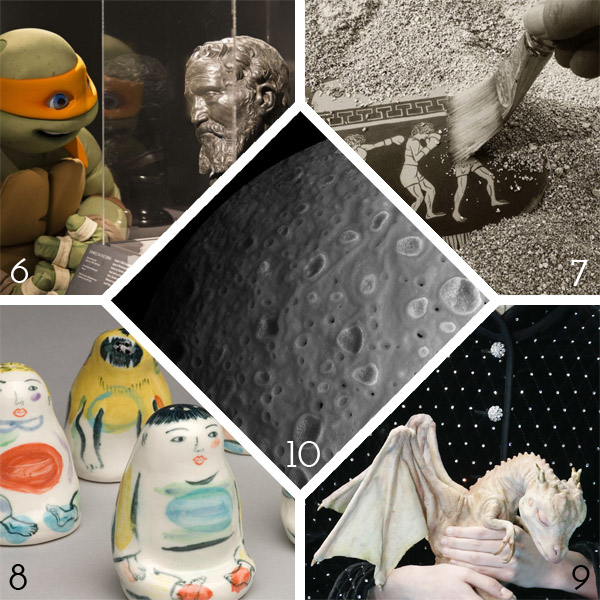 6. Michelangelo, the Teenage Mutant Ninja Turtle, meets Michelangelo, the 15th century artist at a trip to the Metropolitan Museum.
7. Artist Mary Frances Dondelinger has reimagined Roman history that puts women on equal footing to men. This series is documented through the excavation of Roman pottery that has been handcrafted to replace men with women in traditional scenes of strength and stamina.
8. I am so delighted by the bubbly and quirky work of ceramist Beth Lo!
9. Gucci's Fall 2018 Ready-to-Wear Collection took some cues from Renaissance art. Visual effects company, Makinarium, was hired to create these lifelike props, which include a baby dragon and two human heads identical to the models carrying them.
10. Alternative Moons is a photo book collection by photographer Robert Pufleb and web designer Nadine Schlieper. Traveling through images of the moon, the reader comes to a surprise as they reach the end of the book. This trip through space is actually perfectly staged images of pancakes!