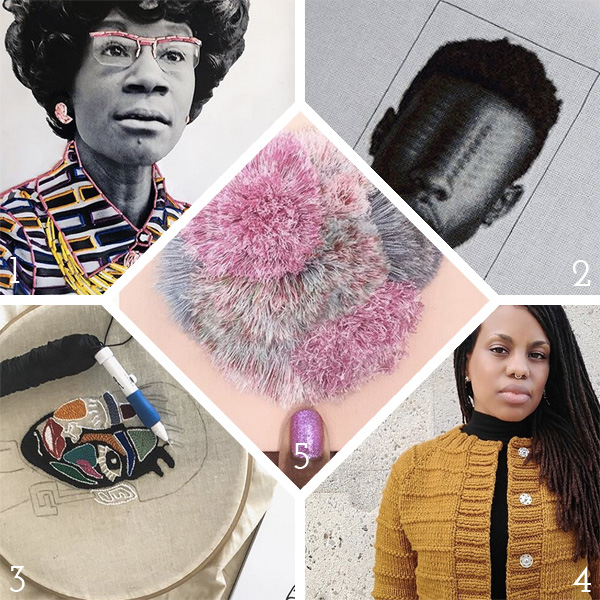 1. Sarah Branch is a Brooklyn-based artist creating work inspired by artists who have pioneered black arts across all platforms. This embroidered portrait of Shirley Chisholm is powerful and amplifies her position as the first black women to be elected to the US Congress (she was elected for a total of 7 terms from 1969 – 1983). Chisholm also became the first woman and first black person to run for the Presidential Democratic nomination in 1972. You can learn more about this untold historical moment in Shola Lynch's documentary Shirley Chisholm '72: Unbought and Unbossed (watch on PBS).
2. I love seeing the process behind Raven Kianna D.'s delicately cross-stitched pieces on her instagram. The use of tiny stitches makes her work incredibly detailed and realistic. Just Like Life, Nothing Is Just Black And White is one of my favorite pieces. Raven often focuses the view on the subject's eye or alters their portrait to obstruct their eyes.
3. The punch needle work of @_dweba is gorgeous and captures the strength and beauty of women in Cape Town, South Africa.
4. I'm not a knitter, but love to fantasize about knitting beautiful garments for myself. I love this cardigan from Bayron Handmade. Denise Bayron is the brains behind this amazing line of knit and sewing patterns. I appreciate that she includes videos about her pieces to speak about the construction and the best way to wear the garments. Maybe it's time to pick up a new skill!
5. For many, fiber art can be a therapeutic form of expression. This is how Adele Deloris Riley describes her work, especially turning the lockdown. Much of the fabric used in Adele's work is reclaimed from vintage and secondhand shops. In a feature in The Sunday Times Home, she states, "During the uncertain times of the lockdown I found solace in my work. The laborious deconstruction and reconstruction of fabrics provided a therapeutic and joyous release."
6. Pretty Strange is run by Ciara LeRoy in Lexington, Kentucky. Her embroidered lettering is so gorgeous and precisely stitched. Ciara works through self care in her work as a practice-what-you-preach-kind-of-way (which I greatly appreciate). She is making work that is playful, inspiring and beautiful.
7. Self care is very important right now and Lauren Singleton of Yes Stitch Yes is boosting my mood with her beautiful monochromatic and floral embroidered expressions. I particularly love this tribute to everyone's favorite personal massager ;)
8. The unique silhouettes of Niki Dionne's subjects are rendered in a wide range of media, including oil pastels, illustrations, rugs and knitted portraits. Even though her subjects are often crafted without faces, Niki builds so much expression into the body language, texture and color palette of her work.
9. Charlotte Edey is an amazing artist working in print, textile and embroidery. The surrealist quality of her work stems from pulling together symbols and myths that explore an intersectionality between identity and spirituality in addition to experiences of women of color. Each tapestry begins as an illustration that is then translated into a Jacquard woven piece created in a limited edition. The softness of her work contrasts beautifully with the heaviness of her themes.
10. Simone Elizabeth's tufted tapestries are part of a long history of using fiber art to highlight and investigate political, social and cultural moments. Simone's tapestries are incredible. She transforms each portrait with bright color palettes and bold outlines. The subject in her pieces have the ability to confront the viewer, creating a moment of pause and reflection. Absolutely stunning work.