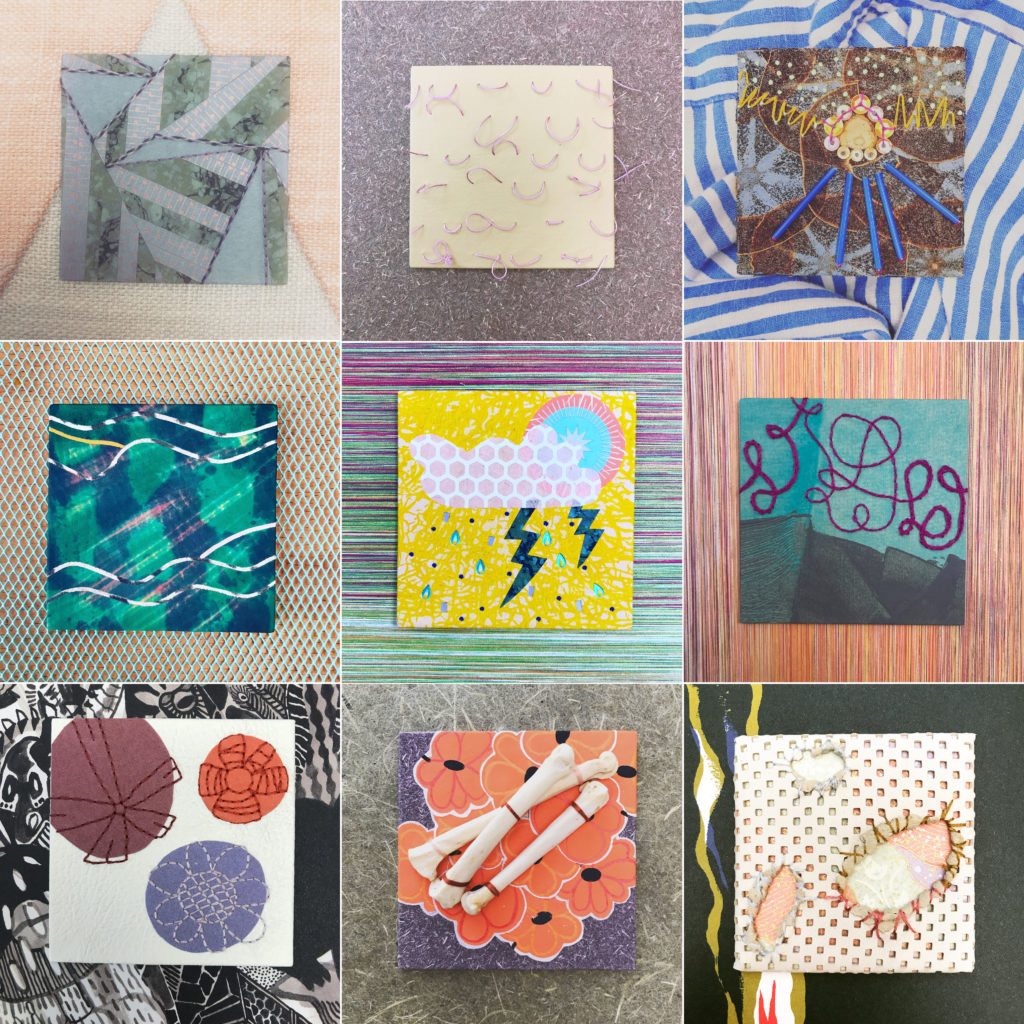 Panel No. 28 // Up Above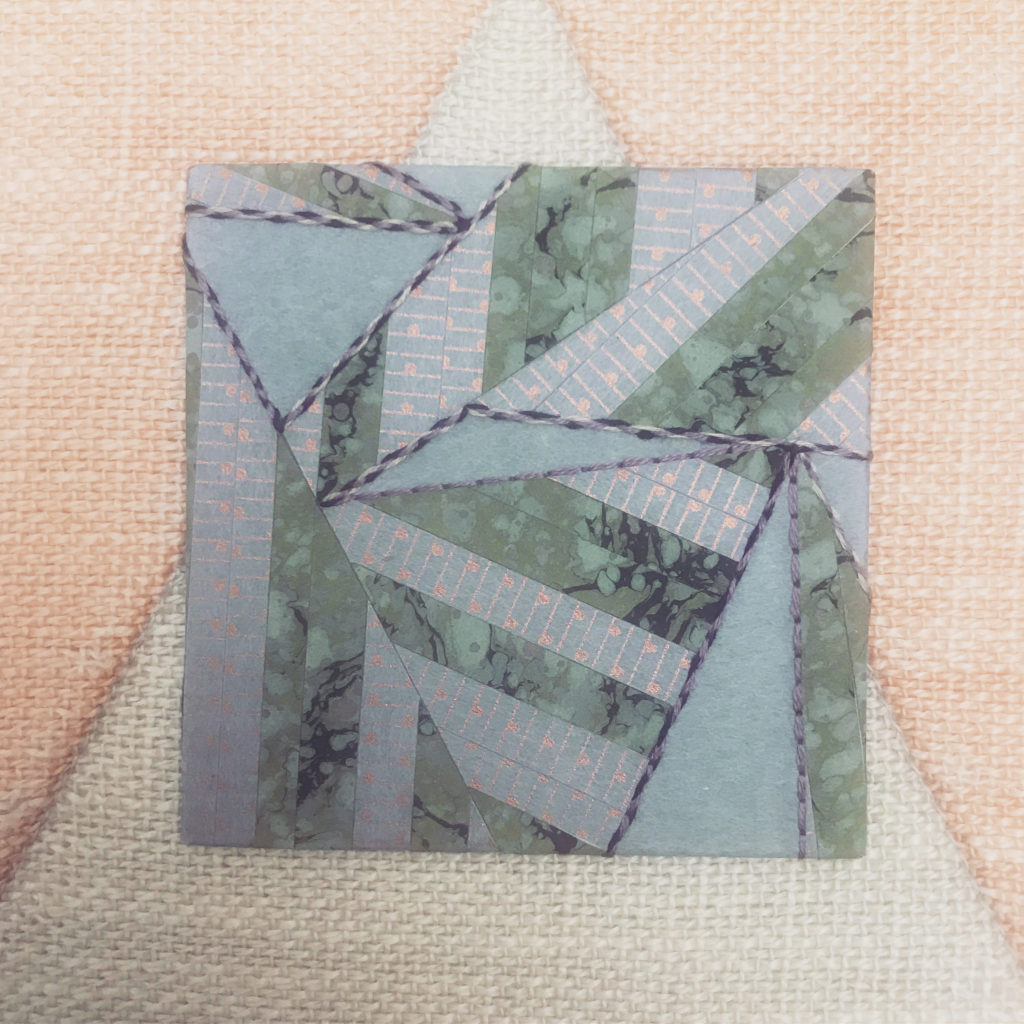 On the doublures for my binding of Roadkills, I used the same technique of cutting and reassembling strips of decorative paper. For this panel, I combined a handmade marbled paper with a screen-printed paper I bought from Fabrikat. The assemblage was then cut into various shapes and attached to the back side a piece of same screen-printed paper. Almost every edge has been embroidered with either a back stitch, whipped back stitch or double whipped back stitch with cotton floss in medium antique violet, sage green and navy blue.
Photographed on a decorative couch pillow.
Panel No. 29 // Make Sense?
Putting loose threads on a binding seems like a bad idea, but it was fun to play around with it on this panel. The threads are actually really fun to play with; making twirls and loops and changing the overall appearance of the piece. The panel was embroidered on twill cowhide with purple Kinkame silk thread which kinks and twists very easily.
Photographed on a sheet of handmade paper from Hook Pottery Paper. Made while listening to the Kill Bill: Volume One soundtrack.
Panel No. 30 // Date Plum
This panel has a lot of movement as well, the long blue bugle beads swing and sway. The base is a piece of periwinkle Khadi paper laminated with permission papyrus. Irridescent cap sequin surround a natural inclusion in the papyrus. The sequin are attached with French knots in antique violet cotton floss and stitches in fuchsia cotton floss. Peaks couched on with dark straw and light seagreen cotton floss. French knots in light nile green are scattered above the peaks.
Photographed on a blue and white striped button-up shirt.
Panel No. 31 // Waves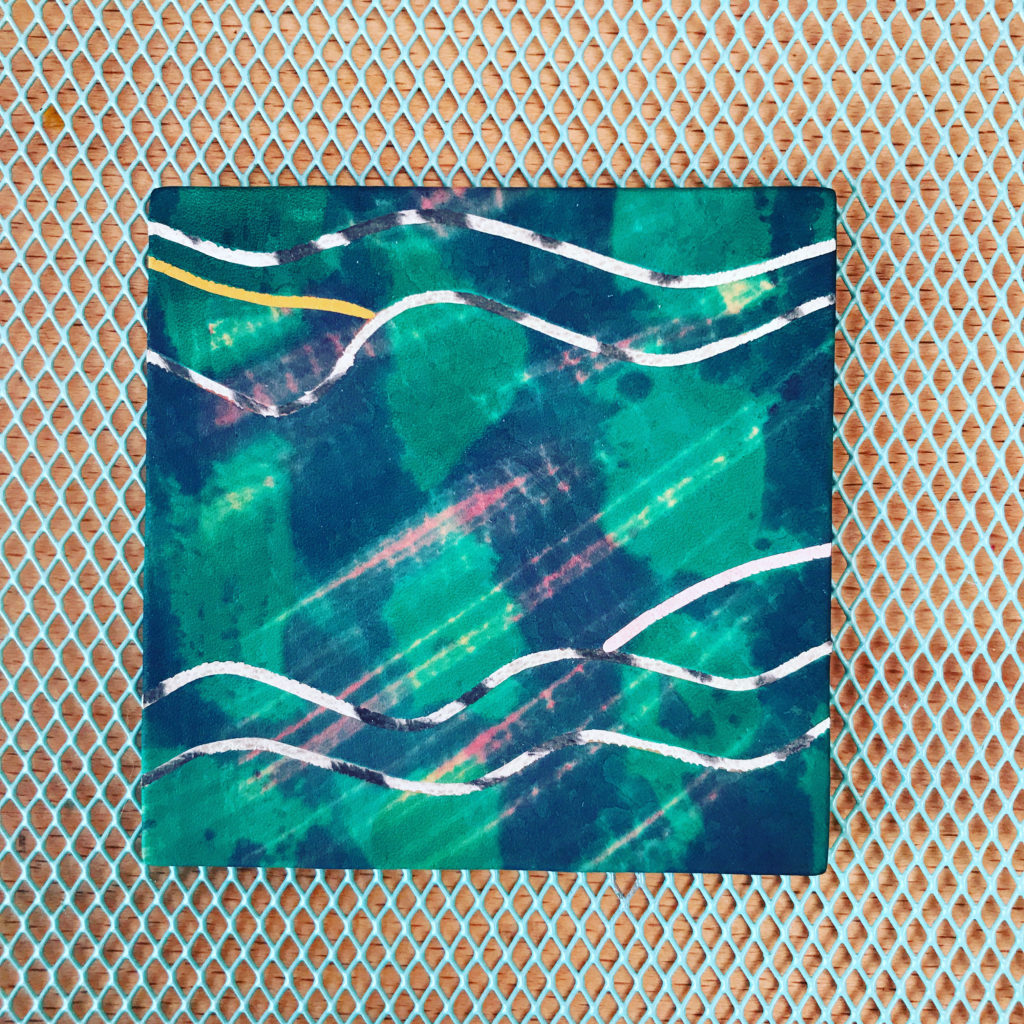 This panel is covered in a piece of fair goatskin hand-dyed with spirit dyes in aqua green and red. Before brushing on the initial layer of red dye, areas were masked out with various irregular shapes. Then aqua green was brushed over the top. Strips of light pink buffalo, mustard cowhide and spotted fashion leather have been inlaid using a V-cut tool.
Photographed on a wire mesh divider. Made while listening to Kishi Bashi.
Panel No. 32 // June 9th
Growing up in the Midwest, intense thunderstorms often ushered in the beginning of summer. The skies would turn a sick yellow, green. The air would be incredibly still with the onset of lightning and thunder. This panel is covered in a piece of fair goatskin dyed with yellow spirit dye using the craquelle technique. A collage of decorative papers make the cloud, lightning and sun. Rain drops are tooled in various shapes with metallic teal, matte lilac and matte navy blue foil.
Photographed on back cover of Sheila Hicks: Material Voices. Made while listening to Kutiman.
Panel No. 33 // Squall
Now that I live in New England, I don't get to experience those Midwestern thunderstorms anymore, but we do get gale-force winds quite frequently. This panel is covered in a paste paper I made a while back for another project. The top half is embroidered with magenta cotton floss in a mix of back stitch and split stitch.
Photographed on front cover of Sheila Hicks: Material Voices.
Panel No. 34 // Languid
This panel is covered in a pigmented white skin from Pergamena. I used this skin for an edition project and have lots of scraps left over. The paper onlays are cut from various handmade papers from Katie MacGregor in periwinkle, orchid and melon. A flower doodle is embroidered in a matching cotton floss in back stitch.
Photographed on a page from Panther by Brecht Evens.
Panel No. 35 // For the Poppies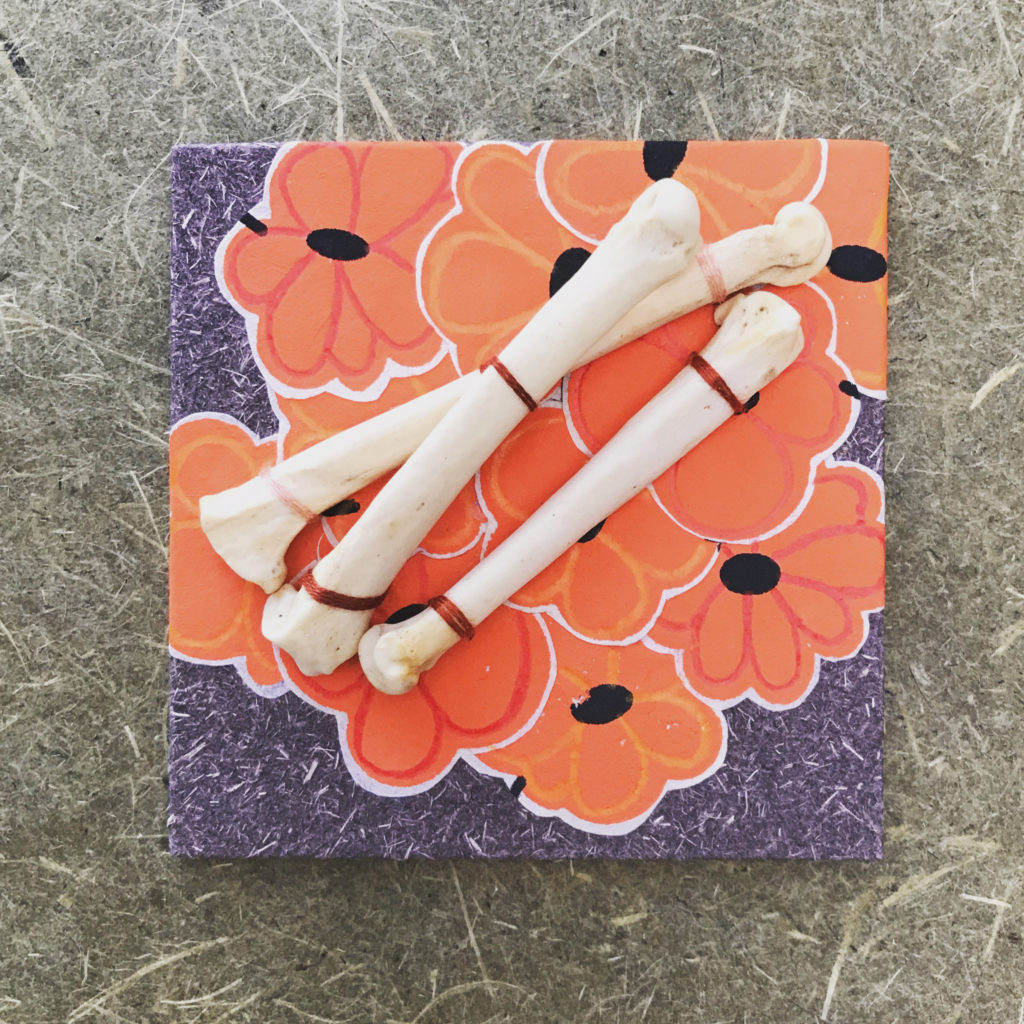 This panel was actually inspired from a YouTube video I stumbled upon while going down a rabbit-hole of watching cute animal videos. In this particular video, a man had tried to nurse a squirrel kit back to health. Unfortunately, it died and he buried it on a bed of flowers. It was quite a striking image and I decided to recreate it with these coyote foot bones I had lying around from my binding of 2001: A Space Odyssey. The panel is covered in a paper from Hook Pottery Paper with a collage of screen-printed flowers with petals drawn with colored pencils. The coyote bones are tacked on with cotton floss in various tones of pink and burgundy.
Photographed on a handmade paper from Hook Pottery Paper.
Panel No. 36 // Broken Relationship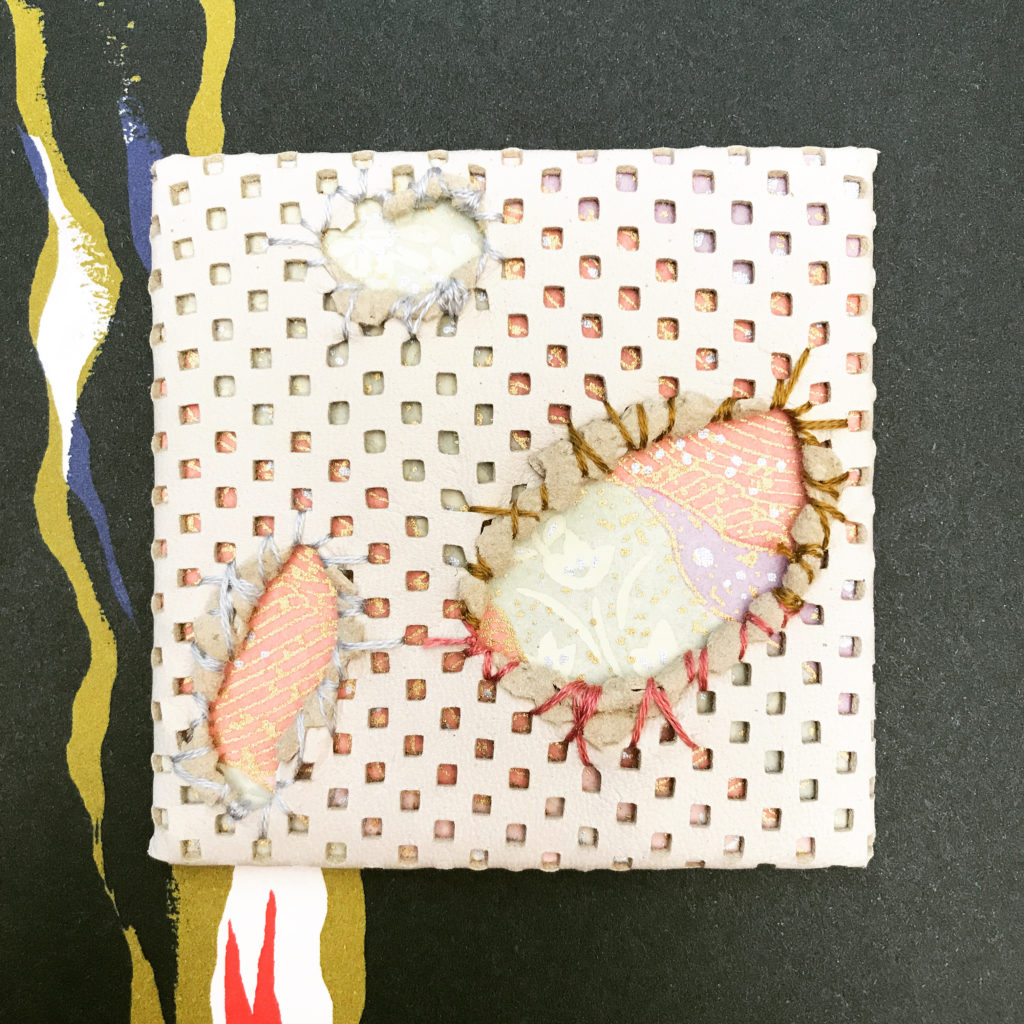 The panel is covered with a pastel wave Chiyogami paper with a piece of die-cut suede drummed on over the top. After cutting three different areas, the edges were opened up and pulled tight with whipped stitches in silver blue, golden olive and light shell pink cotton floss.
Photographed on the back cover paste down of No Man's Land by Blexbolex.