Here are the next nine panels for my 100 Day Project.
Panel No. 37 // Weirdo Shrine
The inspiration for this panel came while making Panel No. 25. For that panel, I punched the holes for the embroidery through the covered panel which caused the material to "volcano" on the backside. I removed these peaks with a scalpel blade before stitching to create a smooth surface. For this panel I tiled different handmade paper onto the panel before covering it with a layer of lilac St. Armand paper. I punched the holes from the backside so that the "volcanoes" would emerge on the front side. Then I carved out the peaks with a scalpel before stitching with a gunmetal metallic thread.
Photographed with Sweet Bee vinyl figurine. Made while listening to La Luz.
Panel No. 38 // Dangerously Ripe
This panel is covered in flanelle buffalo skin with naturally dyed silk appliqued with cutch/iron cotton floss. This is a technique I used recently on a design binding and wanted to play around with it some more for this panel.
Photographed on a woven basket (where we keep our snacks!). Made while listening to Lady Gaga.
Panel No. 39 // Fletcher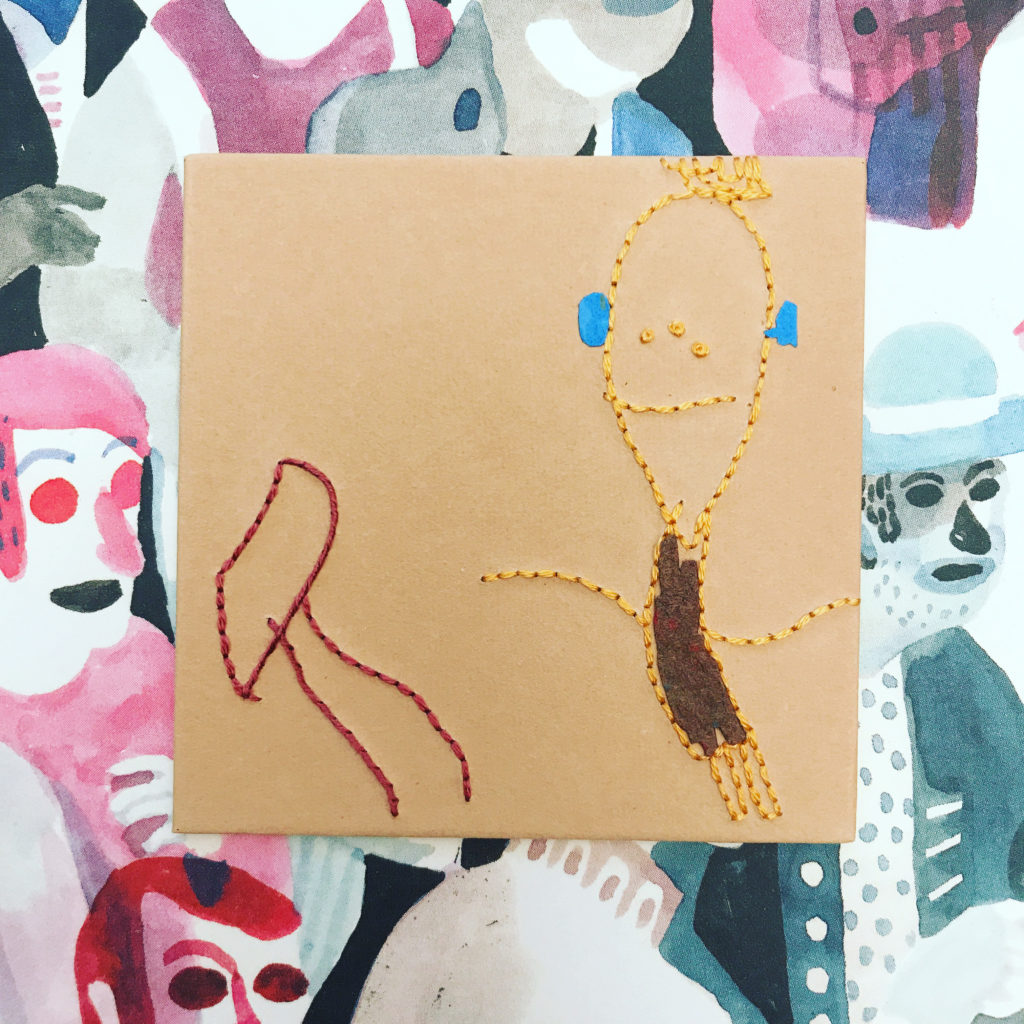 The illustration depicted here comes from my wonderful 3-year old nephew Fletcher. These wacky figures are embroidered on a peach handmade paper from Katie MacGregor and stitched with light golden brown and dark rosewood cotton floss. The figure on the right has a brown St. Armand onlay for a dress and electric blue abaca paper onlays for ears.
Photographed on the back cover of The Wrong Place by Brecht Evens.
Panel No. 40 // To Being Number One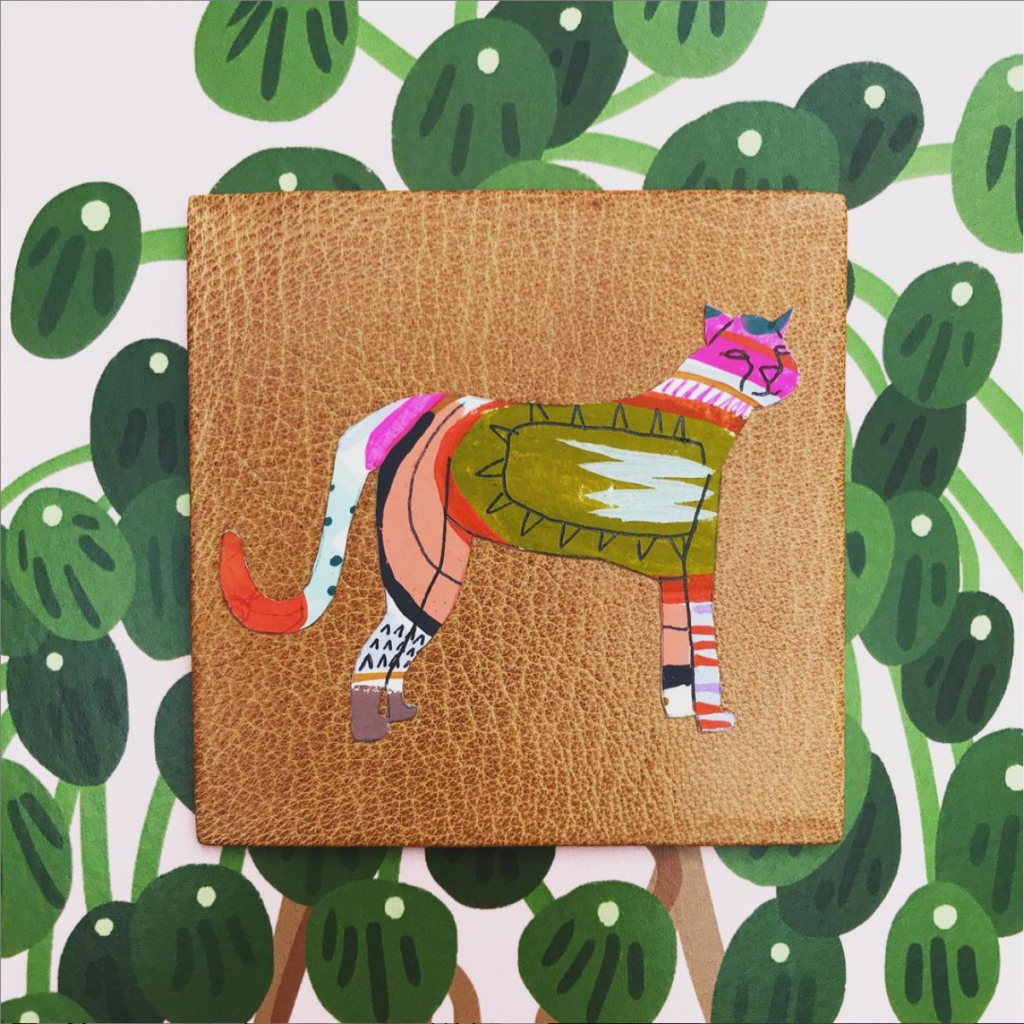 To create the cheetah for this panel, I painted out a collage of colors using various Acryla gouache paints. To find the perfect placement, I cut out a silhouette of the cheetah and traced the best spot on the painting. Additional markings are drawn on with colored pens. The cheetah is adhered to a medium brown goatskin.
Photographed on the page for August in a calendar made by Bloomwolf Studio.
Panel No. 41 // Bursting
A pile of thread scraps have been piling up on my bench, so for this panel I decided to couched them onto a base of mauve buffalo skin. Beneath the mess of threads are three pieces of mica that have been attached with French knots. The mica was scavenged from a creek near Penland School of Crafts.
Photographed on the cover for The Plague by Albert Camus. Made while listening to Ladyhawke and Lake.
Panel No. 42 // Screen
This panel came to life while I was trimming the flyleaves on a design binding. I thought I might try to use the trimmed pieces rather than throw them away. The panel is covered in an over marbled paper which I made during a workshop with Chena River Marblers. Strips of mauve handmade paper are embroidered in a whipped back stitch with corn flower, terra cotta and ash grey linen Londonderry thread. The strips extend beyond the board with the edges folded inward.
Photographed on a souvenir from Tokyo – cats on a handkerchief.
Panel No. 43 // Squares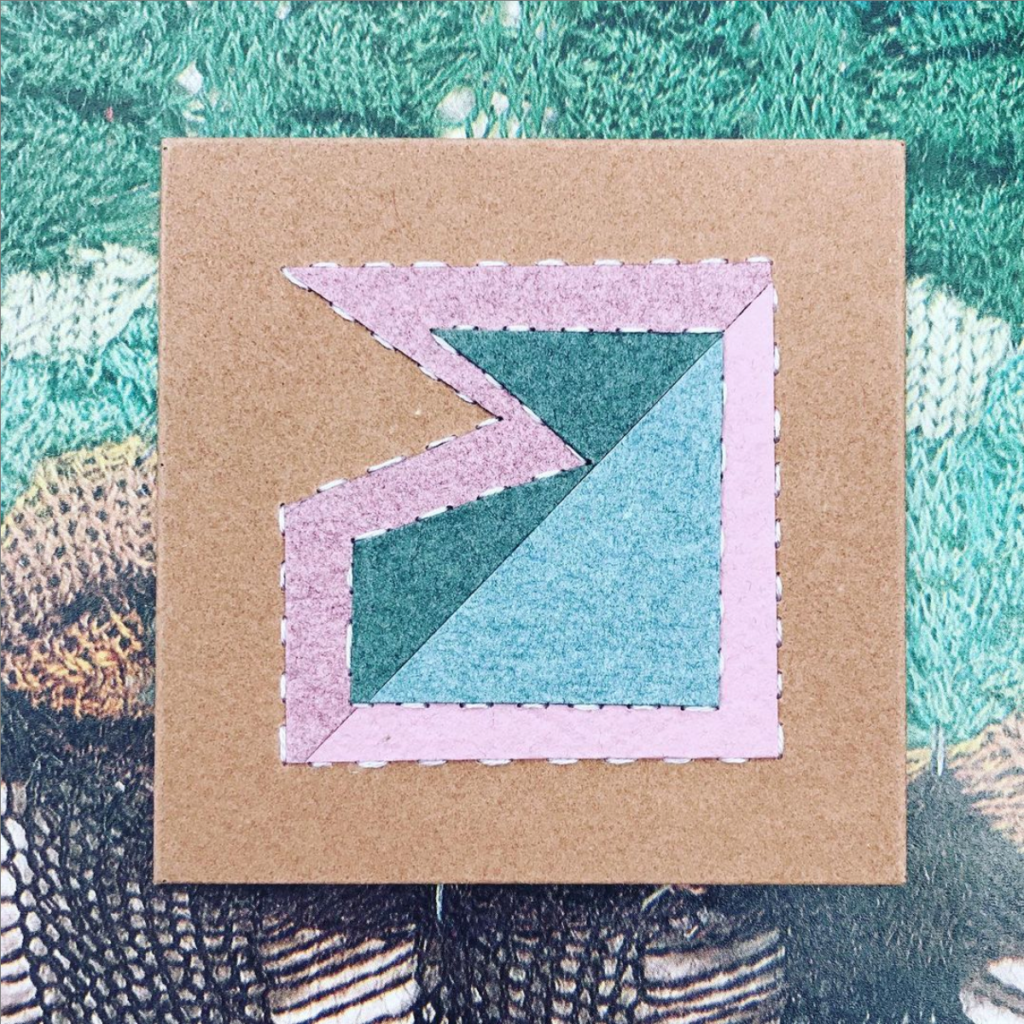 For this panel, I found inspiration inside the book featured in the background. The design tiles together various colored St. Armand papers which are outlined with a running stitch in light antique violet cotton floss. The design sits on a base of red-brown handmade paper from Katie MacGregor.
Photographed on a page from Embroidery and Colour by Constance Howard.
Panel No. 44 // Scrunchie No. 1
The running stitch can be used in fabric to scrunch the cloth, so I aspired to do the same with leather. For the most part, the running stitches have been obscured by various notions and scraps. Neon orange and heather copper cord are couched onto the leather with navy blue and medium golden olive cotton floss, respectively. A piece of perforated suede in the center is tacked down with light antique violet. Finally, a strand of yellow yarn loops through the piece and is couched onto the wild orchid cowhide with dark garnet cotton floss.
Photographed on a page from Sol LeWitt Wall Drawings 1984 – 1992.
Panel No. 45 // Making the Move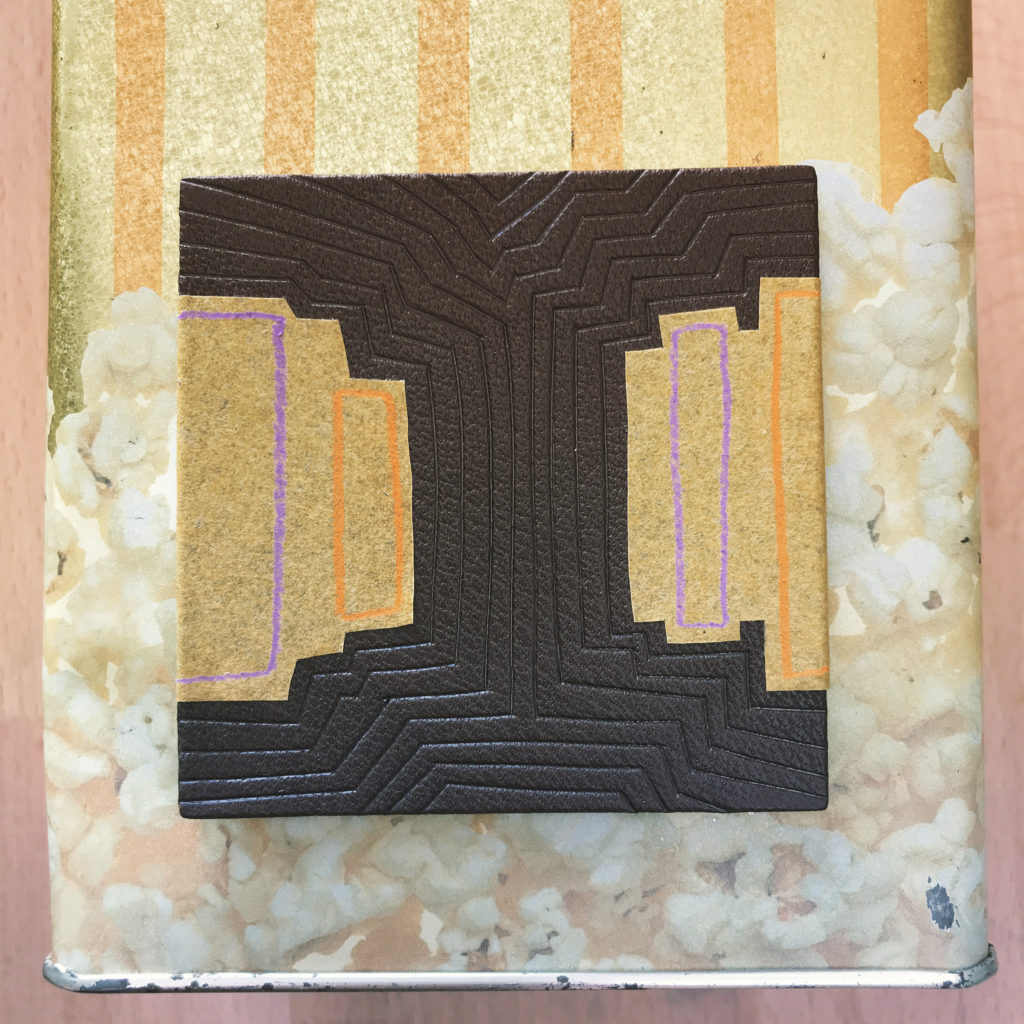 My intention with this panel was to create a tooled design directly on the panel in response to the shape of the onlays. The two onlays are cut from yellow translucent abaca from the Morgan Conservatory, with details drawn using Caran d'Ache Luminance colored pencil in manganese violet and orange. Concentric outlines rippling from each onlay are blind tooled onto French Chagreen dark brown goatskin.
Photographed on a vintage popcorn tin. Made while listening to Lake.