Here are the next nine panels in my 100 Day project.
Panel No. 46 // Junk Drawer
I was hoping for more with this panel, but that's what experimenting is for. The teal goatskin was covered with thread scraps layered between coats of paint. To create the distressed look, the leather was sanded. This step removed most of the thread pieces, only leaving a few remnants here and there. I had hoped that the thread scraps were create more indentation in the leather through the sanding process. To build this back into the design I embroidered three "strands" of thread with light peach, navy blue and copper cotton thread.
Photographed on a decorative couch pillow.
Panel No. 47 // Formidable Task
I really love the final look of this panel and I definitely plan to explore this look further. The panel is covered in a pastel marbled paper that I got from the Minnesota Center for Book Arts shop. Drummed over the top is an embroidered piece of uterine calf parchment. The ochre yellow cotton floss runs behind the parchment and is the starting point for the cloud filling pattern done in very light antique violet cotton floss.
Photographed on a page from Gowanus Waters by Steven Hirsch. Made while listening to Lana Del Rey.
Panel No. 48 // Capture
Using just the blanket stitch, I created this asymmetrical design with various colors of cotton floss embroidered on maroon goatskin. I planned out this design by drawing some wavy lines on to tracing paper, which was used as a guide to punch holes at random intervals along the line.
Photographed on a black and white polka dot dress.
Panel No. 49 // Greta
This lovely and colorful caticorn drawing came from my 7-year old niece Greta. Her drawing was done with the saturated colors commonly found in a crayon box, but I chose a more muted palette. I traced her image onto tracing paper, then punched the entire piece through Arches paper. Then before any embroidery work, I colored in each segment according to her drawing and did my best to follow the direction of the crayon stroke and color outside the lines when appropriate. The entire piece is stitched with a dark pewter grey cotton floss.
Photographed on a floral circular purse.
Panel No. 50 // Turn
I had been working with a client to design a cover for a series of graphite drawings. The design needed to be subtle and mimic some of the techniques used in the drawings. So, I decided to play around with an idea on this panel. I cut out a square of leather, then rotated it 180º before inlaying it back in place. The disruption of the grain pattern is very subtle, too subtle in my opinion.
Photographed on a slab of marble.
Panel No. 51 // Mint Slither
This panel is another test for the client mentioned above in the previous panel and another attempt to create a subtle design. After covering the board in a plum goatskin, a portion was cut out and replaced with a full thickness piece of leather in the same color. Before this piece was inlaid, the edges were painted with ash green Acryla gouache and dots of coral red. The painted edge becomes more visible as you lean the panel forward.
Photographed on a paste paper made by Claire Mazcarcyk. Made while listening to Laura Mvula.
Panel No. 52 // Scrunchie No. 2
This is a second attempt of scrunching the leather with a running stitch. Two lines of stitches are sewn with pewter grey and medium light nile green cotton floss. The latter has been whipped stitched with pewter grey. The bright orange buffalo skin was greatly warped by the running stitches which encouraged the leather to bunch and wrinkle when it was glued to the board. These wrinkles are accentuated with blind tooling and whipped stitch in pale pink cotton floss. Shapes are randomly tooled around the board in navy blue and lilac matte foil.
Photographed on a decorative sheet of Lokta paper.
Panel No. 53 // Kicks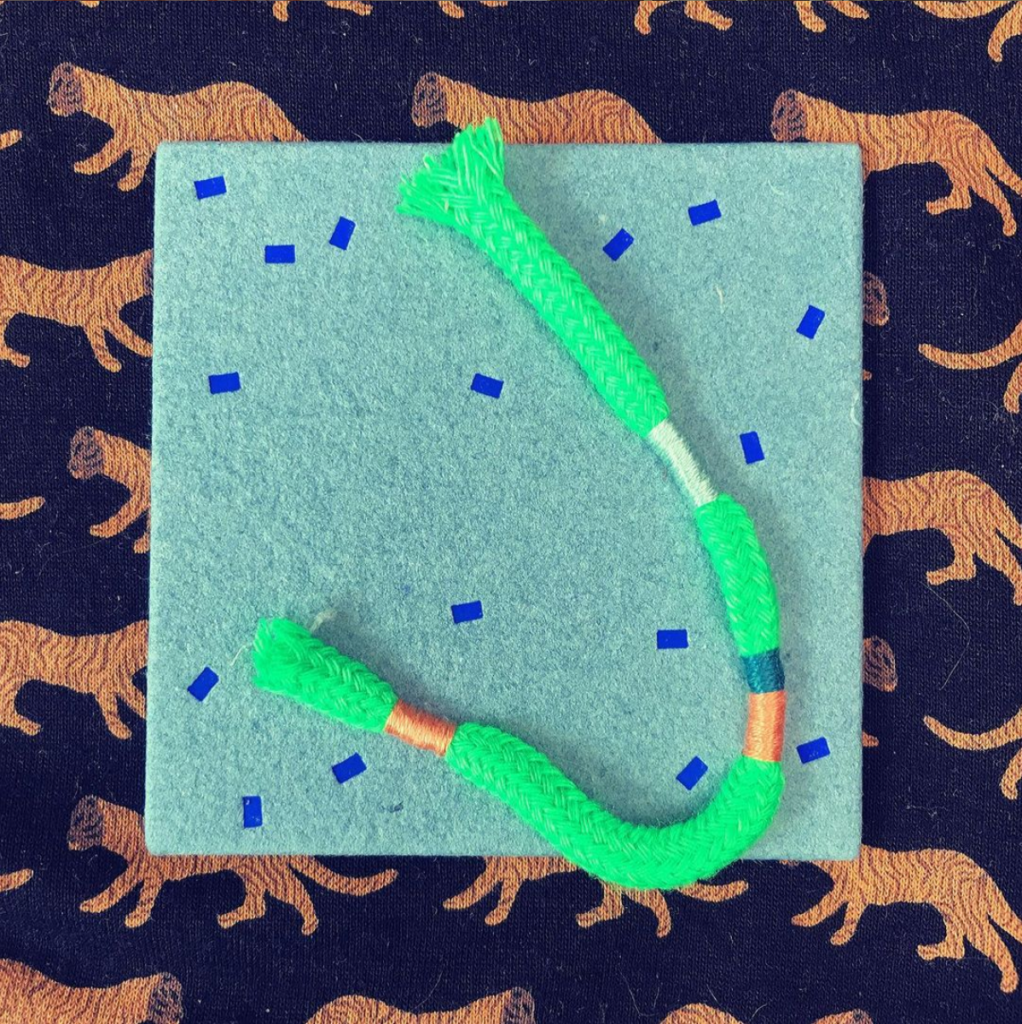 In this panel, I wanted to play around with wrapped cord. It turned out to be very time consuming which resulted in a rather simple finished panel. The neon green cord is wrapped with light orange spice cotton floss, light blue green cotton floss and dark teal wool thread. At least one of the wrapped threads anchors the cord to the board that is covered in St. Armand blue paper. The cord is surrounded with tooled rectangles in electric blue matte foil.
Photographed on a tiger print dress.
Panel No. 54 // Cottonball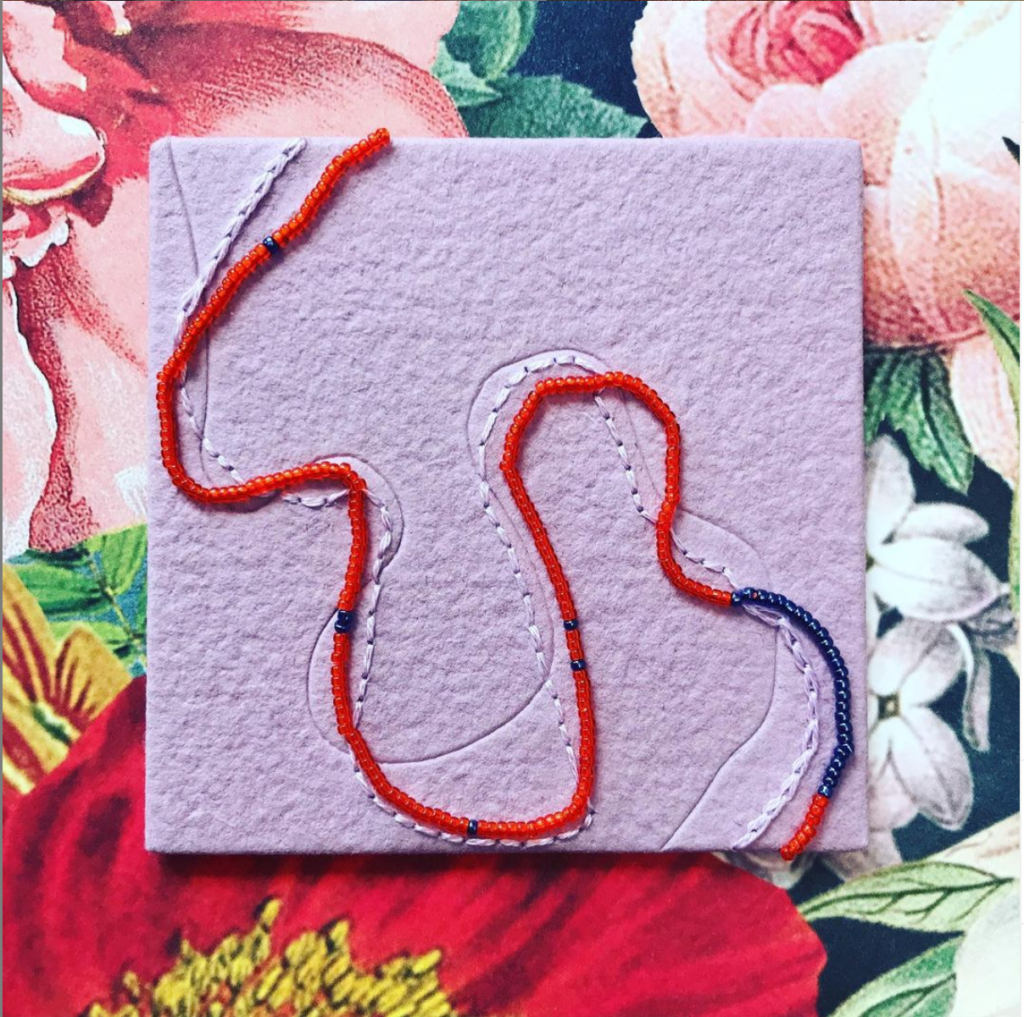 I have played with beading in past panels, but for this panel I wanted to couch a string of beads. Another surprisingly time consuming technique. The string of beads includes tangerine and denim blue glass seed beads. Running alongside the string of beads is a blind tooled line and a stitched line mixed with chain stitch and back stitch. The embroidery is done with lilac cotton floss which perfectly matches the lilac St. Armand paper which covers the board.
Photographed on a floral folder repurposed from a Paper Source calendar. Made while listening to Led Zeppelin.