These are the next nine panels in my 100 Day project.
Panel No. 82 // Jason's Spirit
This panel became more of a showcase for this pink lizard skin that I picked up during a trip to Tokyo. The lizard is backed with a piece of electric blue handmade paper and is onlaid onto a peach colored handmade paper. I always joke that my husband once had a past life as a lizard, so that became the inspiration for the title of this panel.
Photographed on the paste down of Dogs & Water by Anders Nilsen.
Panel No. 83 // See See
My husband has recently been creating animated loops for performing artists and thought this imagery could be interesting on a panel. He supplied me with an imagine and I printed it onto a piece of fair calfskin. The image is actually printed twice, rotated 180 degrees between each printing. After covering the panel I roughly tooled various shapes into the leather with metallic pink and purple, matte lilac and holographic foils.
Photographed in the mouth of Sweet Duck figurine. Made while listening to M83.
Panel No. 84 // Square Weave
Tessellation origami is really fascinating to me and something that I've seen other binder's explore in their work. I sought out the easiest pattern that I could find and landed on the square weave. Although the front is highly textured, the backside remains rather flat, making it easy to then paste onto board. This panel is made with a folded mint Moriki paper that was cut about two and a half times larger than the panel board.
Photographed on a wooden cactus. Made while listening to Madonna.
Panel No. 85 // Where the Sidewalk Ends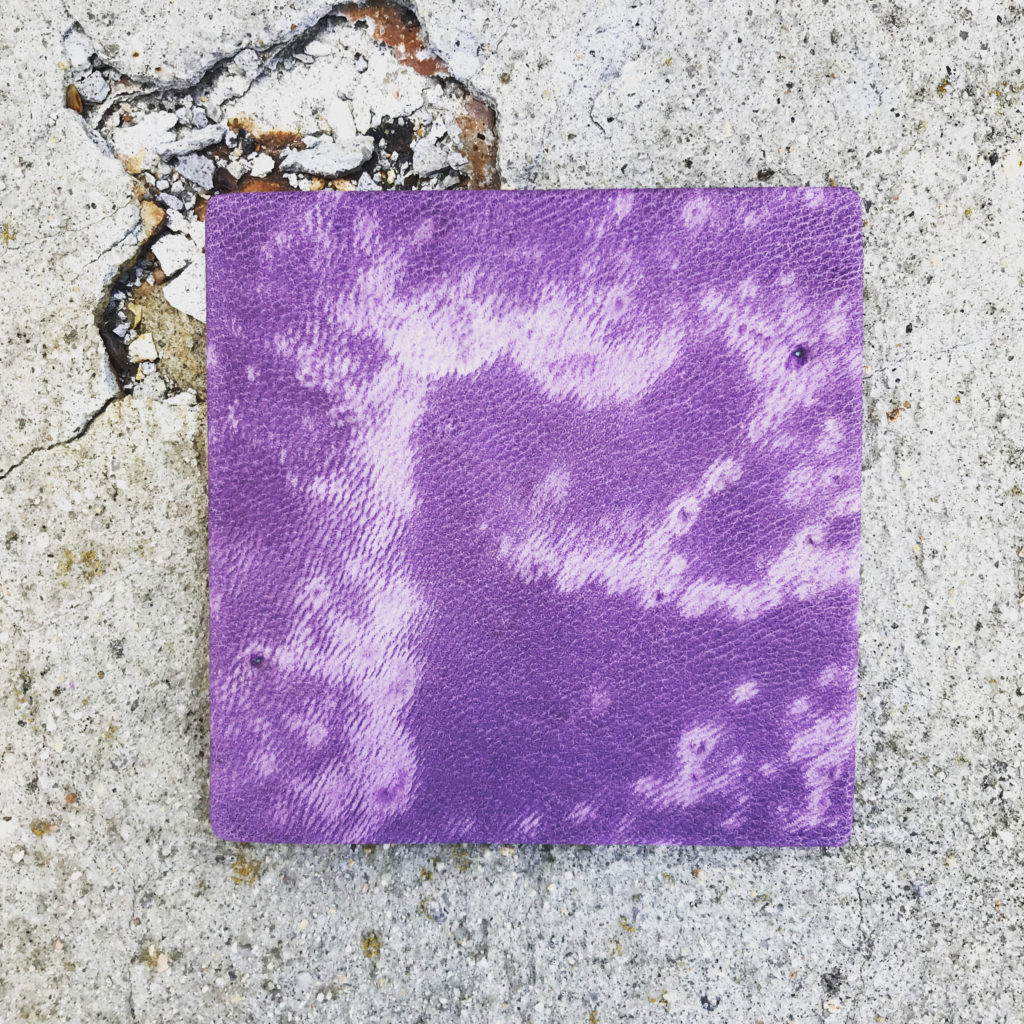 The surface of the lavender Pergamena goatskin for this panel was sanded over the highly textured surface of the cement steps that lead to my front door. Small areas were completely worn through the leather, leaving small irregular holes. This technique leaves the leather feeling very soft with a subtle texture.
Photographed on the steps in front of my house. Made while listening to Madonna.
Panel No. 86 // Buttered Popcorn
Before covering I glued down a piece of 4-ply hemp cord to the board in a wavy pattern. The panel was then covered with a decorated piece of yellow chartreuse Moriki paper and pressed with a piece of foam so that the paper would mold around the hemp cord. The Moriki paper was initially decorated with painted shapes using misty blue Acryla gouache and outlined with manganese violet colored pencil. Lines of scarlet colored pencil are drawn across the paper.
Photographed on a Dusen Dusen bath towel. Made while listening to Madonna.
Panel No. 87 // You Got Something in Your Teeth
This panel is made from a piece of sturdy woven brown paper that was painted with ash green, coral red and opera pink Acryla gouache. I then couched on a piece of dark salmon cord with long stitches of light beige brown cotton floss. I typically create very small, tight couching stitches, but with this panel I wanted to explore using them in a more visible way.
Photographed on a paste paper pig from Hook Pottery Paper. Made while listening to Mika.
Panel No. 88 // Jaxson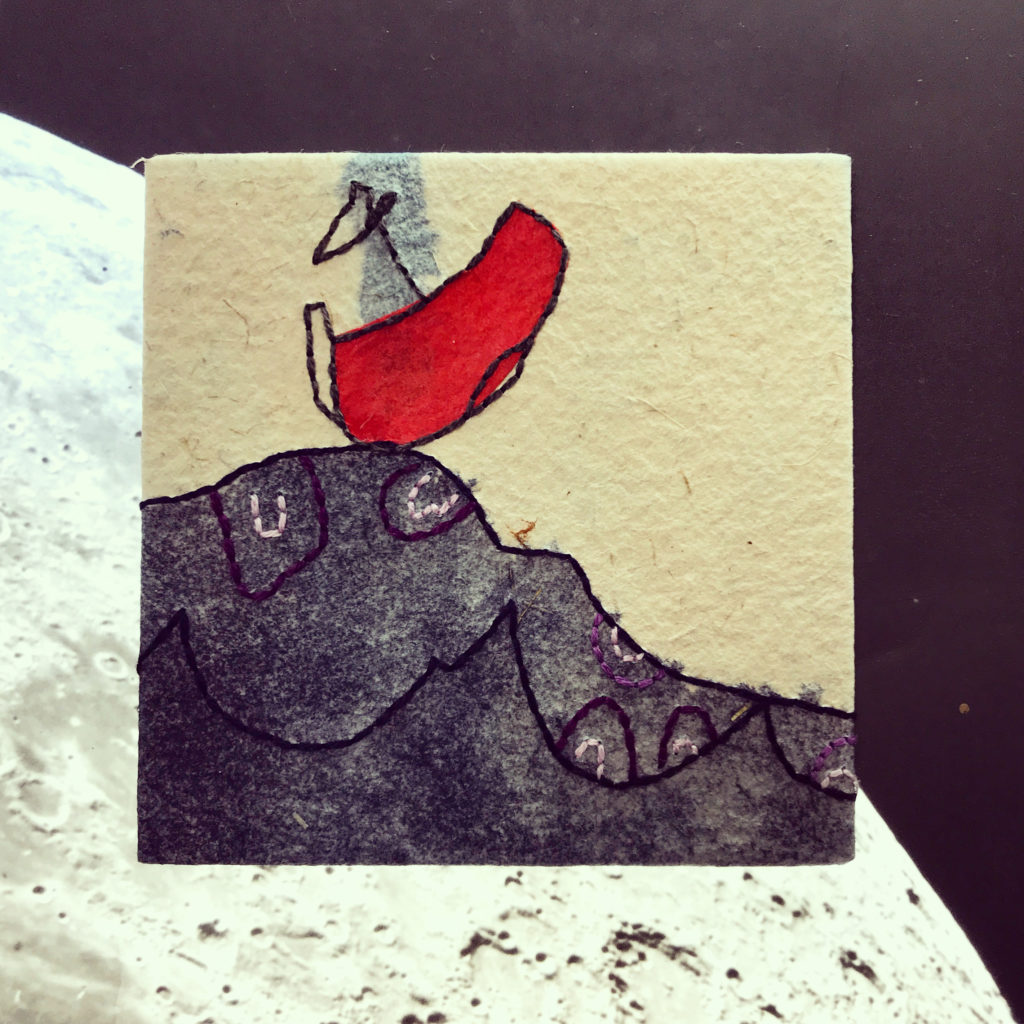 This panel is inspired by a drawing from my amazingly talented 7-year old nephew Jaxson. The original drawing is of this little red boat bravely sailing through a ferocious sea. For the base of the panel I used a piece of Indigo day Cave Paper cut to perfectly capture the shape of the waves beneath the boat. The waves are stitched and outlined with purple, dark violet, lilac and dark blue cotton floss. The red boat is cut from a piece of red Lokta paper and outlined with pewter grey cotton floss.
Photographed against a transparency of the moon.
Panel No. 89 // Salty Cosmos
The paper on this panel was decorated with a diluted blue sumi ink sprinkled with table salt. Once the ink dries the salt crystals are left behind and create a rough, rocky texture to the surface of the orchid handmade paper. A swirl is embroidered along the left hand side with magenta cotton floss.
Photographed in a ceramic bowl made by Helen Levi.
Panel No. 90 // Teals
I wanted to continue to play with the texture created in Panel No. 85, specifically how embroidery would look over the sanded leather. This piece of teal Pergamena goatskin was also sanded over the cement steps in front of my house. Then I embroidered four different species of Teal (ducks) into the leather with dark teal cotton floss.
Photographed on my studio bench with a strip of handmade paper and a vintage stag feather brooch.