Here are the next nine panels in my 100 Day Project.
Panel No. 73 // Marbled Tile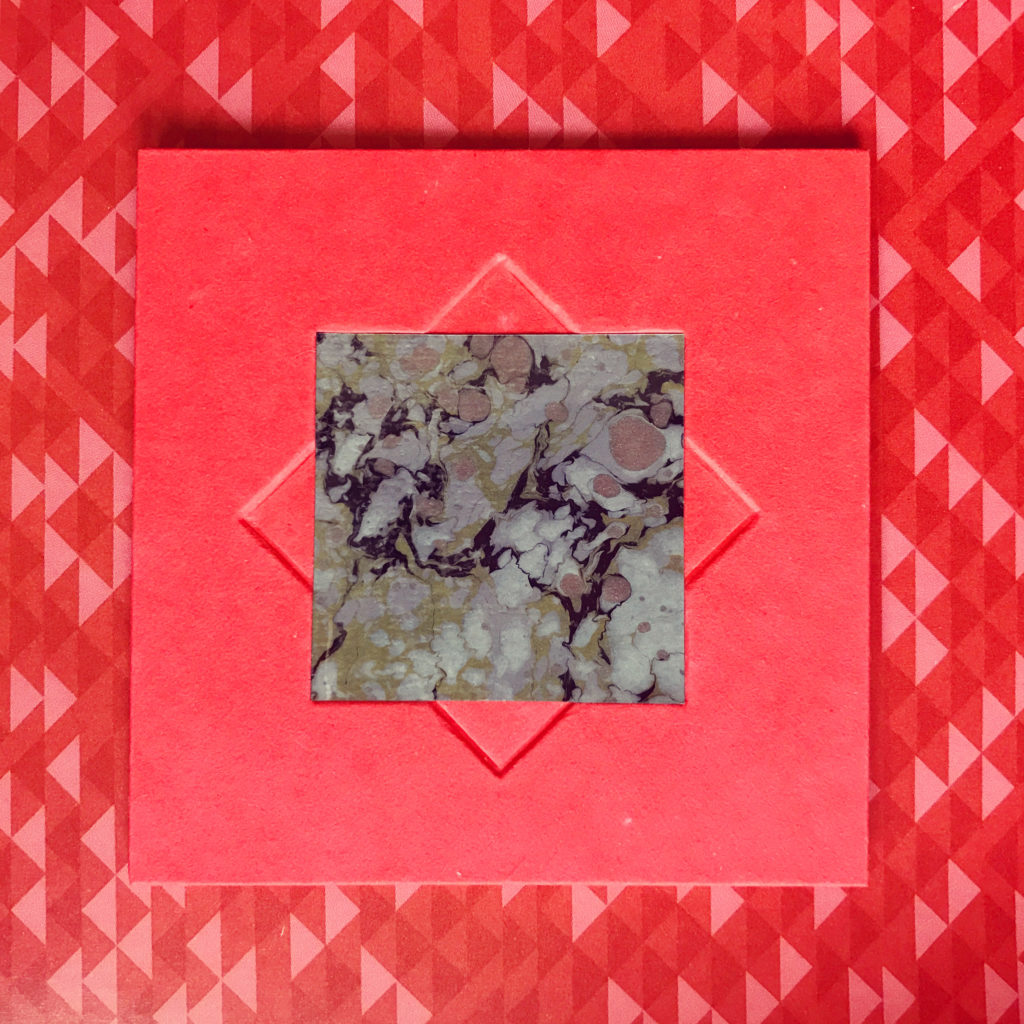 This panel is paying homage to a graduate of North Bennet Street School. Every year, I interview the graduating class about their set books. One year, Joshua Crotty created his design with a mylar laminated inlay. This technique has lingered in the back of my mind and I thought this project gave me the chance to test it out. Before covering the millboard in a coral red abaca handmade paper the board was laminated with 10pt. museum board first so that I could cut a well out of the center. I laminated a piece of marbled paper to mylar with PVA and placed it inside the well.
Photographed on a page from The Woven and Graphic Art of Anni Albers.
Panel No. 74 // Perpetual Abyss
My brother and I recently spoke about a shared memory from our childhood, where I almost fell into an uncovered manhole after dropping from a mountainous snowbank. It was interesting to see how we both felt at the time and how we reflected back on it over the years. This panel best represents my brother's account; it is covered in a piece of black suede with flecks of silver paint. A circle is partially painted within a blind tooled outline with Black 2.0 (Stuart Semple's version of Vantablack that is available for all consumers except Anish Kapoor).
Photographed on my winter coat.
Panel No. 75 // Ricotta
My Nana is a first generation American with her family coming from Sicily. Unfortunately, she was not taught much Italian in the home as her family chose to assimilate into American culture. But a few traditions and words have trickled down into future generations. One particular word is ricotta or as my family says rih-gutha. This panel is covered in orchid handmade paper from Katie MacGregor with the word tooled with a tiny triangle through metallic orange foil.
Photographed on a page from The Geometry of Pasta by Caz Hildebrand and Jacob Kenedy.
Panel No. 76 // Double Hemisphere
This slice of vintage 70mm film shows Earth from outer space. I wanted to create a panel reminiscent of a slide so that the image would be visual from both sides. This panel is made from two separate sides of 20pt. museum board covered in neon orange and lilac Lokta paper. After laminating the panels to the film, I stitched through all of the layers to create a two-color saddle-stitched border in magenta and light lemon cotton floss.
Photographed against the sky.
Panel No. 77 // For the Girl in HK
In 2018, my husband and I made a trip to Hong Kong and Tokyo. It was an incredible trip, but the best part was being at our dear friend's wedding. This portrait is of my friend Isa on her wedding day. She looked radiant with her bright orange hair. The panel is covered in flanelle buffalo skin with onlays in ochre, orchid, orange and natural handmade papers. Her portrait is a contour line drawing and is embroidered in lilac, golden olive, light golden brown, light peach and light beige brown.
Photographed on old letters from Isa.
Panel No. 78 // RI
Rhode Island has become a destination for my husband and I to relax, cook good food and play games with friends. Talking solo walks along the harbor is also something I love doing down in Rhode Island. This panel is inspired by the stacks of lobster traps that pepper the docks. The panel is covered in a green-gerey abaca handmade paper with strips of periwinkle Khadi paper. Ties are modeled after the rope on the traps and are embroidered with light tawny, light peach and kelly green cotton floss.
Photographed on a page from The Rise by Marcus Samuelsson. Made while listening to Madonna.
Panel No. 79 // Tension Arm
On a separate trip to Rhode Island to visit my friend Jackie at her studio on the RISD campus, she shared with me her knitting machine. I loved the shape of the various components of the machine and chose to highlight the bend of the wires that float above the main body. These wires are embroidered with light blue green, light and dark teal green cotton floss over a peach handmade paper from Katie Macgregor. Pieces of lilac and orange handmade papers accent the embroidery.
Photographed on a page from A Little More Like Water by Jackie Scott. Made while listening to Majical Cloudz.
Panel No. 80 // Homonym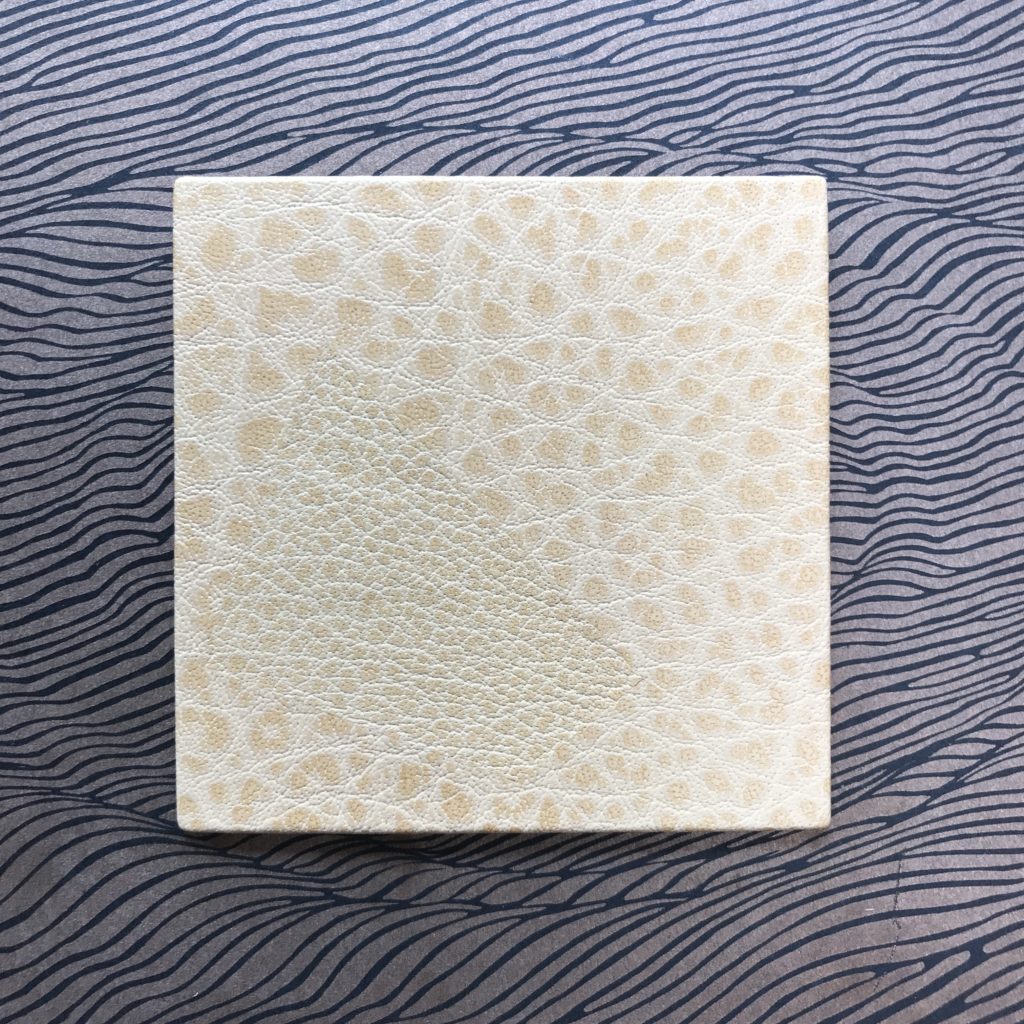 This panel is a redo of Panel No. 50 that I felt didn't capture the look I had envisioned. This panel is covered in natura buffalo skin with a wide grain pattern. A trapezoid shape was removed and replaced with the same buffalo skin with a tight grain pattern. This is the subtle effect I hoped to create and here it was successful.
Photographed on the cover for Islands by Brendan Monroe.
Panel No. 81 // Jumble
When I title projects, I will group the individual characters into groups of three. This can create some silly and fun combinations. I choose to continue with the technique on Panel No. 75 and used a combination of matte and metallic foils with three different tools. The words are tooled on a piece of mango Khadi paper.
Photographed on a page from Ice Ice Baby by Carolin Löbbert and Marcus Lucas.