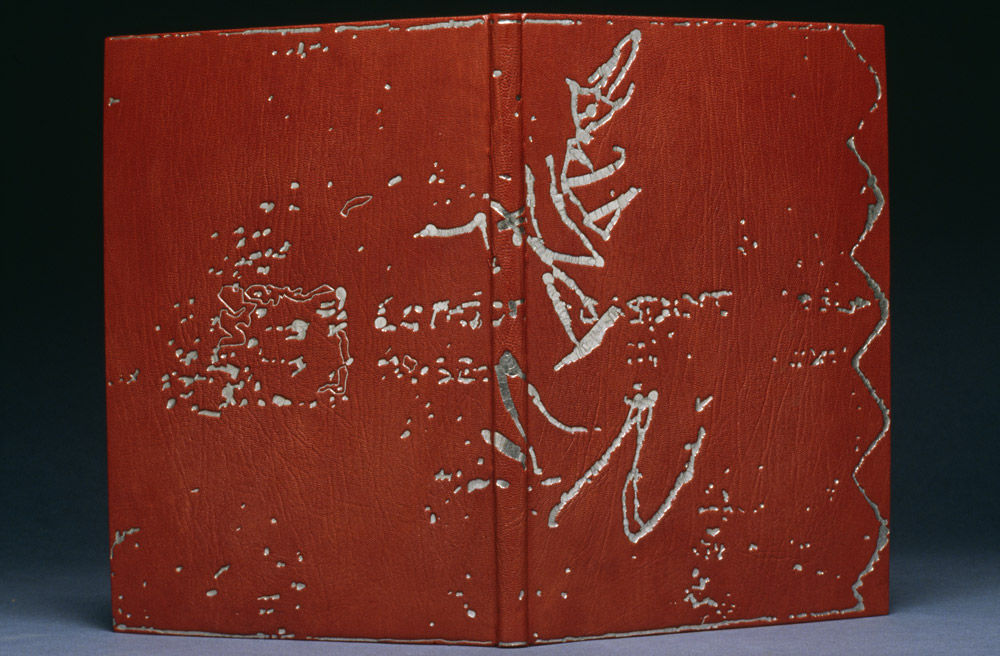 This is one of my favorite bindings from Tracey Rowledge; the tooling is brilliantly executed and in such a way that is perplexing. Which is precisely why it was included in the interview. Tracey bound this edition of Auggie Wren's Christmas Story by Paul Auster in 1997 using native red goatskin.
I'm really intrigued by the design for the binding of Auggie Wren's Christmas Story that you created in 1997. I would love to hear about the steps involved in executing the design; from the detailed image of this book, the tooling appears staggered, as if the depth of the impressions varied. Were you using a series of hand-made tools to create the overall design and this effect?
This was a pivotal binding for me, as this image dictated that I alter my gold tooling technique from using albumen glaire and laying the gold on the book, to using BS Glaire and picking the gold up on the tool (Ivor's method). The tooling was done using a series of pallets and irregular shape brass finishing tools (which I'd made), that overlapped in order to fill various shapes in the image. This was the first time I'd used Caplain leaf (18 carat), it's a difficult leaf to work with as it's quite brittle. It remains a favourite leaf to use as it doesn't tarnish and has a wonderful melancholic tone.
This book took about 100 hours to gold tool.