In April 2011, I took my first trip out of the country to London.  While I was there I made my way to the Natural History Museum for their touring exhibition of Sexual Nature, a show on the sexual habits of various animal species from the praying mantis to rams to angler fish to humans. I was intrigued and shocked by the facts and imagery presented in the exhibit, particularly the Green Porno shorts by Isabella Rossellini. On my way out I perused the gift shop and decided on a whim to purchase two books by Anaïs Nin (Little Birds and Delta of Venus).
Both books are a collection of short stories published in the late 1970s posthumously. Written in the 1940s, Nin and a group of writers were given the task of writing erotica for an anonymous private collector. Her erotic shorts deal with various sexual themes, some quite taboo (varying from pedophilia to lesbianism), all the while she maintains a focus on the study of women and her female characters.
The cover design for Little Birds was taken from the title pages of the individual stories, a 'V' formation of sparrows. I chose a simple color palette for my simple design, red (the color of love and seduction), white (the color of purity and innocence) and gold (the color of luxuriance). The book is bound in full scarlet goatskin leather from Harmatan.  The sparrows are surface gilt in gold leaf with white suede inlays.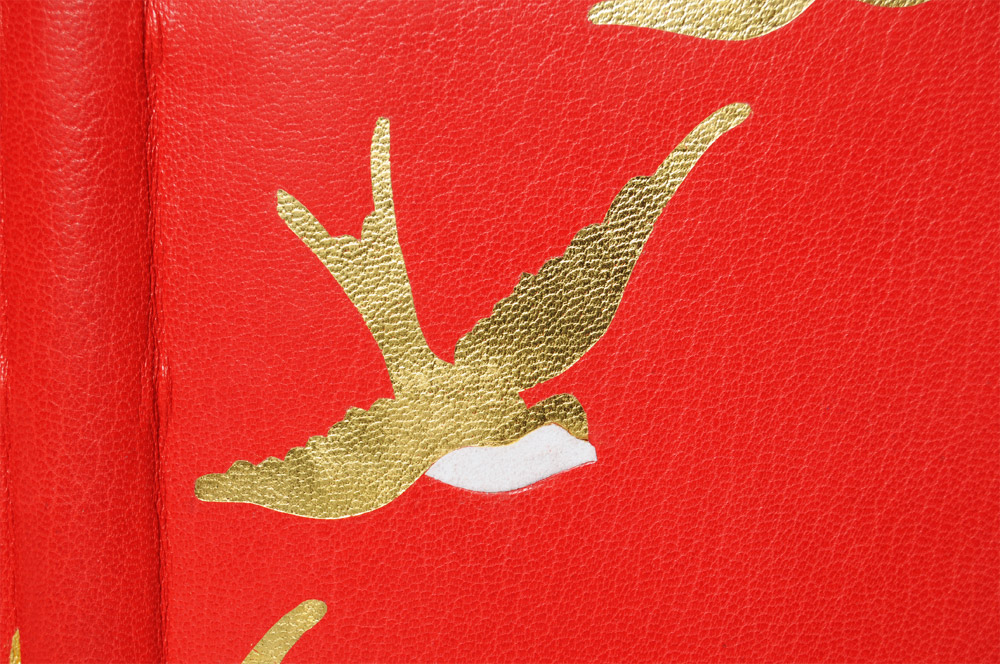 I covered the inside of each board with a leather edge to edge doublure in the same scarlet goatskin. An edge to edge doublure describes a technique where a thinly pared piece of leather covers the inside of the board, stretching from edge to edge creating a seamless transition from the outside to the inside.  The doublure also stretches over the joint and onto the text block creating a very strong attachment. Along with the leather doublure is a sunken panel filled with white suede framed in surface gilt gold leaf. The fly leaf is a handmade Lokta paper from Nepal, printed with a pattern of white feathers on a natural base.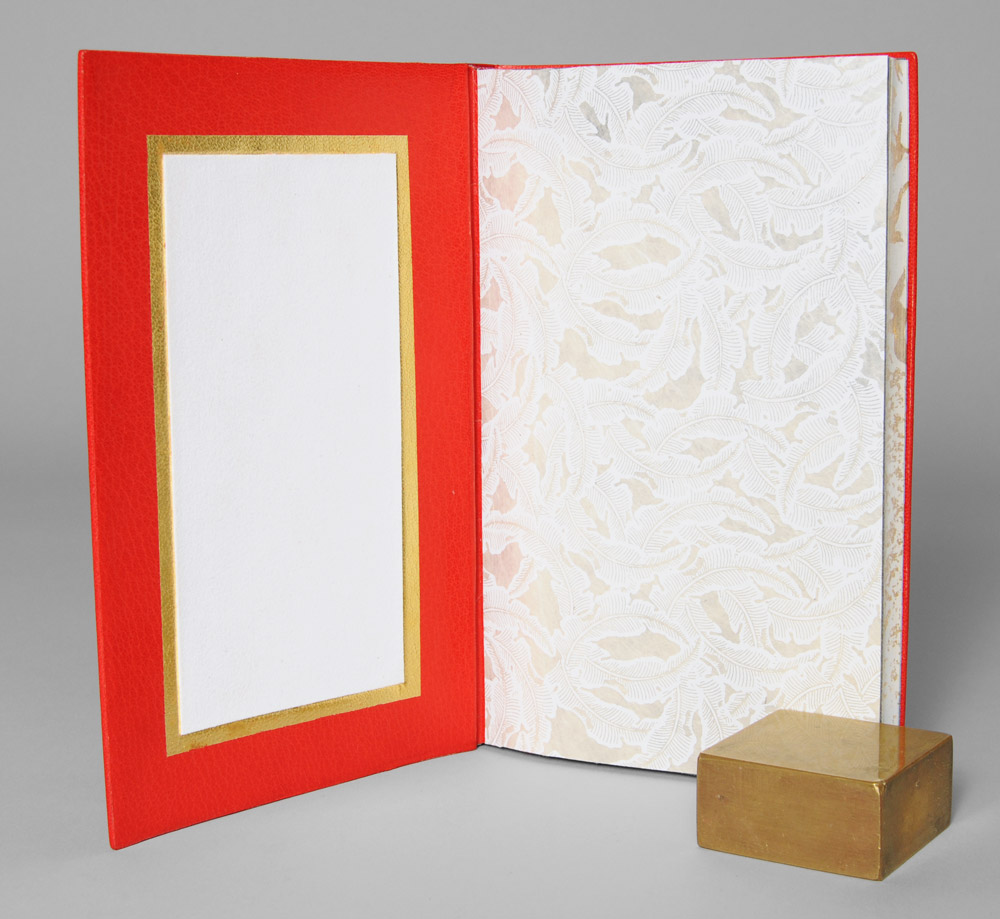 The book is housed in a rounded spine clamshell box, using the same materials as the binding. The spine is lined with scarlet goatskin with the title hand tooled in gold.  The case and trays are covered in the same feather pattern Lokta paper and are lined with Hahnemühle Ingres in smoke.