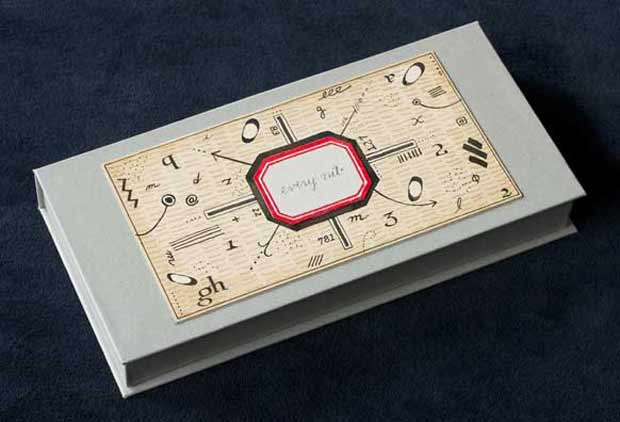 Not only does Laura Davidson find inspiration in her travels and her neighborhood, but also in the tools scattered throughout her studio. Every Nib is catalog of nibs and pens used in Laura's work; housed in a clamshell box that opens to reveal a book and seven handmade pen nibs sculpted from painted paper. Every Nib was created in an edition of 18, signed and numbered, in 2012.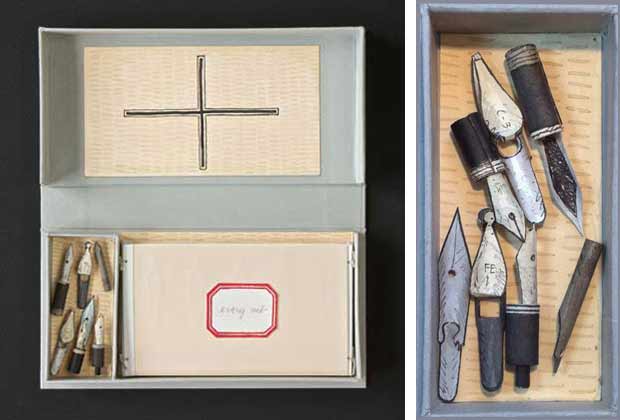 The book is bound as an accordion, delicately held together with wire and linen. Five pages of the book are block printed with unique images of five different pen nibs with descriptions written in ink. At the bottom of each page is a hand drawn pen in silverpoint. The sixth page includes an artist's statement from Laura written in a Sheaffer's fountain pen. A portrait of the 1940s pen is drawn in silverpoint. In the small compartment, each nib replica appears fragile, but are quite sturdy and highly detailed. Laura showed me some of the real nibs, tucked away neatly in little tins or the original Italian packaging. 
The grey clamshell box was crafted by Marie Oedel. The box includes labels and tray linings hand drawn with pen and ink wash. The box and all its contents are protected inside a fold-over portfolio with an original linocut of a pen nib on the spine.