Part One can be read here
Part Two can be read here
I need to backtrack a bit. Part two ends with the covering of the matching leather doublures. The remainder of the design elements that are going to be explained in this post were applied before the doublures were pasted down. Part two has been revised accordingly. 
The final steps to completing the design included the addition of a gold border and the title. In the early stages of designing the cover, I wanted to create the gold border through surfacing gilding. Which would have been done before covering because I didn't want to risk getting gold leaf on the embroidery stitches. However, after a few tests I decided my supply of gold leaf was too yellow against the dusty pink buffalo skin. The border was therefore painted onto the leather with a fluid acrylic pigment. This is the same technique I used on the fine binding for The Songlines. 
The title has been tooled with handle letters in the typeface Gill Sans. Buffalo can often feel spongy under the tool and requires slightly more pressure to achieve a crisp impression. I've found that buffalo will not blind in the same manner as other animal skins and can be a bit more finicky to tool. So with a bit more patience, the title was gilt in gold leaf one letter at a time. 
With the completion of the binding, I was set to make a custom clamshell box. The box reflects the binding in terms of color and design. The spine of the box is covered in matching leather that has also been embroidered. The design is derived from an illustration in the book and includes similar onlays from the book's cover. The stem was embroidered freehand and Margaret Armstrong's name has been hand tooled with gold leaf. 
The trays are covered and lined with the same handmade paper from Katie MacGregor that are used as the endpapers in the binding. The rest of the case and joint are covered in brown Canapetta bookcloth. A layer of Volara foam was added to the outer tray as protection for the embroidered stitches.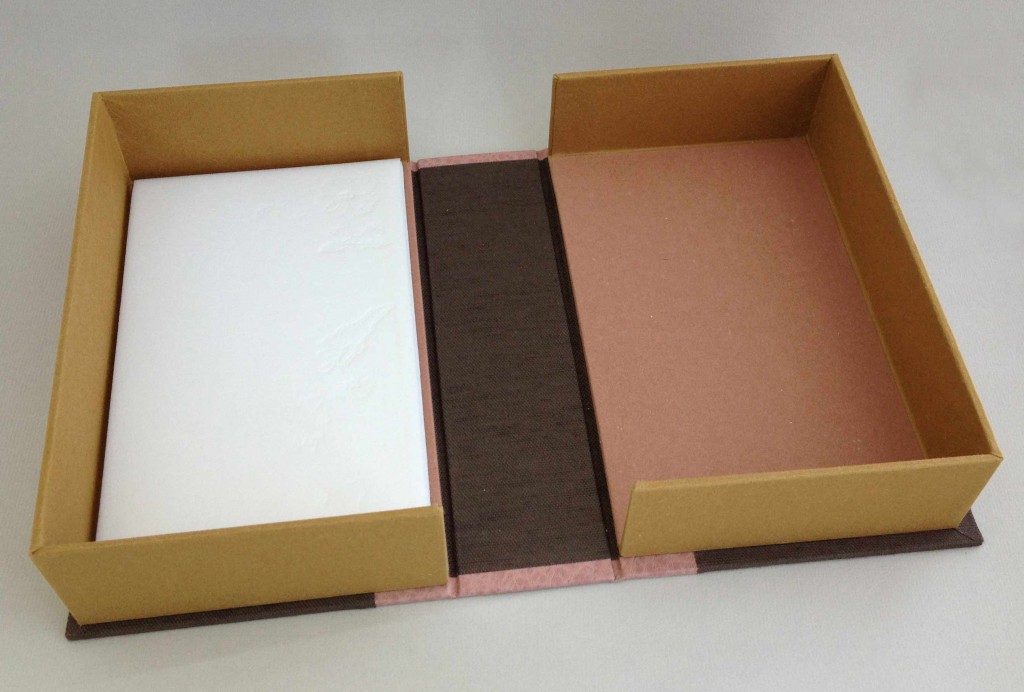 I am really pleased with my first attempt at an embroidered leather binding. I plan to continue experiments with this technique, as well as incorporate other sewn elements. I recently had the opportunity to showcase this binding at the Standards of Excellence Conference in Washington, DC. Through the 'Mix & Mingle' event, I got the chance to speak with and meet many new bookbinders while discussing my binding on top of receiving wonderful compliments and suggestions.