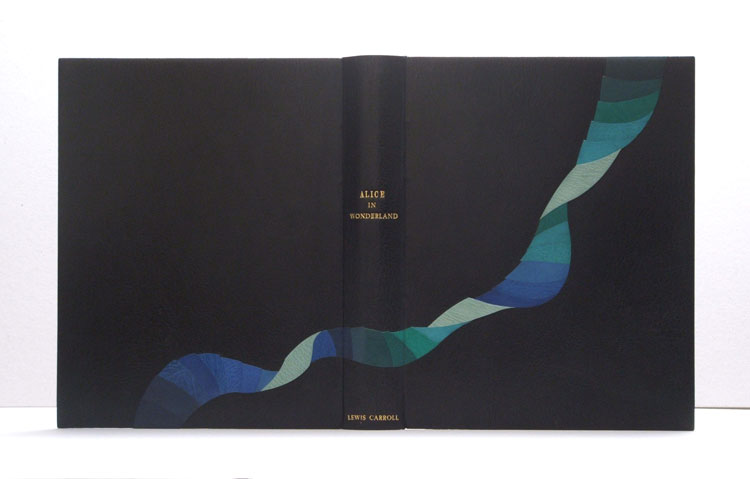 Sol Rébora has bound two copies of Alice in Wonderland. Both designs are stark opposites, one bound in full black goatskin and one bound in full white goatskin. The binding above was bound in 2006, with the design executed in a series of blue onlays and title tooled in gold.
The design on Alice in Wonderland (black) is stunning, the blue onlays run so fluidly across the covers. Did you hand-dye the blue onlays for this binding? Can you discuss the concept behind the design?
I had read the book and the image of Alice falling along the stairs, plus the kind of dream that she led, gave me part of the idea for the design.
Also the special perspective of the illustrations helps me to spread this design across the covers.
I had used different colors of blue, but I didn't dye them. The tone of a single skin of leather can change, depending on the section. I choose the piece I wanted depending on the tone and "direction" of the grain. Where the grain changes, the tone of the color changes; I can get different tones from the same skin of leather.
The elegant ribbon-like set of onlays continues onto both the front and back doublures. The flyleaves are inlayed with a series of dots that extend the flow of the onlays.
Sol's response continues:
Now, you may see I had bound the same book with a total different design; this one is full white leather with big flowers, all across the cover. Those flowers are done with inlay techniques, full color using blue, green, orange and yellow.
I had done this design for the same book, same edition, with the same illustrations, but three years later and for a different client. (I didn't have that wonderful white French leather in my hands when I bound the first Alice, and I didn't have the beautiful Harmatan black leather when I bound the second Alice.)
I should say that, being in Buenos Aires, I also have to play with the leathers I have at the moment to make decisions on my designs.
– – – – – – – – – – – –
Bound in the French-style of fine binding in full white goatskin, this Alice in Wonderland (white) was completed in 2010. The mosaic-like flowers are created through layers of goatskin. The lines and title are smoke tooled.
I was introduced to the work of Sol Rébora through Pamela Train Leutz's book The Thread That Binds. Her interview with Pamela was inspiring and led me to investigate her work further. Sol lives and works in Buenos Aires, Argentina. Up until now I've interview bookbinders from Canada, United States and England. I'm excited to present the point of a view from a bookbinder living in South America.
In order to become the talented bookbinder she is now, Sol had to look into study opportunities outside of Argentina in order to grow within her field. Read the interview after the jump to explore more about bookbinding in Argentina and how Sol became a bookbinder. Come back each Sunday in the month of November to see more work from Sol.
As the daughter of two painters, did you discover bookbinding through art or from another path? When did you begin your studies in bookbinding?
I discovered bookbinding at secondary school "Fernando Fader". Which is a six-year technical and arts school where I studied drawing and composition. From the 4th to 6th year I learned different art techniques, one of these was bookbinding.
I realized I like to work with books and I started to make some commercial work for my aunt who is an antiquarian bookseller, I was sixteen years old at the time.
Later, by chance, I met the president of the Argentinean Bibliophile Association, and he showed me a beautiful book about French fine bookbinding. It was then that I realized I wanted to become a professional bookbinder and to learn how to make that kind of wonderful and perfect work.
From what I've read about your educational experiences, there were very little learning opportunities in Buenos Aires. When you studied bookbinding in secondary school, what sort of techniques and structures were your learning?
At secondary school I just learned very simple and rustic techniques. Case binding construction was the only structure I learned.
Once I finished school, I took private bookbinding classes with the best bookbinder we had at that moment in Buenos Aires, Juan Gullin. But two years later I needed to grow in my techniques more, so then I started to look for study opportunities outside of Argentina.
How have you furthered your studies outside of Argentina?
The president of the Argentinean Bibliophile Association, Cesar Palui used to have a Press called Dos Amigos with a good friend of his named, Ernesto Lowenstein, who is a businessman and was very interested in having a bookbinder who could work for Dos Amigos, with knowledge and high quality work.
As I was already making boxes for the Dos Amigos editions, Ernesto Lowenstein, knowing my desire of became a professional bookbinder, started to look for the best place for me to study bookbinding. So, he became on my mecenas (patron), he payed for my studies outside of Argentina.
With his help, I gained more experience over the next two years taking several trips to study outside of Argentina. With this new experience, I also got several scholarships from the Centro del bel libro's Foundation.
Is there a strong culture and interest in bookbinding in Buenos Aires? Are you affiliated with the Encuadernadores Artesanales de la República Argentina (EARA)? If so, what type of events and programming does this organization host in the community?
When I started, I was one of the two young "professional" bookbinders working in Buenos Aires.
Now, after twenty years, we have a lot of young people working as professional bookbinders and new people studying bookbinding. I could say that bookbinding in Argentina is growing every year and the quality of it is improving with time.
EARA has been working hard to keep bookbinding alive and growing and this year they carried out the Second International Bookbinding Competition with a great success.
What have been the most difficult aspects of being an independent bookbinder in Argentina?
I am a very optimist person and I really have had a lot of work in Bs. As. (Buenos Aires) during all these years. To be independent has never been a problem for me and I never wanted to work for someone, so I do not find difficult aspects on this point.
The difficult aspects would be to be a bookbinder in Argentina, as the best materials and techniques are created in Europe or EE. UU. (Estados Unidos aka United States). But this has been a condition that I recognize, which helps me to create a way to work, to optimize the material (as well as my classes), which help me to find a style, let's say, on my designs.
Your fine bindings have such a wonderful and delicate quality to them. The leather appears draped in such a fluid, ribbon-like fashion. Where do find inspiration for your fine bindings?
I don't really know where the style comes from; the shapes come from me with not much thinking.
Maybe the tool that I use to work with (pistolete or French curves) condition and/or help me to get a style. I use this tool because it allows me to cut my shapes with perfect curves and I think (or I had seen) that the same tool in different hands and minds produce a different result.
At some point in your studies, you dabbled in jewelry making. Are you interested in integrating these skills into your bindings, either as a jeweled binding or incorporating metal elements?
I did have the interest to integrate jewelry on the bindings at the beginning of my career, so I started to learn it, but later I realized it was too much for the design style I was looking for and I lost this interest. But who knows, maybe one day I find it again…