In this post on Sol Rébora, I am presenting two of her bindings of the text Fausto. Just as was the case with the two bindings she completed on Alice in Wonderland, Sol found inspiration in the individual editions, thus creating two independent and unique design bindings. Fausto was written by Argentinian poet Estanislao del Campo is 1866; the story describes a laborer that goes to see Charles Gounod's opera Faust and believes the events to really be happening.
The binding above is bound in full black goatskin. The circular design includes strips of goatskin and calf, offering a nice variety of textures. The title is tooled in gold along the spine.
The binding below is bound in full calfskin with detail along the front cover fore edge in the signature style we've seen on some of Sol's other bindings. On this binding, the goatskin and calf onlays sit on five tooled levels. The title is tooled in gold along the spine.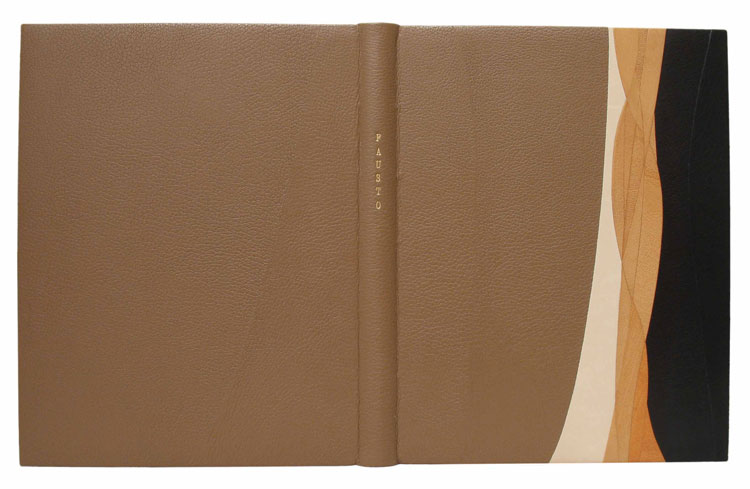 These two bindings of Faust0 are quite different. Can you talk about the concepts behind each binding and what made you design them differently?
After the explanation of the process I use to make a design binding, probably there are not too much to say about.
Those are totally different editions, different clients, different years, and different prices, which is another very important point that I didn't mention before, and it is a big condition of course.
Most of the tooling on your bindings seem reserved to the titles or is done blind. Is there a reason for excluding this technique from your bindings?
Well, maybe I don't use traditional tooling on my designs, besides the titles, but it just depend on the designs, if I feel it needs it, I used traditional tooling to make gold lines it as I did on Milongas, Borges.
I think I just use what I need when I need.
I mostly like to work with a metal or brass folder, a very thin tool which helps me to make the finishing work on the inlay and the onlay. I do not love the strong lines around the inlays and my feeling is that it makes the composition looks stronger.

Click image to enlarge.