Mending tears is a treatment that book and paper conservators utilize nearly every day.  For this reason, wheat starch paste is one of our best friends at the bench – a dependable go-to, especially when paired with an appropriate eastern paper. Unfortunately, this reliable standard is is not always an option – the media may be soluble, the paper difficult, the work space less than ideal.
Luckily, there are other routes to take! A possible solution to one or all of these issues may be adhesive pre-coated repair materials. Recently, I had the pleasure of taking a two-day workshop at Dartmouth College taught by Sarah Reidell, Associate Conservator for Rare Books and Paper at the New York Public Library on exactly this topic.
Pre-coated repair materials can be prepared with a huge number of adhesives – starches (wheat starch paste), cellulose ethers (methyl cellulose, sodium carboxymethyl cellulose, hydroxy propyl cellulose), proteins (gelatin, isinglass), synthetics (Aquazol, Lascaux 303HV and 498HV, Rhoplex, Avanse, Plextol, Texicryl) and in some cases, a combination of more than one. These adhesives can be applied to any number of repair papers with a variety of application methods. This makes the possibilities fairly endless, which is almost equally helpful and daunting.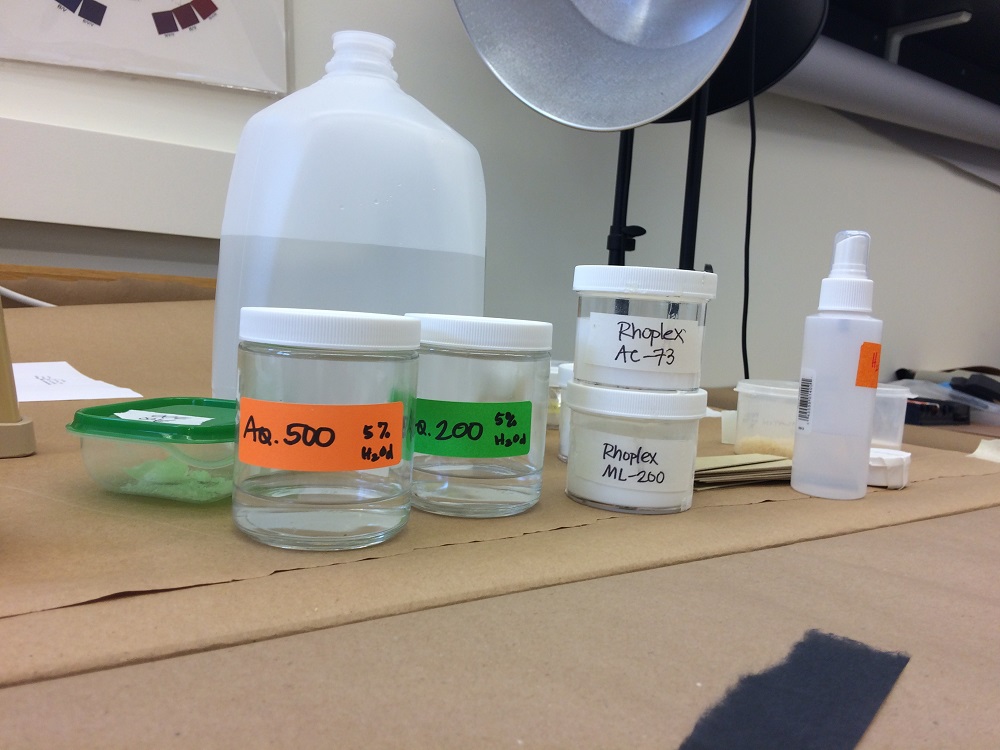 Sarah walked us through the overall benefits of having these repair materials on-hand – portability, speed, control – and the specific advantages of each adhesive. One of the greatest benefits is understanding the method of reactivation for each adhesive (this is also potentially one of the more challenging elements to remember, but luckily we walked away with an extremely handy chart). If media solubility is an issue, reactivating with water is likely not an option – in this case, one would opt to use a repair material that can be reactivated with either heat or a solvent. If the scope of a project is large but solubility is not an issue, it may be helpful to have a stash of water-activated repair material and a water brush on hand. If the object to be treated is parchment, gelatin- or isinglass-coated paper is likely a good option and for plastics or clear supports, synthetics may be the best bet.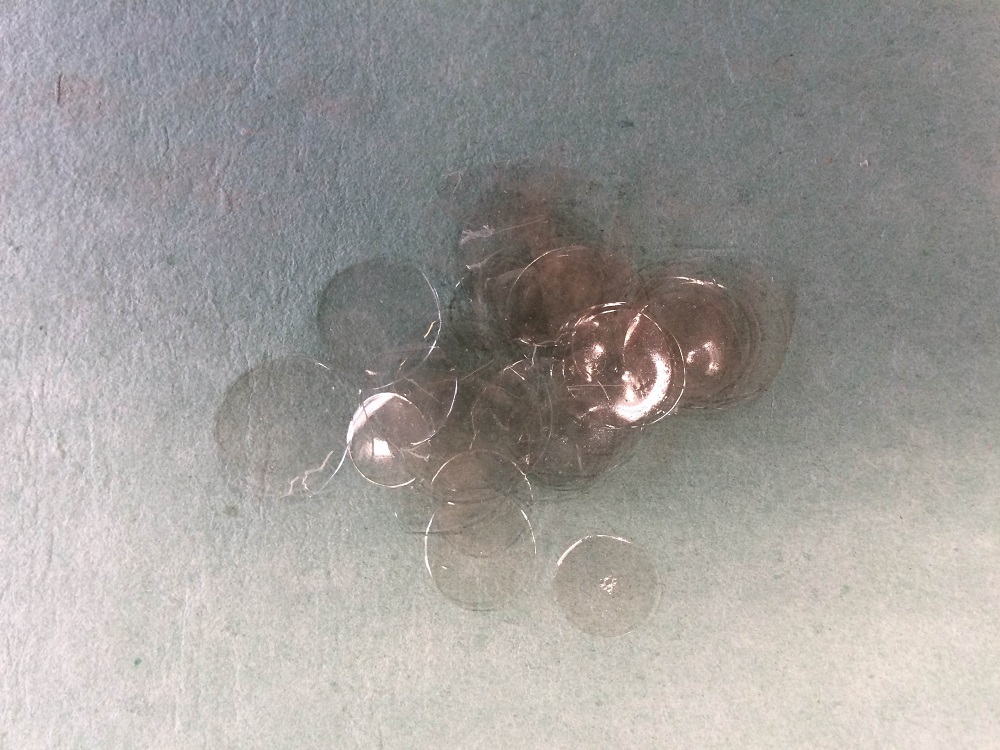 Pre-coated repair materials can be prepared with nearly any adhesive and paper that one has in their lab and can be done with several different approaches, depending on skill and comfort level. Many can be done with a quick hand and a piece of Mylar, while others utilize tools not always seen in a conservation lab – a bbq/oven mat, dough scraper, and/or a silkscreen.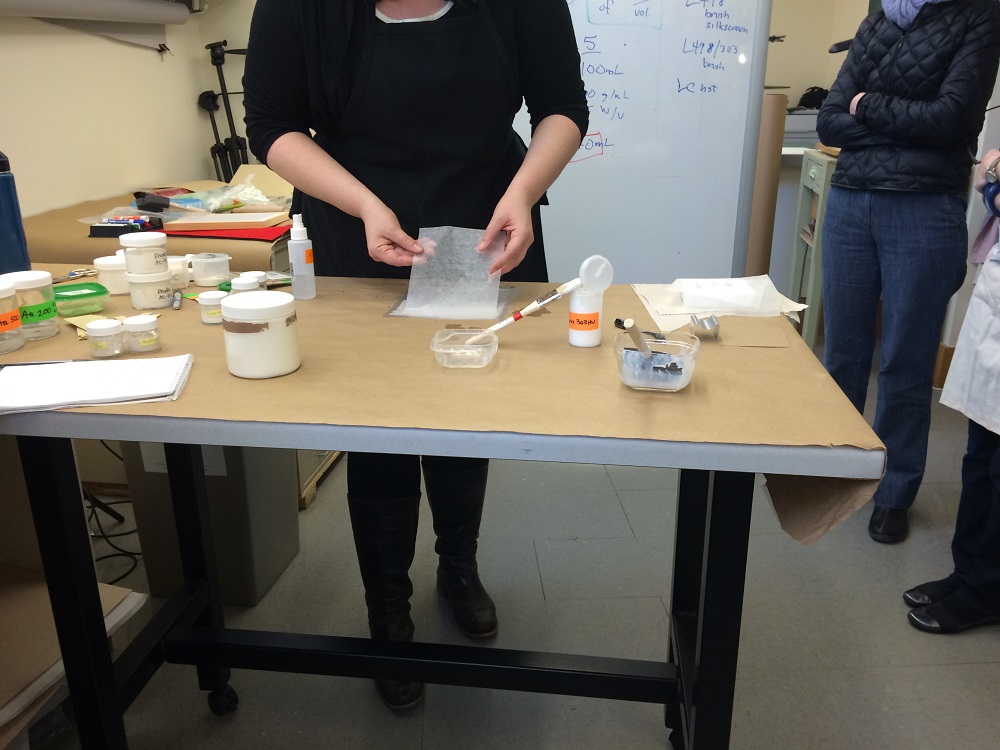 As with all conservation treatments, this is one that takes some time and experimentation to gain comfort with. That said, the risk and cost are very low. These materials can be toned to match an object and stored indefinitely. As they are controllable and customizable, they also offer a great advantage over commercially available products, whose formulations can often be unknown and can change without notice.
Sarah has taught this workshop several times now, both solo and partnered with Priscilla Anderson, Senior Preservation Library for Harvard Library, and it shows – she's as organized as she is enthusiastic, which is saying something. Along with being extremely knowledgeable, she has a ton of great tips and sources for additional information, clever tools and other treatment ideas.
There's a helpful bibliography of pre-coated repair information on Sarah's website to get you started. Henry Hébert made brief mention of Sarah's presentation of this technique in an earlier Flash of the Hand post and Mindell Dubansky, Preservation Librarian at the Metropolitan Museum of Art has a nice write-up on the workshop here. If you have the opportunity to take this workshop in the future, I highly recommend it – take-away soundbites like "gel and swell" and "first pancake syndrome" should be enough to entice you.