This 2006 binding from Kathy Abbott is Shakespeare's Love's Labour's Lost with illustrations by Berkeley Sutcliffe. The binding is covered in full pink goatskin and includes multi-colored goatskin onlays. The top edge is colored pink to match the leather.
One of the reasons that I wanted to do this interview with you is that you create such striking and simplistic designs, which really push forward the beauty of the leather. What is your selection process for choosing the perfect leather?
I adore the graininess of Nigerian goatskin: every skin tells a different story through its grain. Depending on which angle you cut your piece of covering leather, you can express a landscape, a sea, a wind, trees; all sorts. I don't often use the spine of the skin on the spine of my books: I find it much more interesting to move my template window around the skin until I find something more arresting about the grain. I also love all the faults on skins: dyeing faults, holes, scars etc.
When I have read my text, I set off to find the perfect skin to express as much of the story as possible. I have often looked through a hundred or more skins at the tannery until I find the 'right' one: the poor guys at Harmatan have been so patient with me over the years! Often, I have found it difficult to embellish the skin I have chosen, as the grain is saying everything I want to say about the text. I do all I can to celebrate the beauty in every skin I use.
Sadly, we can no longer get Nigerian goatskins because of the political situation there. So obtaining anything grainy now is a challenge as the grain of Indian goatskins is quite flat in comparison. Luckily I have a large stock of Nigerian skins, so I will be ok for a while, but I won't be able to be so choosy in the future.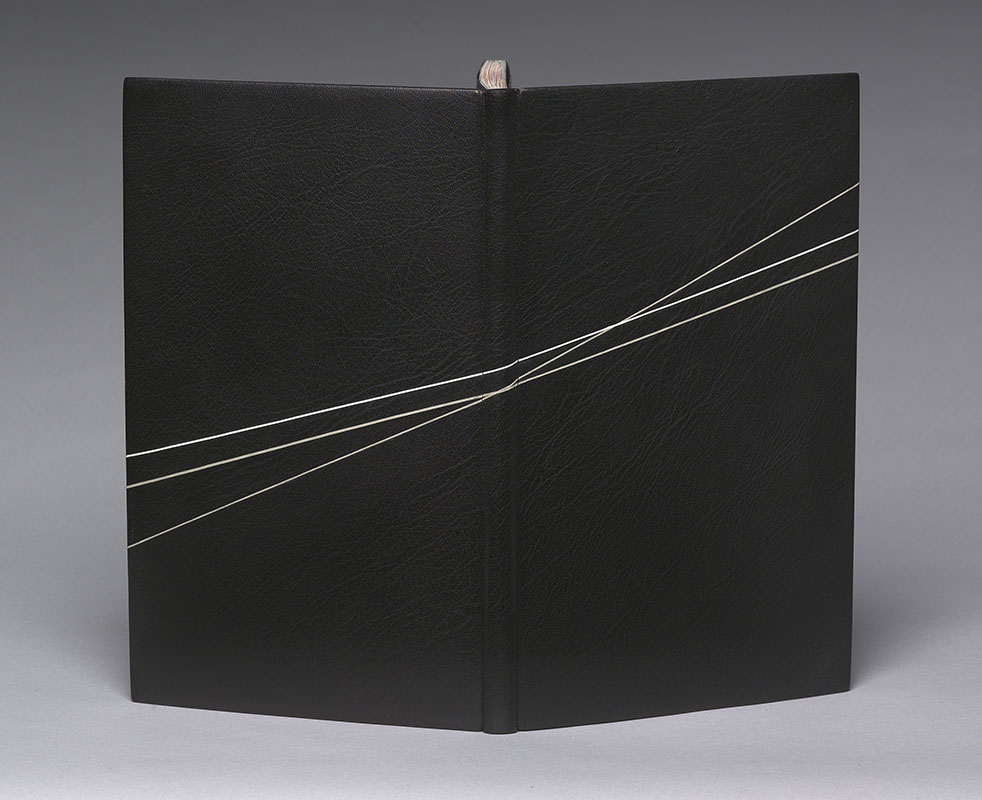 This is a binding of Kenneth Auchincloss's New York Revisited that includes wood engravings by Gaylord Shanilec. The book was published by The Grolier Club of New York in 2002. Kathy covered the binding in full black goatskin and detailed the covered with handmade paper onlays. Click on the image to get a full sense of the graininess of the leather.