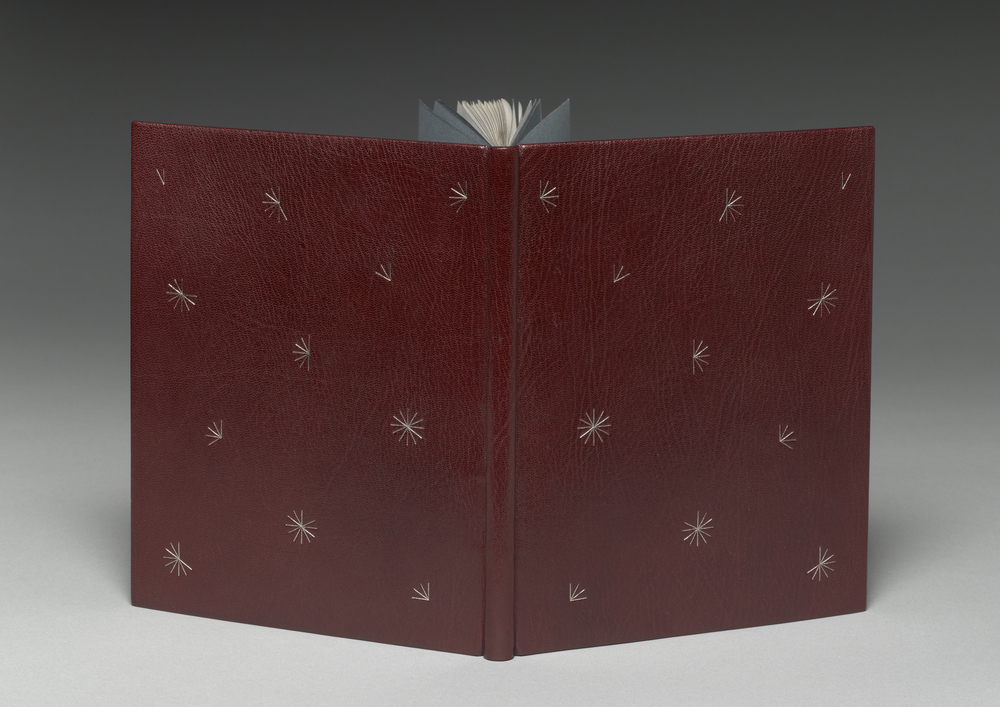 I am ending my interview with Kathy Abbott with a bonus post. The binding above is Winged Chariot by Walter de la Mare. Kathy completed this binding in 2012 by covering the book in full burgundy goatskin. The tooled designs are done in Caplain leaf and the head edge is gilt in the same.
When laying out a tooled design, especially one that is to be symmetrical across the book (like the design on Winged Chariot), what is your approach? Have you always employed the same method for transferring your design or has your technique changed over time?
I have been fortunate to have been taught gold tooling in both the traditional manner, whilst I was at college and then latterly, in the contemporary manner by Tracey Rowledge. Both Tracey and my traditional gold finishing tutors have used the same method of marking out a diaper pattern (a diagonally marked grid), which can be a useful way of creating symmetry across both boards.
This design of this book wasn't done using a diaper pattern. It contains one long poem, about time and to express this, I had a very fine 5mm short pallet made to create the imagery, and wanted the tooled design to be fairly random. I made a paper template the same size as one of the boards, drew out the design with a fine ink-pen. I photocopied the drawing, cut out some of the areas of the design and re-positioned them until I was happy with it. I then traced the design and reversed it. I always pin my designs up on the wall and live with them for a while before I begin tooling.
When I was ready, I photocopied the design onto thin handmade paper, attached it to the binding, tooled through the template, removed the template and blind-tooled again direct, applied the glaire and then tooled each impression with 3 layers of Caplain gold leaf (which was picked up on the tool itself).