I so rarely get the chance to hang out with Brien Beidler, which is a shame since he is so delightful to be around. After first meeting in Las Vegas during the Guild of Book Workers' Standards of Excellence Seminar, I've come to find that Brien is also so incredibly talented, so supportive, and so very hilarious. Brien currently lives and works in Charleston, South Carolina as the Director of the Bindery and Conservation Studio at the Charleston Library Society. He's a Jim Croft enthusiast and proponent of historical bookbinding techniques and materials.
Brien gave me the brilliant idea of inviting contributors for the Swell Things column, joking that his own would just be various shades of brown and not the typical vibrant colors readers are used to seeing. So the idea was planted and Brien is now the fourth contributor of Swell Things. His selections for this month are especially fascinating. His witty, yet thoughtful comments will entice you to investigate each pick further. And you will find a surprising amount of color beyond the hues of brown. Enjoy!
1. An incredible combination of historical inspiration and contemporary setting, George Holt and Andrew Gould of New World Byzantine design buildings inspired by past practices and executed with solid materials and technique. The house in this picture, which burned down Spring of 2016, is even beautiful as a ruin, which to me serves as a testament to the timelessness of their designs.
2. Based out of Charlottesville at the University of Virginia, Rare Book School is a one-of-a-kind academic wonderland for the book-driven flock. I just returned from an incredible week with the intrepid Todd Pattison where he taught the class 19th Century American Publishers Bindings, and I look forward to applying to many more classes in the future. Be sure to apply for the scholarships if you don't have institutional backing!
3. Brienne.org is a growing list of resources and research surrounding an incredible 17th century postal treasure trunk containing over 2600 undelivered letters, now located at the Hague in The Netherlands. Amazingly, 600 of them are still unopened, giving researchers and conservators an unprecedented opportunity to study the material culture of the early modern period by pushing the envelope in how to access the information without sacrificing the material that supports it, while also expanding their knowledge of early modern document security practices.
4. Garip Ay is a Turkish artist who practices Ebru (what we would call marbling) in ways I've never really considered, and probably will never come close to emulating. Watching videos of him at work also give it a very real and substantial performance aspect. Thanks to James Davis for introducing me to Garip's work.
5. A medieval construction project in Treigny, France, where for the last 20 years (and for another 10 or so to come), scholars, craftsmen, and government funding are all combining forces to build a 13th century castle using only authentic materials and techniques. Now that's a wall whose construction even I could get behind.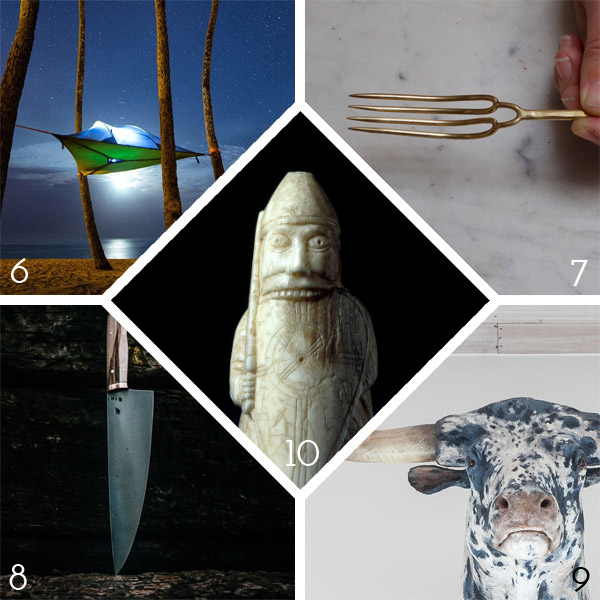 6. Who knew that a tent revolution was even possible? A dynamic combination between a tent and a hammock, Tentsiles have opened up a whole new world of outdoor lodging possibilities. Soon any rainy camping trips will just be 'water under the Tentsile.'
7. Most of the time the only thought I give to flatware is just enough to make sure I have a means to get food from my plate to my face. Well, the ocean inspired pieces designed and executed by Ann Ladson will certainly change your whole perspective on what it means to reach for a fork. Her work is a true hybrid of function and art (the hybrid of those words, functionart, is not and should never be a word).  
8. Living in a disposable culture gets me down sometimes, and so any time I come across someone who does their part to minimize waste is as refreshing as a slice of watermelon on a summer afternoon. And when that someone someone finds a way to make minimizing waste beautiful, it positively inspires me. With his breathtaking knives made from 100+ year-old saw mill blades, Will Manning of Heartwood Forge does both of these things, and it makes me glad.
9. Becca Barnet, proprietor of Sisal and Tow Fine Fabrication, makes anything, and she means ANYTHING. From designing children's museum installations, to painting fried chicken on tiles, to taxiderming fish, Sisal and Tow can make even the most boring office seem like an exciting cubicle to be in.
10. The Lewis Chessmen are 93 late 12th – early 13th century Northern European chess pieces that were found on the Isle of Lewis in Scotland in 1831. Aside from inspiring the Weasley's chess set in the film adaption of Harry Potter and the Sorcerer's Stone, the Lewis Chessmen have been the subject of much scholarly ado, and many interesting books on their cultural significance and materiality have been published. I mostly just like the expressions of the Bezerkers (pictured here) – they look so scared and human. I am not sure if I pity their state of perpetual fear, or envy their long and prestigious lives.