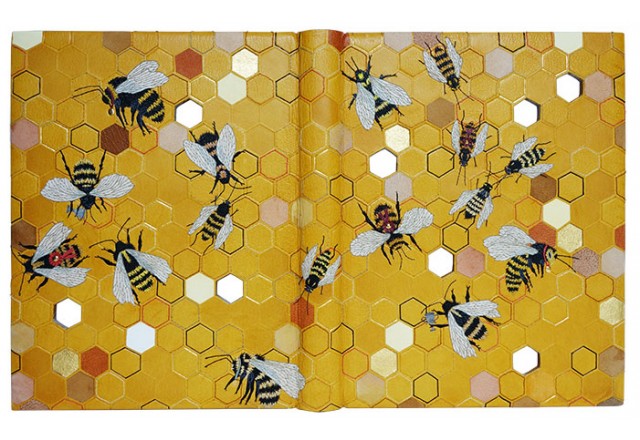 Randall Davies and His Books of Nonsense is bound in yellow goatskin with a hexagonal honeycomb pattern. Hannah Brown used a variety of techniques to adorn the honeycomb, which include embroidery, gold, carbon and blind tooling, leather onlays and inlays, impressions and cut-outs through the boards. There are sixteen embroidered bees made from onlaid leather and Japanese tissue. Five gold-plated brass pieces are drilled and inserted through the boards. The lino-printed and embroidered endpapers share the same honeycomb pattern.
The embroidered bees are quite captivating on this binding. What I particularly love about them is your use of Japanese tissue. I've not considered using paper as an onlay for embroidery. Did you find that the paper reacted differently to the embroidery? Have you used paper under embroidery on other bindings?
This was the first binding on which I used Japanese tissue as an onlay. My main concern before doing it was that the glue would show through and/or appear patchy on the surface. I did some tests and I managed to avoid this by wetting the tissue slightly during application in order to draw the adhesive through the paper evenly. When it dried the appearance was as I had hoped – it gave me the colour and delicate texture I wanted for the wings.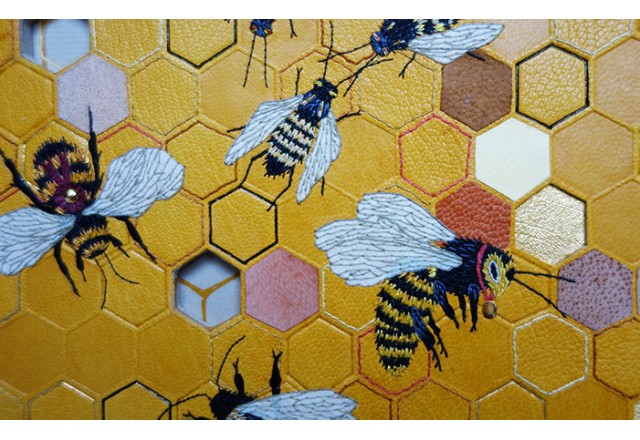 The paper was less forgiving than a leather onlay for the embroidery as it was more apparent if I pricked a hole in the wrong place! By applying the stitches the way I did to the wings the thread is protecting the paper as I it would be more susceptible to getting damaged if it were on the book without this surround.
I have used Japanese paper since for onlays but not in the same way. I have used it as a backing for gold leaf, adhering the gold leaf to it in and cutting out shapes order to create gold onlays. I have been using this for my most recent binding commission, The Noble Knight Paris and Fair Vienne, as it is a good way of getting around not having the right shape of finishing tool for all of the gold elements I want to include on the binding.