For the final installment, I asked Hannah Brown about her binding of Love is Enough by William Morris. Just like The Tempest, shown in the previous post, Hannah used fair calf and an array of colored leather onlays. The design includes four beautifully embroidered birds and five beetles. At the points of intersection on the trellis, Hannah has attached twenty-eight gold plated brass pieces. Smaller details in the design have been blind and gold tooled.
The cover design is complimented with a patterned endpaper. The book lives in a teak box with a frosted prespex lid, which allows you to view the book.
I had the chance to see this binding in person, while visiting last year's Antiquarian Book Fair in NYC. First I want to say that it is absolutely gorgeous and I may have stared at it for an awkward length of time. The embroidery on the birds, is some of the most detailed embroidery I've seen on your work. As your work evolves the embroidery is becoming more painterly and reads more traditional in style. For the final question of the month, I'd love for you to talk about how your think you're previous work has informed the way you build a design today, particularly how you've grown from simple machine embroidery to complex and layered hand embroidery.
Thank you for your comments! It was an absolutely wonderful text block to be commissioned to bind. I am starting to see my embroidery work more like "painting" with thread. Through various social media channels I am now aware of more embroidery artists who are inspiring me to develop my embroidery skills further. I love the way that colour can by built up so subtly with the threads whilst adding a pleasing texture to the surface of the leather on a binding.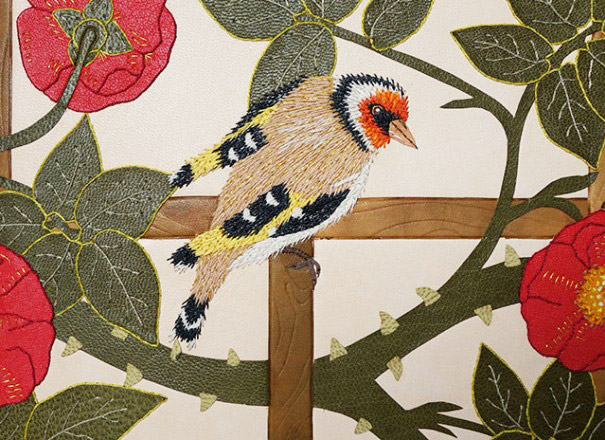 One thing that I am very careful with though is durability, books are made to be used so I have to be very mindful of this when placing my stitches. The difference between utilising embroidery techniques on bindings in comparison to general embroidery on things like wall art is that is has to be designed to be handled. I make sure I tether down my stitches as well as possible to avoid the design catching or being abraded prematurely over time and take extra care when placing stitches over the board joints.
During my time working at the V&A Museum I had the pleasure of looking at a variety of embroidered bindings from the National Art Library's collection (the library housed within the museum). It was wonderful to see how the stitching had held out over time, on some better than others due to the amount of handling!
Machine embroidery has its purposes and is good for producing lines quickly but to me now looks too rigid due to the way it punches the holes in the leather and the regularity of the stitches created. I love the layers than can be built up using hand embroidery as it has far more depth and accuracy to it and following years of practice my fingers are now toughened to it. I have a feeling that binding by binding my work will continue to evolve in this way, especially as my collection of threads grows and grows in size! I have started to teach some classes in embroidery techniques for fine bindings and hope to grow on this and therefore spread my knowledge further in this field.