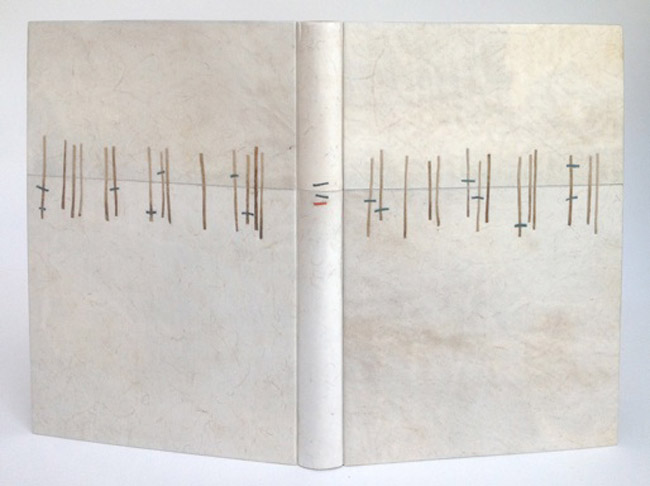 Lori Sauer bound this Arion Press edition of Robert Louis Stevenson's The Silverado Squatters in 2014. The book is bound in vellum with decorative elements in Japanese paper.
I really love your use of materials on this binding. It offers a peaceful and calming interpretation of the Napa Valley landscape portrayed in this classic travel memoir. Can you speak about how you covered the book in vellum? Is the division created by using two separate pieces of vellum or through a decorative application?
R.L. Stevenson is in the top five of my favourite authors and I've bound quite a few of his works. This one from Arion Press has sepia toned photographs from central California as illustrations. Bindings for books with images present a particular set of challenges. I never attempt to reproduce an illustrator's work in a design but will do my best to capture the tone or mood. With this piece I used both the serene quality of the photos along with Stevenson's literary style to guide me. Stevenson's prose reads with such ease and grace, something that is incredibly hard to do. I'm pleased that you've picked up on this!
Each piece of vellum (two on each board) is lined with a slightly different shade of backing paper in order to give a very subtle shift in colouration. The pieces are turned in on their meeting edges so that the line between them is clean and soft.
The vertical lines are Japanese paper, onlaid in to pressed grooves.
What technique did you use for the decoration on the doublures?
I did an iPad 'painting' to create the doublures and inkjet printed them on to hand-made paper. (I like this technique very much and need to remember to do it more often). I then applied small pieces of Japanese paper and these were back sanded before I stuck down the doublure. Very subtle marks are made by the onlays on the suede flyleaves.