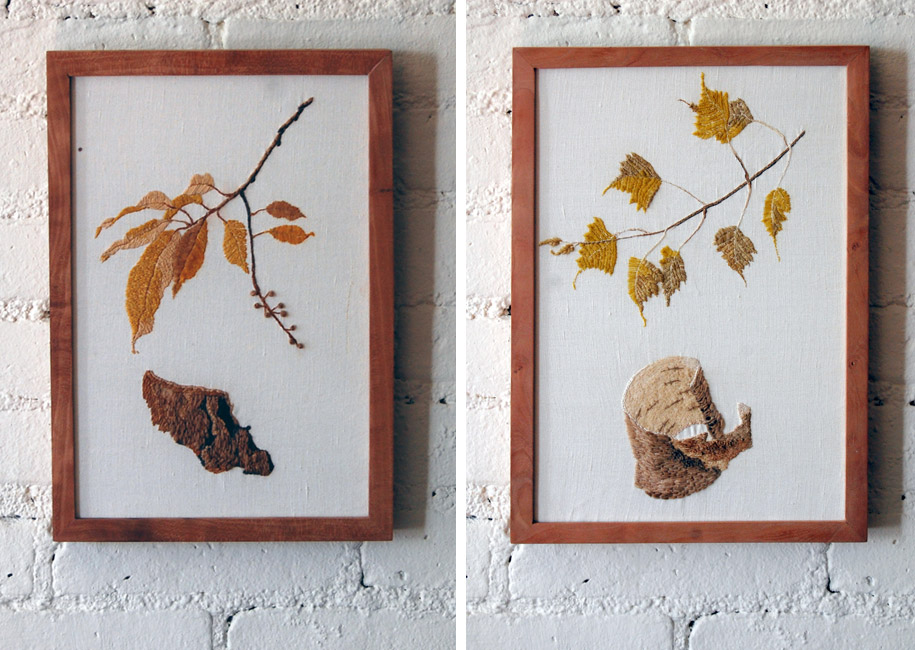 Natalie Stopka has conducted extensive research and experimentation with natural dyes, which is partly what drew me to interview her on the blog. I've long been interested in incorporating natural dyes into my own work. So it's fair to say that I'm quite inspired by Natalie's work.
At the end of your year at the Center for the Book, you presented on a series of natural dye experiments in a pretty brilliant way. What drew you to focus on natural dyes and how did you to come to present your findings through embroidery?
I became interested in natural dyeing as an antidote to city life. I was initially drawn to the process of foraging and dyeing itself, but the more I studied the history behind the process, the more it became apparent that our culture has devalued and forgotten the vast majority of the dye artistry we once possessed. This artistry is akin to alchemy, because we still do not scientifically understand what functions many colorant compounds perform for the plants that create them, or how many dye processes occur on a chemical level. I was surprised to learn that each part of a plant – its petals, leaves, bark, and roots – create different colors. These colors can be manipulated into a greater range of tones by using a variety of mordants and fibers. I decided to explore the full range of colors accessible in a single plant using these methods.
I chose three trees I had access to in upstate New York; birch, crab apple, and black cherry. From these I responsibly foraged leaves and bark, and used them to dye alum-mordanted silk, cotton, wool, linen/wool, and silk/wool thread. I then treated the dyed thread with the color modifiers copper sulfate, ferrous sulfate, an acid, and a base. I was left with about 40 samples in a range of colors and textures representing each tree's dye potential. Some samples had very little color at all, but some were vivid and strongly varied.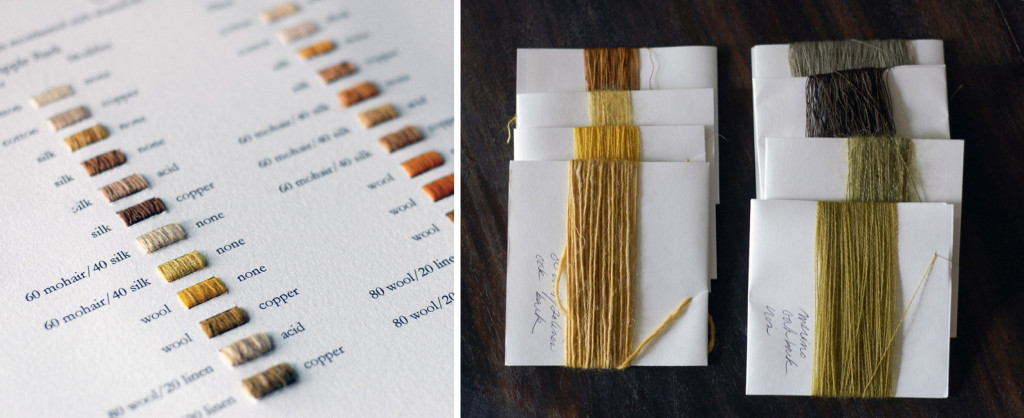 I had known these experiments would become a series of embroidery pieces from the beginning, and I wanted to illustrate the clear distinctions in the dye colorants accessible in different parts of the plant. I adopted the form of the traditional botanical illustration, utilizing the thread dyed with the analogous plant part to illustrate it. That is to say, the leaves are depicted with leaf-dyed threads, and the bark with bark-dyed threads. For the birch tree embroidery, I also differentiated between the inner and outer barks.
The final element of these pieces is a question pertinent to any bookbinder: time. Not only are natural dyes sensitive to ultraviolet light, but the modifiers I used degrade fibers over time. The ephemeral nature of natural dyes is a sad reality for an artist, but I think it can also be beautiful. These three pieces each have a lifespan, and to measure it I enclosed a sample of each thread used in the embroidery behind the frame. There it will be protected from light, and can be used as a point of comparison over time.
– – – – – – – – – – –
I became aware of Natalie Stopka's work while visiting the Center for the Book in New York, which in happenstance was exhibiting the piece above. Since then I've continued to keep an eye on her portfolio, especially the work she does with natural dyes and marbling. Natalie's work encompasses not only the prior mediums mentioned, but she also dabbles in book arts as well.
Check out the interview after the jump, then come back each Monday during the month of April for additional posts on Natalie's work. Need a reminder? Subscribe to the blog.