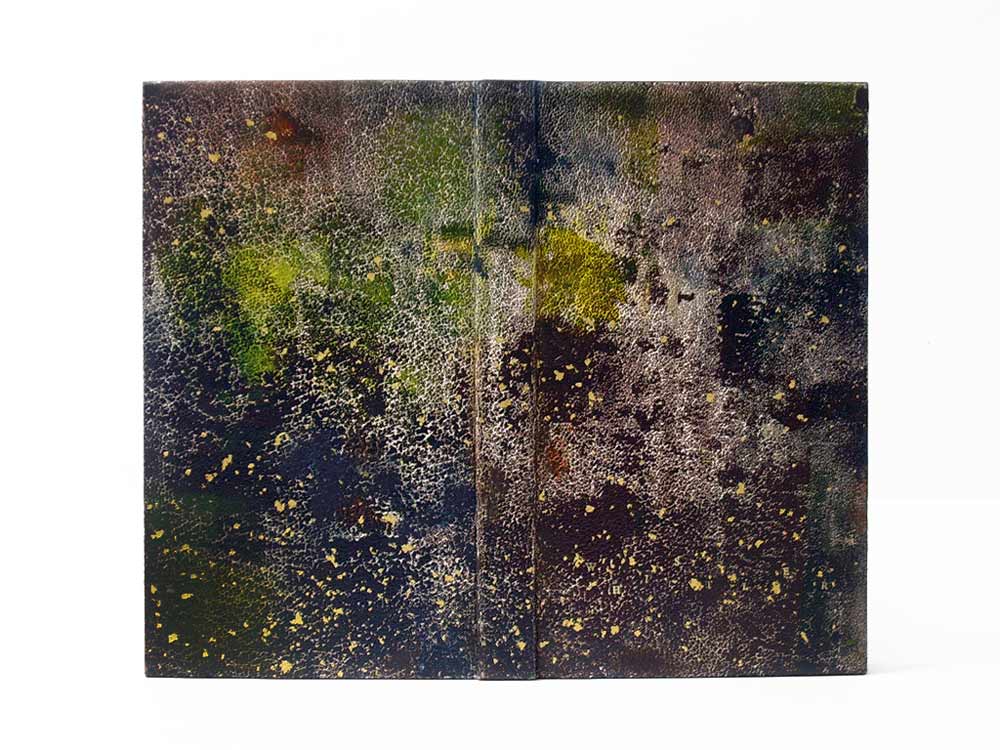 The design on this full leather binding from Haein Song really transforms the material to mimic a textured painted canvas. Haein bound this copy of Whistler by Haldane Macfall in 2009. Sprinkled on top of the hand colored natural goatskin are flecks of gold leaf. The title is also tooled in gold on the front cover. If you click on the image above, you can see the title on the front cover toward the tail. I spotted the "H" first. Happy hunting. 
The endpaper and matching panel doublures are monoprinted and sit opposite a leather joint. The edges are decorated with blue and brown acrylic pigment and sprinkled with gold leaf. 
There seems to be quite an influence from Mark Cockram in the design of this binding. I can tell you were a student of his. The decoration on the leather has such a painterly quality to it, can you talk about your technique for achieving this affect?
Do you think so? That is quite interesting as I haven't thought in that way. Mark's teaching involved structures, materials, tools and many tips from his experience except aesthetics. He thought, I believe, everyone has different aesthetics. But I suppose what you see influences how you express.
Few Whistler's paintings were on display at Tate Britain when I started this book. I remember walking around feeling his paintings titled Nocturne. I wanted to convey that feeling to the cover. Back then I was trying simple but different dyeing and printing technique. How it was achieved was simply rolling few different chosen (or mixed) relief inks onto the glass surface then lay the leather on top and rub it. Endpapers were made in similar way. There is a little bit of trial and error until you get the desirable outcomes. Also depending on the amount of inks and pressure you can achieve a very different look. Whistler was very much interested in Japanese prints. To finish I used a technique called Sunago (Japanese technique in woodblock printmaking, which involves sprinkled or scattered gold leaf) to reflect that.