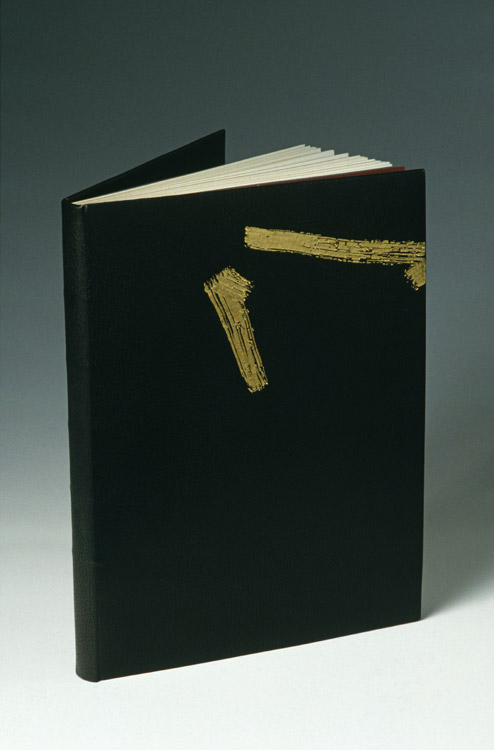 Tracey Rowledge bound her first copy of T.S. Eliot's Four Quartets in 1997 (shown above) years before she would revisit the text again with a parallel binding in 2014.
You have created two very similar bindings for T.S. Eliot's Four Quartets; bound in black goatskin with gold tooled markings. The gold tooled design on the earlier binding offers freedom and movement while the gold tooled design on the later binding feels more direct and deliberate. Can you discuss your concept behind each binding?
For the first binding I was conscious of T. S. Eliot's dislike for images on the covers of his books, so I decided to create two brush marks that evoked the flow of his writing, rather than creating an image depicting anything I perceived to be pictorial. This was a very early fine binding and as the book was letterpress printed on thick paper, it was my first rounded-only fine binding (i.e. not backed). It was also the most technically demanding gold tooling I'd undertaken to date.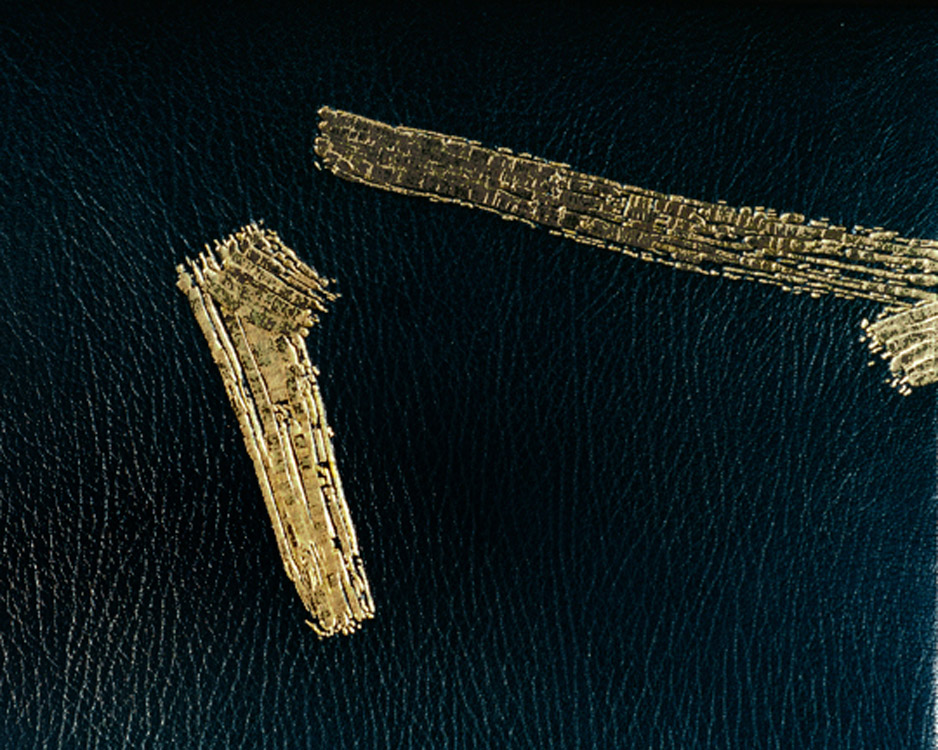 Ivor (Robinson) very generously told me that my first binding of Four Quartets would be one of his desert island books, and it was during the second binding of this book that Ivor died. The image on this book responds to the text, to my first binding of the book, but also, and for me just as importantly, this image contains my thank you letter to Ivor, it was the perfect and most poignant place for it.
– – – – – – – – – – –
I'm so pleased to present the following interview with Tracey Rowledge. I didn't know of Tracey's work until Haein Song, whom I interviewed back in February of 2014, suggested that I interview her. What I came to discover is that Tracey is a keen artist who found a calling in bookbinding. Her artistic curiosities continue to influence her design choices as she blends together her artist techniques with those common to bookbinding. In the interview, I question Tracey both about her bookbinding and artwork and how the two have influenced each other.
Check out the interview after the jump for more about Tracey, her background and creative process. Come back each Sunday during the month of March for more about Tracey's work. You can subscribe to the blog to receive email reminders, so you never miss post.