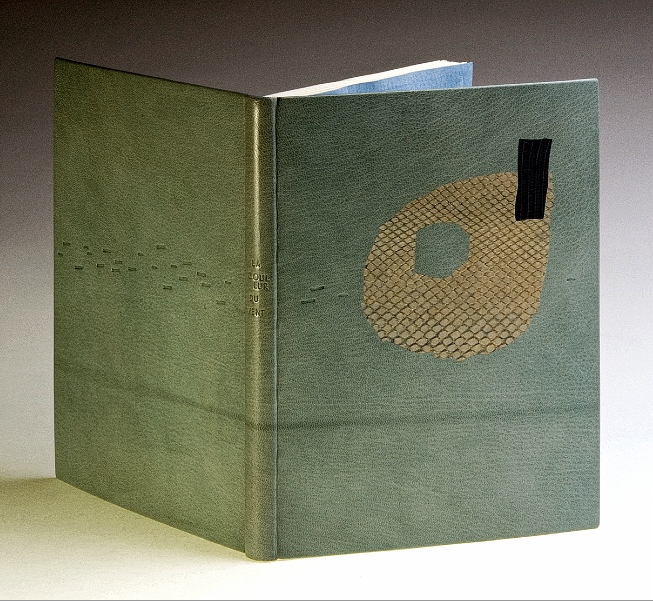 At this point I think it's safe to say that I have found the recent ARA-Canada exhibition La Couleur du Vent to be filled with many beautiful and inspiring bindings. This particular binding was created by Lang Ingalls and is the fourth binding from the exhibition to be featured on the blog (the other three: Sonya Sheats, Coleen Curry and Karen Hanmer).
So in case you missed those three posts I highly recommend you check them out after reading this one, but first let me summarize the exhibit. This international design binding exhibition was put together by ARA-Canada in partnership with École Estienne in Paris. The exhibition started in 2013 in Paris before traveling to Quebec then Montreal (which ended on February 28th). The show will continue to travel during this year, showing in Trois-Rivières from March to April. La Couleur du Vent is a collection of poems by Gilles Vigneault, illustrated and designed by Nastassja Imiolek under the artistic direction of Cécile Côté.
Let's get back to Lang's binding. The set text is bound in the French technique using sea foam blue goatskin. On the front cover are inlays of python and lizard. A series of irregular shapes are tooled blind and span across the full length of the binding with the title also tooled blind on the spine. What I love most about this binding (besides the superb color choices) is the bold inclusion of the spine. Lang so wonderfully highlights the material and uses the natural elements of the leather to create an even more compelling design.
This binding is stunning. The design you've created really celebrates the natural qualities of the materials. Can you talk about your concept behind the design?
I bought the python and lizard used for the inlays in Paris years ago, but really love the texture and color of them — I tend to make monochromatic color choices in my books, this one is an example of that.
– – – – – – – – – – –
I chose to interview Lang for a few different reasons. Her work has been and continues to display thoughtful experimentation and courage with her materials. Her designs continue to engage and perplex me. She's also just a wonderful person to be around. Lang is part of a handful of people I look forward to seeing once a year at the Guild of Book Workers Standard of Excellence Conference. Lastly, Lang's educational experiences have greatly differed from my own. Since graduating from North Bennet Street School and having the opportunity to study with various guest instructors I've come to value the importance of creating what Lang describes as a 'tool box': gathering techniques on structures and decoration from binders with various talents and backgrounds.
After the jump is my interview with Lang, it discusses heavily her varied educational experiences. Every Sunday this month I will feature some more of Lang's bindings, so don't forget to email subscribe and receive reminders when posts go live. You won't want to miss out!
Before we discuss your assortment of educational experiences to learn the craft of bookbinding, I'd like to have you write about how you first developed an interest in bookbinding.
I read! An avid reader from a young age, my interest in books comes from the places they have taken me. This interest led me to an apprenticeship in letterpress printing—the old-fashioned way of printing with hot-metal type—and, eventually, to bookbinding. I still print, but these days I spend most of my time making design bindings.
You've studied with a variety of talented bookbinders. Let's start with the time you spent in San Francisco studying with Eleanore Ramsey. Did you have any bookbinding experience prior to this? What type of structures and techniques did you learn from Eleanore?
The only experience I had prior to working with Eleanore was during the above mentioned apprenticeship — this was at the Yolla Bolly Press in Covelo, California. Jim and Carolyn Robertson ran the press (and program), and one of the requirements was to print and bind twenty copies of a book you made during your stay with them. (It was three months long.) After I finished printing my book, I realized I had no idea how to bind a book — so I took one apart and copied what I saw inside. It made sense, but I didn't realize what the function of things like the piece of crash was at that time! Now, I cherish those books, my very first effort. It is worth mentioning that during my apprenticeship, I witnessed the process of a private press producing an art du livre, my first exposure to the fine printed word. I was hooked. And I ended up going back to work for them after my apprenticeship, and have such fond memories of my time there.
Then you spent time in Ascona, Switzerland at the Centro del Bel Libro studying with Edwin Heim. How was your training structured at the school? How did Edwin's instruction influence your technique?
At the Centro del bel libro I was able to learn a lot in a small amount of time. Their programming is generally a class a week, though some are two weeks (like 'French Full Leather Binding'). I took as many as time allowed and began the binding journey. Edwin Heim is amazing. His techniques are very precise and methodical — this appealed to my sensibilities, though at the time it did not register. Everything was new and utterly engaging. And my hands seemed to know what they were doing; I'm not sure how to explain this. My hands like making books…
While I was attending the Centro, I met fellow binder Cathy Adelman. She was enrolled in the American Academy of Bookbinding with Tini Miura, and after spending some time together, really encouraged me to attend as well. I did! Her friendship and influence has been like a guiding star. We both continue to attend a class (or two) at the Centro when the fit is right. It is a welcoming institution, and I have met many fellow binders there that I remain in touch with.
In between your trips to Ascona, you spent 7 years studying with both Tini Miura and Monique Lallier at the American Academy of Bookbinding in Telluride, Colorado. In 2007, you graduated with a degree in Fine Binding. Can you discuss how this program differed from your other training experiences?
The program at AAB is focused on developing strong techniques, specifically in full leather binding. I began studying there under Tini, who encouraged me with such generosity. Mid-way through the program, Tini handed Directorship over to Monique, so I spent the next four years learning from her. I think the way this program is different is that my eyes opened during my time there — I went from learning how to bind a book to learning how to express my interpretation of a text in a unique way on the cover of a book. Monique encourages experimentation and exploration, and she is fearless in binding — she is always thoughtful and willing to solve the inevitable "bump". Under her tutelage, cover creation became a whole dialogue. Monique also brought the finishing teacher Hélène Jolis to Telluride — she and the techniques she teaches have had an enormous influence on my binding style.
It would be such an honor to go through extensive training with either Tini or Monique, who both create bindings with such perfection. Their designs are bold and colorful and they really push the limits of design. What sort of impact has their teaching had on your technique and design sense?
In terms of technique, all my teachers have been incredibly informative. I'm not sure who first introduced me to the idea of having a "box of tools" — the idea being that all the things you've learned go into that tool box — I feel very fortunate that my tool box is rounded out by so many teachers and techniques and opinions. (I mean, which way do you put your title on a spine, reading up or down?!)
Design sense is a really different thing. This is a personal and individual expression that takes time to develop. What I do know is that a design binder finds theirs by starting with excellent and reliable techniques. Also, there needs to be an acute understanding of why you do something. If you work with good technique and know what you are doing, sooner or later your focus will turn to the textual dialogue and its representation. Textual dialogue informs design. I come from a letterpress printing background, with a tremendous appreciation for fine printing and typography — this, too, has helped inform my design sense. This is an area I struggled in for years, and when I was required to write a final paper at AAB, I wrote mine on finding one's own design sense; the paper is called The Seventh Egg and I'd be happy to share it with anyone interested. Lastly, I cannot finish talking about design sense without mentioning Monique's encouragement. On one of my earliest books, I wanted a big wrinkle across the back and was so afraid to push the leather for fear of… hurting it? I don't know… but Monique put her finger down firmly and just shoved — this was an "aahha" moment! I began manipulating the wrinkle into what I wanted and now that book is owned by the Chicago Public Library's Special Collections. Exploration and experimentation expand horizons — why not play?
You recently spent 6 weeks in Paris studying with Ana Ruiz-Larrea. During this time with her you worked on two new structures. I'm not familiar with Ana's work, can you talk a bit about her background and why you chose to study with her?
Ana's work is well known in Europe and Canada. She is a Spanish binder, trained in Brussels at Le Cambre Arts Visuels under the inestimable Micheline de Bellefroid. (If you do not know her work, look it up — it is gorgeous.) Ana worked in Madrid for years, training many Spanish binders. After she married the French binder François Brindeau, she moved to Paris. She speaks several languages and while I was studying at her atelier she instructed in Spanish, English and French. (She has four stools in her atelier, occupied by students of all levels and each working on a different structure—that she teaches this way, and in many languages, astonished me!) I think the reason I asked her if she could take me as a temporary student was that I had the honor of visiting her atelier last May and seeing her work — and that floored me! I mean, how did she do that?! Ultimately, I wanted to add to my tool box, and I wanted to add from this teacher!
You've had such varied experiences working and studying closely with all these talented bookbinders. Do you find that your skills have become an amalgamation of your different experiences? Do you suggest this type of learning over studying directly with one binder?
I guess I would return to the "tool box" metaphor. You can't learn enough… or maybe it's just me who can't learn enough. My skills are a combination of things I've learned, but I think we all have that. (A casual conversation with Jim Croft can change the way you use your bone folder…) Monique has always stated that bookbinding is a lifetime of learning — I think I really enjoy the freshness of learning a new structure or understanding why something makes the most sense or how that different material could work in covering… it is stimulating. I will likely keep learning from others, there is so much to know and appreciate.
Last summer I had the opportunity to take a workshop with Sün Evrard, a conservator who has developed sumptuous coverings for books that have lost their boards, in a more contemporary style. Again, this is another style of binding that is new to me and that I am grateful to have in my "tool box"!
Since graduating from AAB, you started assisting Monique during some of her workshops. Do you enjoy teaching? Are you interested in teaching in the future either privately or in a workshop setting?
I assist Monique when she asks me—it is always a pleasure and I always learn something new. I teach privately to those who show a particularly strong interest, and sometimes think about a workshop (I have done a few) — but the truth is that I love making books. I prefer to be spending my time that way, but it is a quiet road with just me on it… teaching offers time and conversations with others that are like-minded, an opportunity to engage in some of the debate, a way to bring community to a solitary workspace. Maybe that is why I continue to take classes from others. I suppose I'm looking for a balance.
Any interesting projects on the horizon?
The most interesting thing that is happening for me right now is engaging with a larger audience through traveling or foreign exhibitions. Last year, I was in the ARA Canada exhibits in Paris (then Montreal and Quebec City) of Escaliers du Quèbec and La couleur du vent (see image above). I also showed Methodos in Leeds, UK, at the Society of Bookbinders conference last August. This year brings Chansons* to Bibliotheca Wittockiana in Brussels, Ici* ('reliure a cru' binding that I made with Ana) to an ARA France exhibit in Nimes, France, and a book I have yet to bind for a show in Argentina. I also will participate in the Designer Bookbinders invitational exhibition of UK and USA binders that will travel through the states and England for the next couple of years, a title from Lone Oak Press called King of the Alps.
*a post on these bindings will appear later this month
Lang also plans to broaden her web presence in the very near future.
I am currently working on a new website which will showcase my design bindings. It may not be live yet, but it is easy to remember: www.langingalls.com. Check in sometime soon!