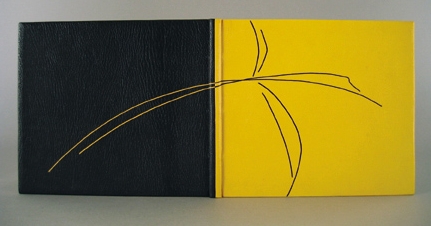 In Flight ran from 2003 – 2005 as the triennial traveling exhibit organized by the Guild of Book Workers. For the exhibit, Monique Lallier bound The Phoenix. The most obviously astonishing design element executed by Monique on this binding is the use of two separate leathers with a seamless connection down the center of the spine. Bound in yellow and black goatskin over laced-in boards, the dual color scheme continues in the hand sewn headbands and the stylized phoenix design creating with contrasting onlay leather lines.
The line quality of the phoenix is reminiscent of lines from a fashion sketch. Do you think your background in fashion plays any part in your overall design choices?
I love this binding. I think it illustrates the story perfectly. Everything that we do in life, every experience stays with us and you are influenced because it is deep in you and when you are searching and "struggling" with a design you go within you, like in a well to retrieve what you need, whether you realize it or not.
As I entered my undergraduate studies, I was determined to go into Fashion Design. However, I was pulled in another direction, but I find that I'm still drawn to the latest couture designs. Do you seek out fashion as an artistic inspiration?
I don't look too much at fashion anymore, I look more at design and craft magazines, or visit galleries and museums everywhere I go. Although I noticed that laser cutting is big in fashion now.