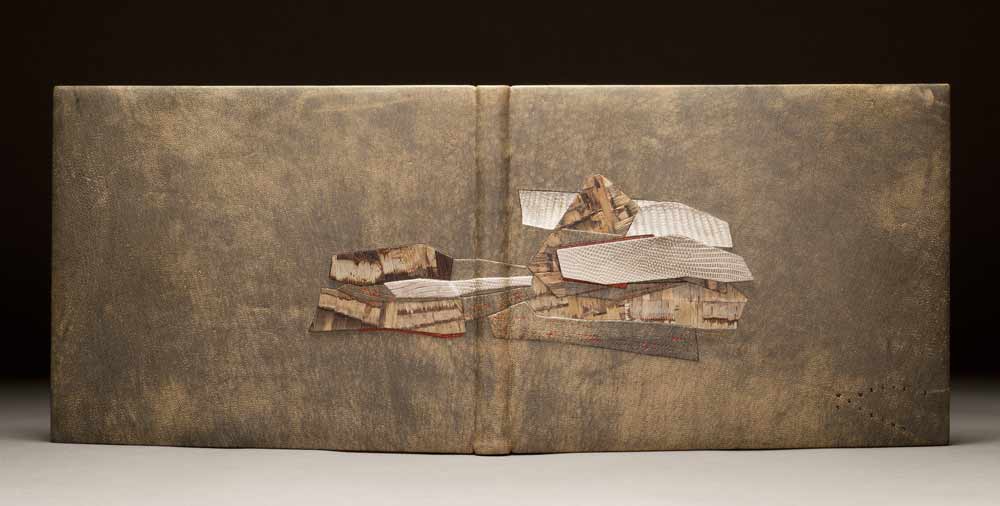 Every three years, the Guild of Book Workers offers a national traveling exhibition based on a general theme. In June 2012, Horizon, the most recent GBW exhibition began it's journey across the nation starting at the University of Kentucky. The exhibition is currently on it's way to the University of Denver for display from August 1st – October 31st. You can check out the rest of the schedule here. 
Every day, Coleen Curry runs the trails of Mt. Tamalpais. This landscape is her backyard, her horizon; she can catch a glimpse of the mountain from her bindery windows. The text of Mt. Tamalpais echoes Coleen's feelings about the mountain-scape and therefore, she chose to represent this horizon through texture.
Bound as a French-style fine binding, sewn on cords with laced-in boards. Covered in full goatskin leather that has been sanded, distressed and dyed with matching edge to edge doublures. The slopes of Mt. Tamalpais are represented with collaged horsetails, that Coleen collected from the watershed, dried and pressed. To celebrate the fog that wraps around the ridges and the California poppies and Indian paintbrush which smatter the slopes, Coleen painted and blind tooled lizard inlays and onlays.
When I toured this exhibition at the Utah Museum of Fine Arts, I was in awe of Coleen's binding. Because her work is so textural, her bindings appear even more vibrant and animated in person.