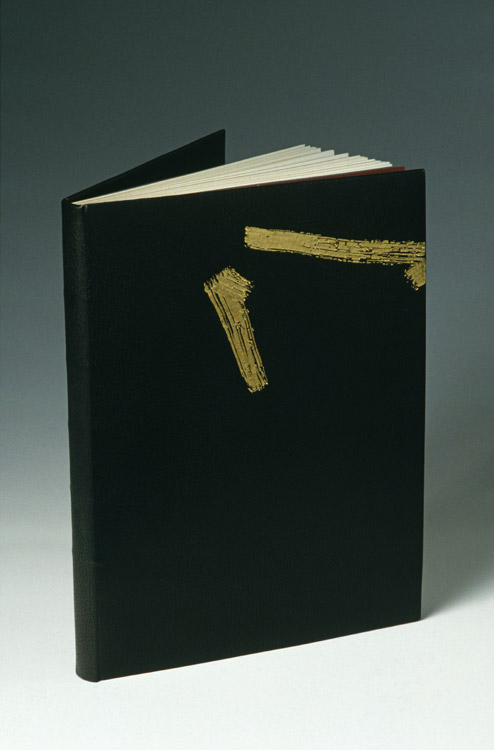 Tracey Rowledge bound her first copy of T.S. Eliot's Four Quartets in 1997 (shown above) years before she would revisit the text again with a parallel binding in 2014.
You have created two very similar bindings for T.S. Eliot's Four Quartets; bound in black goatskin with gold tooled markings. The gold tooled design on the earlier binding offers freedom and movement while the gold tooled design on the later binding feels more direct and deliberate. Can you discuss your concept behind each binding?
For the first binding I was conscious of T. S. Eliot's dislike for images on the covers of his books, so I decided to create two brush marks that evoked the flow of his writing, rather than creating an image depicting anything I perceived to be pictorial. This was a very early fine binding and as the book was letterpress printed on thick paper, it was my first rounded-only fine binding (i.e. not backed). It was also the most technically demanding gold tooling I'd undertaken to date.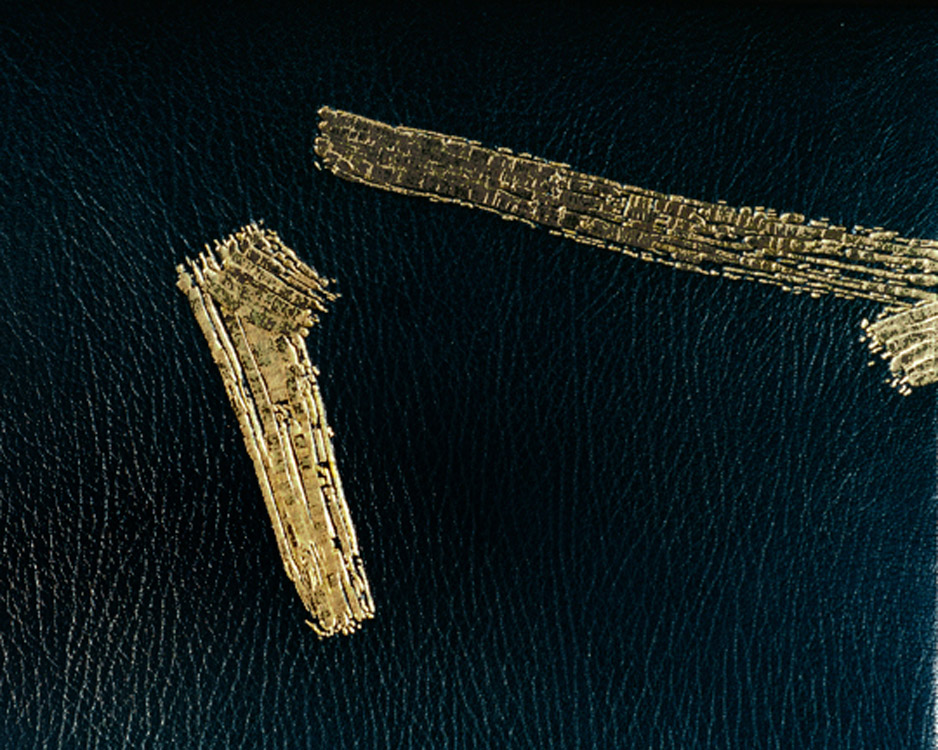 Ivor (Robinson) very generously told me that my first binding of Four Quartets would be one of his desert island books, and it was during the second binding of this book that Ivor died. The image on this book responds to the text, to my first binding of the book, but also, and for me just as importantly, this image contains my thank you letter to Ivor, it was the perfect and most poignant place for it.
– – – – – – – – – – –
I'm so pleased to present the following interview with Tracey Rowledge. I didn't know of Tracey's work until Haein Song, whom I interviewed back in February of 2014, suggested that I interview her. What I came to discover is that Tracey is a keen artist who found a calling in bookbinding. Her artistic curiosities continue to influence her design choices as she blends together her artist techniques with those common to bookbinding. In the interview, I question Tracey both about her bookbinding and artwork and how the two have influenced each other.
Check out the interview after the jump for more about Tracey, her background and creative process. Come back each Sunday during the month of March for more about Tracey's work. You can subscribe to the blog to receive email reminders, so you never miss post.
Your education began in the arts and shifted towards bookbinding by completing a Diploma in Fine Bookbinding and Conservation from Guildford College. Can you discuss your interests in pursuing bookbinding and how it has influenced your prior interests in art?
After leaving Goldsmiths' College with a fine art degree, I was bereft with finding myself unable to make work. I was looking for a way back into being creative and when I came across bookbinding, it stimulated the craftsman in me; this I thought at the time could be a way back into making again. I was initially interested in learning bookbinding as I saw it as a way to make a living, which could, I thought support my making art. I was drawn to the high level of craftsmanship and meticulous attention to detail that was evident in every process necessary to bind a book well. It was only as I began learning the multitude of ways to bind a book, that I started to have ideas with how I'd like to respond to the book, in terms of its content and/or physical properties. This is how making books and making art merged for me.
How was the program at Guildford College structured, who were your instructors and what techniques did you learn?
The course was full-time for two years. I was very fortunate to have been taught bookbinding by Lester Capon, Maureen Duke, Jenni Grey, and Maggie Chandler. I was taught gold tooling by John Mitchell and Chemistry and paper conservation by Bob Shrigley. We learned how to make case bindings, boxes, portfolios, limp vellum and hard vellum bindings, experimental paper bindings, cloth-covered and quarter leather-covered library-style bindings, how to re-back a book and fine binding. It was a comprehensive practical course, which meant I left with a really good foundation in bookbinding.
Since receiving your Diploma in 1995, have you continued to study with other binders?
When I left college I was hungry to continue learning, as I was acutely aware that I was at the very beginning of my journey. My bookbinding education had really opened my eyes to the enormity of the subject and just how difficult it was to be good at it. Apart from the odd short course I haven't though had any further formal training. I was though very fortunate to have been mentored by Romilly Saumarez-Smith and Ivor Robinson. Not only did Ivor support me during my formative years, guiding me through times when I wasn't sure that bookbinding was for me, or when I'd reached the edge of my knowledge, but he also shared with me how he approached making, how he made a fine binding and how he gold tooled. I've been using Ivor's method of gold tooling for eighteen years now, it's also the method I teach.
I am also very thankful to all my bookbinding friends that have been so generous with their knowledge and insights into the art of bookbinding from their perspective. Each person I know has their own philosophy about making books partnered with their own journey to becoming a bookbinder. Like me, most people have found bookbinding by chance and so will have accrued various skill, insights and self knowledge which then forms and shapes them into the sort of binder they are. I have soaked up the rigour of other peoples practices, understanding how others make and go about making, has enabled me to grow as a maker. I'm always learning and feel that I'll never know and understand enough. I push so that I can be a better bookbinder and so that the making of the book disappears and all that's evident is the physical response from the reader to how the book handles, not how it was made.
I want to briefly switch over and talk about your works on paper. In 2008, you were apart of the Cape Farewell expedition, which gave 24 artists the opportunity to observe climate change along the west coast of Greenland. From this experience you created a three-part series called Arctic Drawings. In Nancy Campbell's review of this work you are quoted as saying, "It's a preoccupation – how and why we make marks, and what they mean to me and to other people. A mark evokes an emotional response." How are you translating this emotional response into your work, specifically with the Arctic Drawings series?
The extraordinary thing about being given the opportunity by the Crafts Council to go on the Cape Farewell Expedition to Disko Bay, was that I was, for the first time working outside of the studio. I thought, or rather I assumed, based on how I'd worked up until that point, that I would return from the arctic with source material that I would recreate in some way in/on the book form or with bookbinding materials or techniques on a flat surface. Being on an expedition in the arctic was such a transformative experience that I worked intuitively, responding to the environment and the scientific graphs and data that the scientists were collecting at the time. I used my cabin as a studio and created two types of pendulum to capture the movement of the boat. I also recorded the date and co-ordinates of the boat for each drawing – so I was capturing a series of visual data in the form of emotional landscapes. What astounded me was that I had returned to working intuitively, just as I had done when I started my fine art degree. I felt that this short time away had enabled me to come full circle, I was an artist and it didn't matter if I made books, drawings or wall panels, all that I'd learned was enabling me to see an idea through to the right medium.
So, to return to the last part of your question – "How are you translating this emotional response into your work, specifically with the Arctic Drawings series?" I am not translating the emotional landscapes into my work, the emotional landscapes I created in felt tip on paper are my work. I left the arctic knowing that the drawings I had made were the work and this was monumental for me, it took me a while to understand what I'd made and how I could go back to the studio and make books again – as the experience had changed me, or rather re-grouped my creative self on a profound level.
What inspired the marks for the two works What Isn't Here Hasn't Happened and Shift Drawings? What techniques did you employ to achieve these marks?
I'm interested in making images that capture movement, that hold physical energy and emotional intent and that in some way preserve human presence. I have found ways to do this, using different materials and techniques. To talk about the methods used to create these two series of works would reduce the image to a technique and that would, to my mind anyway lesson its power to evoke a response in the viewer. So I hope you don't mind, but I'm going to leave you guessing!
Taking inspiration in Sün Evrard's article 'Les pages bien gardées': Some Words 
About an Exhibition That Did Not Take Place from The New Bookbinder, Volume 19, you helped to revive Evrard's concept by establishing the long-running exhibition, Tomorrow's Past. Can you discuss Evrard's concern about the modern binder's attitude toward design and structure when approaching an old book to rebind? What encouraged you to resuscitate her idea?
Sün's idea highlighted a concern about how antiquarian books have been rebound and continue to be rebound, i.e. in pastiche bindings, Sün was bravely recommending an alternative approach, that we as bookbinders should be introducing to our clients an alternative method of rebinding antiquarian books. I would like to think that a lot of bookbinders now are bookbinder, book conservator and book artist, we are each responsible for the books in our care and we do the upmost to make the best decisions for that particular book. We think, discuss and then do what's in the best interest of the book. Sün was really asking us to think rather than go on autopilot and repeat the practices of the past. Why rebind a book to look like a binding of the 18th or 19th century, when it should really reflect the time we're living in now. It's important to place the structural needs of the text-block first, accompanied with a sympathetic creative response to the date and country of printing of the book. A book bound following this ethos is a conservation binding, it doesn't carry the ego of the binder and has the utmost respect for preserving the artefact contained within, by quite often devising a bespoke structure to meet the needs of that particular book.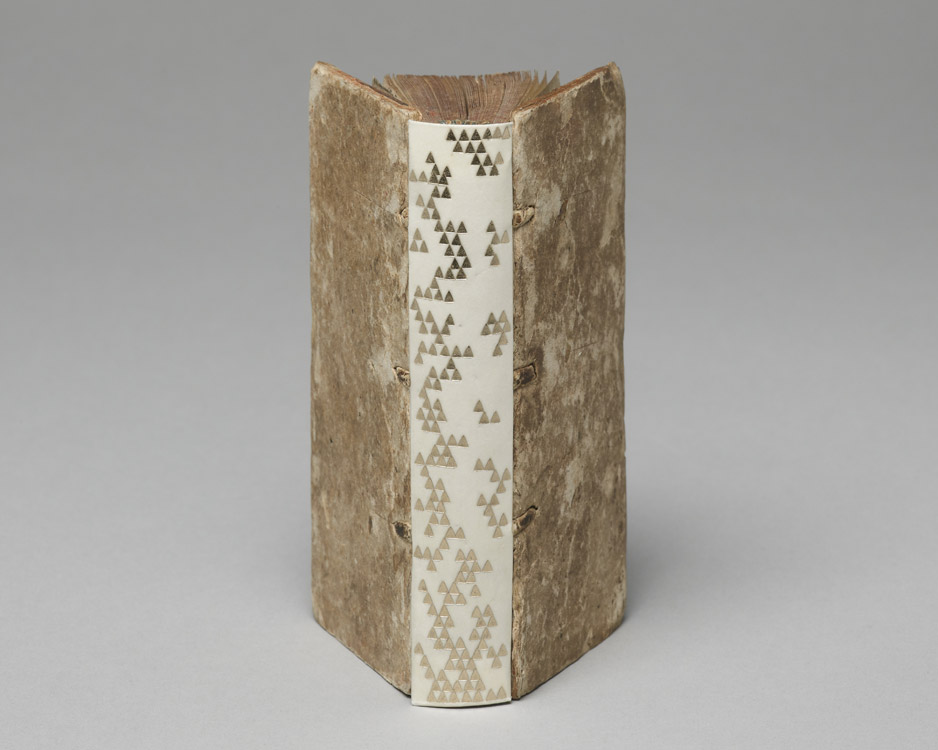 On the rebinding of Imperatoris Iustiniani Institutionum Libri III, 1625 (pictured above), you incorporated a contemporary tooled vellum spine with the original boards. I'm really intrigued by the treatment of this rebinding; it's quite striking and really highlights the age of the materials. What was the prior condition of the book and why did you choose, what could be perceived as an unconventional route of conservation?
The condition of this book was sound, it was just missing its original leather covering. My idea for this book was only to add what I felt necessary and that was a spine covering. I devised a way to securely attach a gold tooled vellum spine so that it slotted around the alum-tawed thongs that the book was sewn on and that the boards were laced-on with. I didn't intrude or disturb the original structure in any way, I just added a little something with the aim of highlighting its integral beauty and to protect the exposed sewing.
In addition to your studio work, you also teach workshops. I think there is a lovely commingling between your artwork and your bindings and I wonder if you draw a mixture of artists and binders to your workshops?
It varies, I do tend to get a really nice mix of people who are excited about gold tooling, mainly they're bookbinders and sometimes they're artists wishing to learn how to gold tool on paper.